Back to all posts
Posted on:
Mustang Memo - February 24, 2023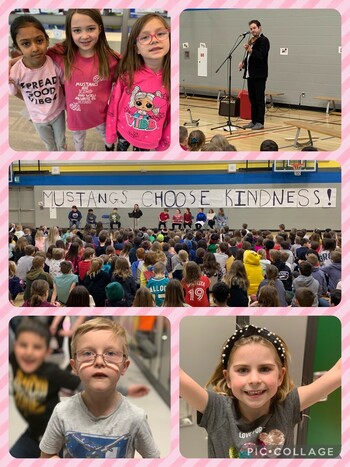 It was another exciting week!
We had a good ol' kitchen party with Daniel Gervais early in the week. He mesmerized us with his incredible fiddling skills, taught us how to play spoons in a fancy way, and showed us a variety of sashes including the Métis arrow sash. It was incredible to experience Franco-Albertan culture and to have a toe-tapping great time!
Today we had our first student led assembly of the school year! We are so proud of our Grade 5 students for organizing and presenting information on how to be kind to the school. They prepared a video on how to be kind in their performing arts class and they gave us tips on how we can show kindness in an assembly with good audience etiquette. 
Our kindergarten students dazzled us with a song about how Davidson Creek students are kind, coupled with adorable actions. 
It was such a joy to feel the energy of all of our amazing students, staff and parents as we gathered together in the gym. Seeing each other, listening to music and watching student leaders makes a big difference in our sense of school community. Thank you to our students for showing us what it means to run an assembly! We are so proud of you!
We hope you enjoy a lovely weekend!
Helene Hewitt & Kyla Harding
Principal & Assistant Principal
You belong here!
Table of Contents
Week At a Glance
Action
Returning Student Registration Due this Week
Carnaval is Coming
Opportunity 
Counsellor's Corner
Numeracy at Home
Information
Running Club Wows at the Butterdome
Jump Rope for Heart Fundraising Success
Parents Make the Difference
WEEK AT A GLANCE
Monday

Clark/Walker swimming lessons
Lunch clubs: 

Games Club - Gr. 2 & 4
Running Club Girls- Gr. 4-6 

Tuesday

Jump Rope for Heart Event Day - Wear Red!
Lunch clubs:


Basketball Club Girls - Gr.5 & 6

Versteegt/Hansen/Lobe/Mikitka/Nicks/Morrison/Parker/Hanasyk Swimming Lessons

Returning student registration closes

Wednesday

Jean and Jersey Day
Lunch clubs:


Choir Gr. 3-6 
Art Club - Gr. 1 & 2
Running Club Boys - Gr. 4-6 at lunch recess
Minecraft Club - Gr. 3

Grade 5 - D.A.R.E. Classes Crockett/Miller/Coates

Early dismissal 2:18 p.m.

Thursday

Lunch clubs:


Basketball Club Boys - Gr. 5 & 6
Cute Things Club - Gr. 4

Crockett/Coates/Miller/Breen Swimming Lesson

Friday

Professional Learning Day - no school
Mustang Memo posted
ACTION
Returning Student Registration Due this Week
Have you completed the returning student registration yet? The deadline is this Tuesday!
To access the Returning Student Registration Form, simply log in to the PowerSchool Parent Portal.
If you don't have a PowerSchool Parent Portal account, you do need to set one up. For help see: Create a PowerSchool Parent Portal account
For more information contact the school directly.
RELATED INFORMATION:
Returning Student Registration Process
Frequently Asked Questions
EIPS School Boundary Maps
Closed Boundaries 2023-24
Find my designated school
Applying to a non-designated school
Carnaval is Coming
Due to the cold weather this week, we had to postpone our Carnaval event to March 10. Make sure to send your child to school with all their winter gear on March 10 as we will spend several hours outside playing winter games and having fun! Vive le Carnaval!
OPPORTUNITY
Counsellor's Corner
Hey Mustang Families!
It's been a cold one! Here's hoping that this weekend warms up, but if it doesn't, Cineplex Family Favourites will be back this Saturday, February 25th, in the morning. The movie shown will be How to Train Your Dragon: The Hidden World!, and the cost per ticket is $2.99 at Cineplex Theatres. To ensure a seat, reserve your tickets today!
Stay warm!
Dina Deuzeman
School Counsellor
Numeracy at Home
Are you looking for ways to support your child's numeracy skills? Check out the following advice from Professor Jo Boaler: 6 Ways to Support your Child's Mathematical Development  
INFORMATION
Running Club Wows at the Butterdome
We'd like to send a shout out to our DCE Running Club who competed in the Running Room Indoor Games at the Butterdome this week. Even though they were nervous, our teams did really well with all five of our teams qualifying for the next round of competition. Four of our teams placed first in their heat and all teams had incredible times with excellent sportsmanship! We are off to the races again for the next competition round on March 11. Thank you to our coaches, Mr. Brouwer and Mr. Walker, as well as to our incredible parent volunteers who supported our runners at this event! Go, Mustangs!
Jump Rope for Heart Fundraising Success
This year our school goal was to raise $6000 for the Heart and Stroke Foundation. At the time of this blog post, we have raised $6701! To celebrate surpassing our goal, we held a mini dance party in the halls this afternoon. Students danced together and celebrated the way we care about others through acts of charity! Way to go, Mustangs!
Parents make the difference
Here is this week's article with helpful tips for families:
Are you helping your child deal with frustration?
Elementary school students don't always have the skills to cope with life's minor hassles. Are you helping your child learn to deal with frustration? Respond yes or no to each statement:
I understand that it isn't my job to protect my child from all of life's ups and downs.
I encourage my child to keep trying when stuck on a homework problem. I ask questions to help my child think of solutions.
I help my child link effort to success. Sometimes I say, "Learning isn't always easy. But you'll get it if you stick with it."
I point out real-life stories of successful people who have overcome challenges.
I put my child's feelings into words. "You're frustrated that learning this science concept is taking longer than you hoped. You'll get there."
How well are you doing?
If most of your responses are yes, you are giving your child opportunities to work through frustration. For each no, try that idea in the quiz.
Reprinted with permission from the February 2023 issue of Parents make the difference!®  (Elementary School Edition) newsletter. Copyright © 2023 The Parent Institute®, a division of PaperClip Media, Inc.