Back to all posts
Posted on:
Mustang Memo - March 10, 2023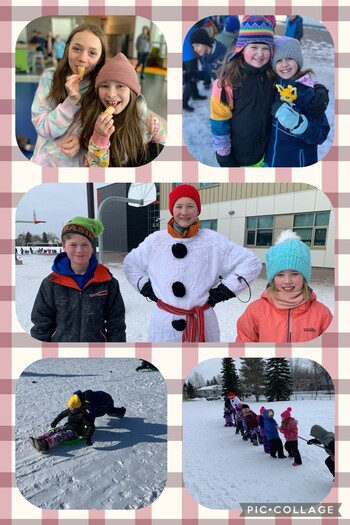 Carnaval has finally arrived at Davidson Creek Elementary! We had a blast playing fun games outside all day. 
Students played tug of war and participated in three-legged and sled races! They bowled in the snow and then came inside for a game of freeze dance followed by a delicious maple syrup cone! 
We are so proud of our Grade 6 students who ran all of the stations and helped our younger students to play the games. They were excellent role models and they demonstrated kindness and ensured everyone felt like they belong! Well done Grade 6!
We hope you enjoy a great weekend!
Helene Hewitt & Kyla Harding
Principal & Assistant Principal
You belong here!
Table of Contents
Week At a Glance
Action
Report Cards are Coming
Daylight Savings is Back!
Hot Lunch Ordering is Open
EIPS' 2023 Annual Feedback Survey is Open
Opportunity 
Counsellor's Corner
Upcoming School Council & DCFS Meetings
Information
Week of Inspirational Math
Parents Make the Difference
WEEK AT A GLANCE
Sunday, March 12 - Set your clock ahead one hour!
Monday

Complete the EIPS Parent Survey - click here to get started!
Week of Inspirational Math begins
Walker swimming lessons
Kindergarten field trip to Telus World of Science (all classes)
Lunch clubs: 

Games Club - Gr. 1 & 5
Badminton Club Girls - Gr. 6 

Tuesday

Jean & Jersey Day
Lunch clubs:


Badminton Club Boys - Gr. 6
Cute Thing Club - Mikitka

School Council Meeting @ 6:30 p.m. Click here to join virtually.

Wednesday

Lunch clubs:


Choir Gr. 3-6 
Art Club - Gr. 1 & 2
Badminton Club Girls - Gr. 6 
Minecraft Club - Gr. 3

Grade 5 - D.A.R.E. Classes Crockett/Miller/Coates

Thursday

Lunch clubs:


Badminton Club Boys - Gr. 6
Cute Things Club - Morrison

Friday

Report cards posted online!
Wear green for St. Patricks' Day!
Grade 1 field trip to Muttart Conservatory
Lunch clubs:
Mustang Memo posted
ACTION
Report cards are coming - Next Friday!
Term 2 report cards are almost here! Parents and guardians will continue to access report cards through PowerSchool—simply log in to your account and click on the "Report Card" button in the left-hand sidebar.
We invite you to check it out when report cards go live on Friday, March 17! 
Time to Spring Forward!
It's that time of year when we set our clocks ahead an hour! Don't forget to spring forward this Sunday, March 12!
Hot Lunch Ordering is Open for April and May
Are you ready to order some delicious Hot Lunch for April & May? 
For details about what you can order and how, please read the Hot Lunch Ordering Letter.
We are also looking for hot lunch volunteers! If you would like to help out, please click here to access the volunteer sign up form! Thanks for helping us to offer this tasty treat to students!
If you are a family that is experiencing some hardships and you would like information on how to access our school compassion fund, please feel to reach out to the principal, Helene Hewitt by phone 780-467-5557 or by email at helene.hewitt@eips.ca. Discussions about financial matters will be kept confidential.
EIPS' 2023 Annual Feedback Survey is Open!
It's not too late to take this survey! 
Elk Island Public Schools (EIPS) wants to hear from you. Make sure to complete the 2023 EIPS Annual Feedback Survey: For parents and caregivers—open from March 1-23.
Every year, EIPS conducts the feedback survey to gauge its progress toward meeting the goals and priorities outlined in its Four-Year Education Plan. Families are asked a series of questions about their experiences with EIPS and the school their child attends, the overall performance of the Division, the quality of education being provided to students and areas for improvement. The survey input helps the Division develop new strategies to better serve students and the wider community.
VISIT EIPS.CA TO TAKE THE SURVEY: March 1-23
NOTE: The survey is anonymous and only takes a few minutes to complete. If you want to share the experience of more than one child attending an EIPS school, simply complete the survey again.
OPPORTUNITY
Counsellor's Corner
Hey Mustang Families!
Here at DCE we've been talking a lot about our thoughts and feelings. This week, we're looking at the purpose of fear and how we can use it to serve us. Please feel free to continue this conversation at home by sharing the following information with your children:
The Purpose of Fear
Puts us on alert when we could be unsafe
Helps our brains to decide if we could be in danger
Can help get our bodies ready to run in case of danger (by pumping hormones and energy into our bodies)
Can help our bodies to get ready if we need to protect ourselves
How Does Fear Show Up In Our Bodies?
Hair on neck or arms standing up
Dry mouth
Heart beating fast
Butterflies in the tummy
Clenched fists
Wide eyes
Jelly legs
Eyebrows go up
Feeling of wanting to throw up
Shoulders go up
Shaking
Wetting pants
Goosebumps
Sweaty palms and/or underarms
What Can We Do When We Feel Unsafe?
Trust our bodies, leave the person or situation that is making you feel unsafe
Go and talk to a trusted adult
Once we are in a safe place, help our bodies to reset by practicing calming activities (square breathing, journalling, etc.), it is not healthy for our bodies to feel unsafe often
Together, we can help keep children safe!
Dina Deuzeman
School Counsellor
Upcoming School Council Meeting
Hey parents and guardians! We hope you can join us on Tuesday, March 14, 2023 at 6:30 p.m. for our school council meeting.
Parents are a huge part of making our school such an incredible place! We'd LOVE to see even more parents at our meeting!
Here is the agenda for the upcoming meeting:
Here are the minutes for from the last meeting:
Draft SC Minutes February 2023
INFORMATION
Week of Inspirational Math
March 13-17 is the Week of Inspirational Math! Students will have the opportunity to see that math is all around us through a variety of fun math activities taking place in classrooms all week! Student activities are centered around a Minecraft theme and are geared specifically to students in each grade level. For example, students may be shown a picture of four LEGO blocks and be asked "Which one doesn't belong and why?" The blocks might show two of the same colour but with a different number of pegs, or two pieces that have the same number of pegs but with different thicknesses. These kinds of questions are open-ended without necessarily having a correct answer. 
There is also daily virtual guest reader who will share their passion for math along with a great math inspired story book. Make sure to ask your child about how they were inspired by math in the upcoming week! 
Parents make the difference
Here is this week's article with helpful tips for families:
Regular family meetings build skills and make life a bit easier
Weekly meetings can make family life run more smoothly—and help children learn about cooperation and leadership. To hold productive family meetings:
Establish a schedule. Meet at the same time every week and keep meetings brief. Fifteen minutes is often long enough.
Set ground rules. No devices or other distractions.
Plan an agenda. During the week, let family members jot down issues they'd like to address.
Encourage participation. Give each family member a chance to talk uninterrupted.
Brainstorm solutions for concerns raised during the meeting. Consider everyone's ideas.
Discuss expectations for the upcoming week and review goals.
Coordinate schedules. Review your family calendar and discuss who is doing what this week.
End with a team-building activity. Play a quick game, or make up a story or sing a song.
After a few meetings, let family members take turns being the meeting leader.
Reprinted with permission from the March 2023 issue of Parents make the difference!®  (Elementary School Edition) newsletter. Copyright © 2023 The Parent Institute®, a division of PaperClip Media, Inc.