Back to all posts
Posted on:
Mustang Memo - September 22, 2023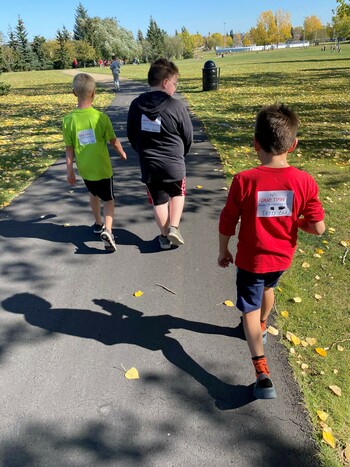 What a day!
We had an incredible first assembly of the year to kick off our Terry Fox Run/Walk. Thank you to our incredible Grade 5 students who led the assembly with the support of the Grade 5 teacher team!
It always amazes us to see the students preparing so diligently for the Terry Fox run and to see them carry on Terry's Marathon of Hope. Running through the DCE neighbourhood with our school family is a special event that speaks to the kindness and compassion of the Mustang herd!
As we walked down the hallway looking the messages written in the Terry Fox running shoes that are so neatly taped onto lockers, we can see that our kids are thoughtful and compassionate. You can rest assured that our future world is in good hands!
Enjoy the weekend!
Helene Hewitt & Jay Robertson
Principal & Assistant Principal
A place where you belong!
Table of Contents
Week At a Glance
Action
Update your PowerSchool Information
First Nations, Métis and Inuit Sharing - Orange Shirt Day
Book Donations for the Used Book Sale
Opportunity 
Counselor's Corner
Family Literacy Night is Coming!
Information
Parents Make the Difference
WEEK AT A GLANCE
Monday
Tuesday

Great learning happening in classes!

Wednesday

Coates/Brouwer/Kotronis swimming field trip @ 1 p.m.

Thursday

A wonderful day of learning!

Friday

Orange Shirt Day
Mustang Memo posted online
ACTION
Update your PowerSchool information - Due Today!
The EIPS Correction and Verification Form is available online through your PowerSchool Parent Portal. Use the form to access and update your child's records information—including address, parent and guardian information, emergency contacts and medical information. Reviewing the form and submitting updates ensures the school has the most up-to-date information regarding your child.
When reviewing the form, pay close attention to all listed phone numbers, email addresses and emergency contact information. Also, if you recently moved, now is the time to ensure the Division has your updated address. Throughout the year, the Division and school uses the listed information to communicate with families about important information, including updates, the latest news and events.
EIPS Correction and Verification Form
Review and update the form by Sept. 22, 2023.
For more information about the PowerSchool Correction and Verification Form, contact the school office at 780-467-5557.
First Nations, Métis and Inuit Sharing - Orange Shirt Day
Orange Shirt Day is a day of remembrance and and act of reconciliation that takes place annually across Canada. This is an opportunity to commemorate the history and legacy of residential schools. It grew out of a gathering of survivors held in Williams Lake, British Columbia in 2013, where Phyllis Webstad, who attended St. Joseph Mission residential school, shared her experience of having her new orange shirt taken on her first day. You can learn more about it with this video:
Orange Shirt Day at Davidson Creek
At our school, our students are invited to wear an orange shirt on September 29. Throughout the week, students will learn about Orange Shirt Day as well as participate in a writing and art activity in class.
We will also share a video of Elder Wilson in our morning announcements which will provide students a chance to learn the Orange Shirt Day dance. Teachers will also engage in a variety of educational activities that were shared by our school division to help teach children about acts of reconciliation to help heal the hurts caused by residential schools. 
Donations for the Used Book Sale
Do you have books that no one is enjoying taking up space on your shelves? Are you a book collector that has run out of room! Have no fear - you can donate those gently used books to our school.
What kind of books, you ask? Any kind! Cook books, comic books, thrillers, picture books, biographies...the list is endless! They could be for children or for adults! Everyone loves to read and what a chance to pass along some of your favourite titles to another book lover!
You can drop off the books at the front of the school in the book donation bin! Then save up your cash to buy a book at the sale on October 4 during our Family Literacy Night!
OPPORTUNITY
Counselor's Corner
Hello DCE Community,
My name is Madison Bashaw and I am thrilled to be one half of your counselling team at Davidson Creek Elementary this year. And I am Kelley Mitchell, the second member of your counselling team this year. Madison's journey with EIPS began in 2013 and includes many years spent in early learning, as a PALS teacher, as well as previous experience as a literacy support teacher and school counsellor. Kelley began teaching at EIPS in 2008 and completed her Master of Educational Psychology in School Counselling in 2011, focusing on school transitions.
Kelley has taught kindergarten through Grade 6 since 2005 in a variety of settings before transitioning to becoming an educational psychologist in 2015. She is returning to EIPS after the birth of her second son in 2020. Madison is also returning from maternity leave this year. Prior to the birth of her twin boys, Madison completed her Master of Education in School Counselling, with a focus on supporting wellbeing for neurodivergent populations. Specifically, mental health support for students with ADHD and/or autism, is a long-standing area of passion for her. 
In our work, we are guided by the understanding that all children need to feel a sense of belonging in order to thrive, and we are so excited to collaborate with students, parents, and staff to support our inclusive learning environment at Davidson Creek this year.
Madison Bashaw, M.Ed.
Davidson Creek School Counsellor
Kelley Mitchell, M.Ed.
R. Psych. CHT
Davidson Creek School Counsellor
Family Literacy Night is Coming!
October 4 is coming soon! 
That's right! We have a fun filled evening coming your way full of interesting activities offered by our DCE teaching team for your family! From 6:00 to 7:30 p.m., our school will transform into an action packed literacy playground! 
There will be three rounds of activities in 20 minute slots where families can pick and choose from special literacy activities led by our excellent DCE teaching team.
You can also choose to attend one of our very special guest presenters including Kohkom Linda, an elder who will be sharing stories as part of oral traditions for First Nations peoples. We will also have children's author, Sigmund Brouwer, presenting sessions in the gym, where you can purchase signed copies of his books.
You can also pick out one free book from our Used Book Sale and then buy as many more books as you'd like for $1 each (cash only!). Save a few dollars for some tasty treats at the concession run by our incredible Davidson Creek Fundraising Society parent volunteers!
Make sure to mark you calendar so that you don't miss this amazing event! Keep your eye out for information on how to sign up for sessions in the upcoming week!
INFORMATION
Parents Make the Difference
Here is this week's article with helpful tips for families:
Five things families can do to help students thrive in school 
Every family—and every child—is different, but there are ways all families can set children up for success. Studies show that students are more likely to achieve in elementary school and beyond when their families provide a supportive environment.
To set your child up for a great school year:
Set the bar high. Insist on your child's personal best, but don't demand perfect grades. Praise effort and progress—even if your child falls short.
Assign chores. Children who have household responsibilities learn how to be responsible. Make a short list of weekly tasks and expect your child to complete them.
Teach social skills. A productive learning environment hinges on students' ability to get along with others. Promote cooperation and courtesy.
Nurture your relationship. Make time to have fun together. Share a hobby. Play catch in the yard. Express your love by being attentive and supportive.
Take care of yourself. If you're always stressed, your child will be, too. Carve out time to relax, exercise or curl up with a good book. A calm, peaceful home starts with you.
Reprinted with permission from the September 2023 issue of Parents make the difference!®  (Elementary School Edition) newsletter. Copyright © 2023 The Parent Institute®, a division of PaperClip Media, Inc. Source: R. Gillett and R. Premack, "Science says parents of successful kids have these 11 things in common," Business Insider.