Back to all posts
Posted on:
Mustang Memo - September 9, 2022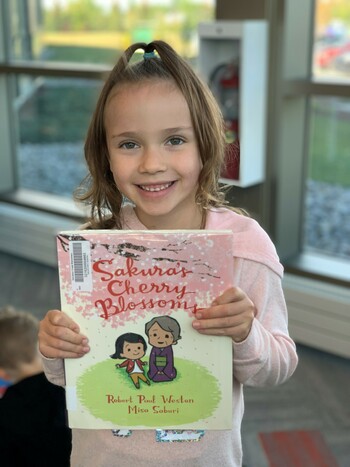 Another week is in the books! We are so proud of our kindergarten students for successfully completing their first week of school! 
This week the students taught us all about how we do recess at school! We've learned how to play tether ball and we've even had a crash course on four square! 
We are very proud of our incredible kids! There were several prize winners in today's Mustang Mention prize draw! We are excited to see the students continue to demonstrate kind, safe and respectful actions all while being their best selves at school! 
What a great week! We hope you have a chance to relax and enjoy the great weather this weekend.
Helene Hewitt & Kyla Harding
Principal & Assistant Principal
A place where you belong!
Table of Contents
Week At a Glance
Action
Student Medication
Stop, Drop and Go Lane 
Opportunity 
Meet the Staff is Coming
School Council and Davidson Creek Elementary Fundraising Society Meetings
National Truth & Reconciliation & Orange Shirt Day 
Information
Lunch Hour Changes
Counsellor's Corner
Buddy Bench
EIPS Career Pathways
Parents Make the Difference
WEEK AT A GLANCE
Monday

The start of a great week
Swapping the order of the lunch recess this week

Tuesday

Meet the Staff @ 6 - 7 p.m.
School Council meeting 7 p.m.
DCFS (fundraising group) 8 p.m.

Wednesday
Thursday
Friday

Emergency Evacuation
Mustang Memo posted online
ACTION
Student Medication
If your student requires medication to be accessible at the school such as Tylenol, Advil, Benadryl, Reactine, and Tums, please fill out the Medication Management Plan and return it with the medication to Mrs. Gibson in the office or email return the form to general.dce@eips.ca.
Students are not permitted to administer their own medication at school. All medication should be provided in its original packaging and labelled with student's name. All medication will be stored in the office with administering recorded.
Stop, Drop and Go Lane
You may have noticed us out in the drop off lane in the mornings. We are the two people in the pink vests waving at cars and talking to kids. 
We would like to thank all of the parents who use the visitor parking stalls and who park on the neighbouring streets when they need to walk their child into the building. You are incredible role models for the community and help make sure that the drop off lane doesn't get blocked off and backed up!
For anyone who may not be familiar with how drop off lanes are designed to work here is a quick run down of how to use them.
Morning Drop Off:
Pull into the farthest open spot (Don't stop at the start or the middle please!)
Help your children exit the car and give them a quick kiss or hug before sending them on their way. 
Do not leave your vehicle - if you need to walk your child in, park in a visitor stall or on a street!
Pull into the driving lane and exit the drop off area.
Afternoon Pick Up:
Pull into the farthest open spot.
Stay in your vehicle.
If the car in front of you leaves, move into the empty spot ahead of you.
When your child arrives, help them to get in the car safely.
Pull into the driving lane and exit the drop off area.
We will be out there helping to get traffic moving so that students are not crossing between cars and so that parents are not having to weave in and out of the lane when they arrive.
We can make this a quick, simple and safe experience for everyone if we work together!
Go, Mustangs!
OPPORTUNITY
Meet the Staff is Coming!
We are excited to welcome parents into our school on Tuesday, September 13 for our Meet the Staff Open House. We invite our families to come to the school to visit your child's classroom, to see their learning spaces and to meet the teacher. There is no formal program for this evening. It is an open house for you to come, pop in, and say hello.
While this is a great opportunity to put faces to names and to connect in person, this is not like a formal parent-teacher interview. If you have specific things to discuss with the teacher about your child, we invite you to email or phone the school to set up an appointment so that we can best support you and have conversations that are of a more private nature at a different time.
School Council Meeting and Davidson Creek Fundraising Association Meeting
Come for the Meet the Staff and stay for the council meeting! Parents and guardians are essential in making our school a place where everyone belongs. As the expert on your own children, your perspective is very important in helping us to work together to make great things happen and Davidson Creek Elementary! We hope to see you there!
National Truth & Reconciliation & Orange Shirt Day
September 30 is National Day for Truth and Reconciliation with the purpose of honouring the children who never returned home as well as Survivors of residential schools. This day is an opportunity for public commemoration of these tragic events and painful history as well as an acknowledgment of the ongoing impacts of residential schools. 
As September 30 is a federal statutory holiday, our school will participate in Orange Shirt Day on September 29. Students and community members are encouraged to wear an orange shirt to school on this day. If you don't own an orange shirt, you can still be part of this event by wearing an orange ribbon or another items of clothing in orange. We will have ribbons available for students who may need them.
What is Orange Shirt Day and why do we acknowledge it?
Orange Shirt Day is a day of remembrance and and act of reconciliation that takes place annually across Canada. This is an opportunity to commemorate the history and legacy of residential schools. It grew out of a gathering of survivors held in Williams Lake, British Columbia in 2013, where Phyllis Webstad, who attended St. Joseph Mission residential school, shared her experience of having her new orange shirt taken on her first day. If you would like to learn more about Phyllis' story, click here to watch a short video. September 30 was picked as the date because it is the time children had to leave their homes and return to the schools.
What help is available to former residential school students?
The National Indian Residential School Crisis Line is available for former residential school students and includes emotional and crisis referral services. Services are available around the clock and can be accessed by calling 1-866 925-4419.
INFORMATION
Lunch Hour Changes
Next week we will be swapping our lunch hour schedule. Starting on Monday, our youngest students from kindergarten to grade 2 will begin the lunch hour by eating in their classrooms followed by playing outside. Our students in grades 3-6 will begin the lunch hour by playing outside first and then coming inside to eat afterwards.
After a great discussion as a staff, we have decided to try swapping the lunch hour to ensure that our youngest students have enough time to eat their lunches as well as to make sure that they have an easier time finding their doors when it's time to come inside. Thank you to our noon supervisors and the rest of the Davidson Creek staff for coming up with solutions that support the safety and well-being of all students!
Counsellor's Corner
Hello Mustangs!
My name is Ms. Dina Deuzeman and I am the new school counsellor here at Davidson Creek. I will be working with students both inside and outside of the classroom by helping them to develop the skills needed to gain insight into their inner world and manage their emotions, relationships, and schoolwork. Please feel free to contact me with any questions at dina.deuzeman@eips.ca or by phoning the school at 780-467-5557 and dialing extension 8803.
Have a great weekend!
Dina Deuzeman, School counsellor
Buddy Bench
Did you know that our school has a Buddy Bench? Wait! What is a Buddy Bench?
If your child is feeling lonely at recess or in need of a friend to play with, they can use the Buddy Bench. Sitting there is a signal to other students that someone needs a buddy! We will remind our students in the morning announcements about how to use this bench. If students see people sitting there, they are encouraged to go over and talk to them or invite them to play. What a great way to spread kindness at Davidson Creek! It is just another example of how everyone everyone belongs here.
EIPS Career Pathways - how are we preparing our students for the world of work?
Career Pathways is designed to develop skills that students can apply in their daily lives when preparing for entry into the workplace or for further learning opportunities. Competencies achieved will allow students to make relevant connections with work and/or post-secondary training.
Career Pathways Overview:
Fosters growth and success for every student by supporting their journey from early learning through high school completion and beyond, and enhances education through communication, engagement and relationships. ​
Career Pathways is about building awareness, understanding and readiness for a pathway that helps students acquire self-esteem, self-respect and fulfillment in life. ​
Conversations about Career Pathways will take place throughout a student's journey from K-12. ​
Students have the opportunity to explore numerous career pathways and possibilities which develops their knowledge, skills, attitudes and values as they work towards entering post-secondary or the workforce. ​
Opportunities to personalize their learning, identify and explore their interests, manage transitions and build partnerships while developing competencies.
Grade K-4 Awareness ​
Students discover themselves by understanding their likes and dislikes and become familiar with the idea of "work." Hands-on learning opportunities and awareness-building resources emphasize the process of exploration over a final destination. ​
"Who am I?" ​
"What are my personal characteristics?" ​
"What is possible for me?" ​
"How do I like to learn?"
Grade 5-9 Understanding ​
Students begin to understand opportunities available to them and connect those opportunities to interests they identified in the Awareness stage. During this time, students explore and reflect on a variety of experiences to help them plan their next steps. ​
Make plans and map out how to get there (Goal Setting) ​
Gain hands-on experience ​
Think about "next steps"
Parents Make the Difference
Here is this week's article with helpful tips for families:
Begin the school year with a commitment to attendance
Your child's teachers will do their best to help your child learn and succeed in school. But there's one thing that only you can do—get your child to school every day.
Children who don't attend school regularly fall behind and score lower on tests. They can also have a hard time making and keeping friends—especially in elementary school.
How often a child is absent in elementary school sets a pattern for absences in later school years. Lots of absences often lead to students dropping out of school completely.
To reduce school absences:
Discuss the value of education and let your child know that school attendance is not optional.
Discuss some of the consequences of missing school, such as needing to do make-up work, missing friends, not understanding new concepts.
Follow school rules for keeping students home due to illness. Don't allow your child to stay home simply to catch up on homework or sleep.
Promote frequent hand-washing to help keep your child healthy and in school.
Schedule medical appointments during non-school hours when possible.
Plan vacations for when school is not in session.
Track your child's absences. Look for any patterns that need to be addressed.
Talk to the teacher or the school counselor if your child regularly doesn't want to go to school.
Reprinted with permission from the September 2022 issue of Parents make the difference! (Elementary School Edition) newsletter. Copyright © 2022 The Parent Institute®, a division of PaperClip Media, Inc. Source: A. Ansari and M.A. Gottfried, "The Grade-Level and Cumulative Outcomes of Absenteeism, Child Development, The Society for Research in Child Development