Back to all posts
Posted on:
Mustang Memo - April 28, 2023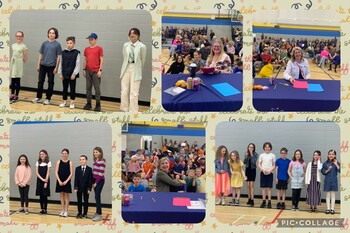 This afternoon we were wowed by some incredible Grade 4, 5 and 6 student speakers during our 5th Annual DCE Speech Competition.
Over the past month, all Grade 4-6 students worked hard to research, write, and present a 3 minutes speech. Each child was able to present their speeches to their class and two students were selected per class to present their speeches in the final competition that took place today. They didn't disappoint! We learned about near death experiences, why cheeseburgers are the best food, why you should love steak, and the importance of good mental health supports to name a few speech topics! 
We were lucky to have three special judges for the competition: Associate Superintendent, Sandra Stoddard; Literacy Consultant, Heather Balog; and our very own in-house celebrity, retired DCE Principal, Kaye Shindeler. 
The speeches were incredible and all students demonstrated courage, calmness under pressure, and some mad speaking skills! We could not be more proud of our little Mustangs!
Thank you to Ms. Hansen and Mr. Miller for organizing our speech competition and to all of those incredible teachers who have helped our students become the best orators out there!
Way to go, Mustangs!
Helene Hewitt & Kyla Harding
Principal & Assistant Principal
You belong here!
Table of Contents
Week At a Glance
Action
Parent Information Night RSVP Now!
Hats On for Mental Health
Opportunity 
Information
May 5 Professional Learning Day
Parents Make the Difference
WEEK AT A GLANCE
Monday

Education Week
Grade 6 Immunizations
Lunch clubs: 


Running Relay Practice- Grade 4 @ first recess
Games Club - Gr. 1 & 5

Tuesday

Lunch clubs:


Daebak Dance - Gr. 3 & 4 lunch recess
Running Relay first Grade 5 @ first recess

Grade 4 Ennis & Hansen Cute Things Club forms due

Wednesday

Hats on for Mental Health
Lunch clubs:


Running Relay Practice- Grade 6 @ first recess
Choir Gr. 3-6 

Early dismissal @ 2:18 p.m.

Thursday

Lunch clubs:


Minecraft Club - Gr. 3
Daebak Dance Gr. 5 & 6 - lunch recess in the gym

Swimming Lessons Oslanski/Drechsel/Siminick/Gillis/Snaterse/Kellough

Arbor Day Field Trip Gr. 1

EIPS Outdoor Relays after school

Friday

Professional Learning Day - no school for students
ACTION
Parent Information Night - RSVP Now
We are very excited to share an upcoming free parent presentation with our school communities. We hope to see you there. For more detailed descriptions of the session check out our March 20 blog post here.
No Such Thing as a Bad Kid: Understanding What's Behind Children's Behaviors

Presented by Strathcona County Family Resource Network
May 17, 2023, 5:30-7:30 @ Glen Allan Elementary School
Questions? Please contact, Tammy Marks @ tammy.marks@eips.ca 
Hats On for Mental Health
What is Hats On for Mental Health? It's a chance to not only wear a spiffy hat but also to raise awareness on the importance to taking care of our mental health. Finding ways to manage stress, learning how to cope with anxiety, grief, and fears are all parts of mental health. 
Meeting with a trained counsellor or psychologist is like getting a checkup for your emotions, like you might go for a teeth cleaning at the dentist or a physical with a doctor. Many Canadians have diagnosed mental health conditions such as depression or other disorders that can be treated by our capable health professionals.
Let's stop the stigma around the mental health! Everybody, grab your favourite hat and let's celebrate good mental health!
OPPORTUNITY
Counsellor's Corner
Hello Mustang families!
This week at DCE we've been learning about establishing boundaries and how boundaries can help to create change. One of the resources that we used was the song below, which we invite you to listen to. It's a catchy little tune that clarifies what boundary-setting can sound like. This is a versatile resource that can help your child to participate in their world in an authentic way. This resource can also be used to help your child be an upstander against bullying, hate, racism, etc. I double-dare you to not let it get stuck in your head!
On Wednesday (May 3d), we will be raising awareness of the importance of good mental health by participating in Hats On! for Mental Health, which means that our school will relax our hat rules and encourage students and teachers to wear hats to school on that day. Hats On! for Mental Health builds understanding around mental health services being a right, not a privilege, as access to services is one of the most significant barriers to getting help. See you all on Wednesday in your most amazing hats!
Have a healthy weekend!
Dina Deuzeman
School Counsellor
INFORMATION
May 5 Professional Learning Day
On May 5, our staff will become students for the day! We will be having an incredible day of professional learning focused on increasing our staff knowledge of the Métis people, including their history and culture.
We will be going on a yellow school bus to Métis Crossing where we will be involved in a variety of hands on learning opportunities including a plant walk, a variety of crafts and access to the Rupertsland classroom to brush on our Métis 101 knowledge! We are looking forward to sharing our learning in our own teaching soon!
Parents make the difference
Here is this week's article with helpful tips for families:
Responsibility is crucial for your elementary schooler's success
Educators agree that responsible children do better in school. Luckily, families have countless opportunities to foster responsibility.
Here are just a few to start with:
Enforce a few age-appropriate rules and consequences. State them clearly so your child knows the exact behavior you expect.
Trust your child with meaningful tasks. School-age children are capable of handling responsibilities such as picking up their rooms, setting the table and helping with the laundry.
Discuss ways to help others. Talk about what it means to be a responsible member of a community. Consider different ways your family can contribute, such as by donating gently-used clothing to a charity or volunteering your time for an important cause.
Talk about financial responsibility. Many children receive an allowance. Even a small one provides a great opportunity to teach about budgeting, spending, saving and giving.
Let your child make decisions, such as how to solve a problem with a friend at school. Making decisions builds confidence.
Adjust rules and responsibilities. As your child matures, abilitieswill change. Consider assigning more grown-up chores. Or perhaps your child can make new and exciting decisions. Talk about how great it feels to be responsible!
Reprinted with permission from the April 2023 issue of Parents make the difference!®  (Elementary School Edition) newsletter. Copyright © 2023 The Parent Institute®, a division of PaperClip Media, Inc.