Back to all posts
Posted on:
Mustang Memo - August 29, 2022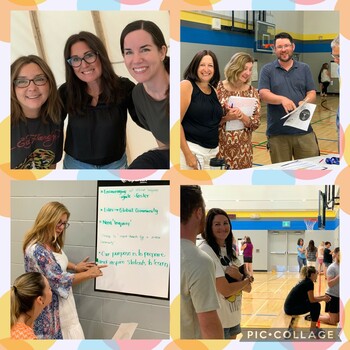 Welcome back, Mustang families!
Tomorrow is the big day when we get to meet our incredible Davidson Creek students! We have been busy getting our school and classrooms ready for all of our little Mustangs!
As you might already know, Mrs. Harding and I are new to this community. Even though we have only just begun our time here, it already feels like home! We are so impressed with the amazing staff at this school who have been in and out of the building over the past several weeks ensuring that they are ready to welcome your children to their classrooms. 
We are confident that this will be an wonderful year, full of adventure, friendships and much learning!
When students arrive at school tomorrow, you can expect to see our staff outside helping students to find their doors. Teachers will be standing with orange pylons marked with their grade level to help students find their classes. Here is a copy of a map that might also be of help!
Mrs. Harding and I will be the ones standing in our pink supervision vests helping to direct traffic so please make sure to say "hello" if you see us!
Only one more sleep until we get to meet our herd! We can't wait!
See you tomorrow!
Mrs. Hewitt & Mrs. Harding
Principal & Assistant Principal
Davidson Creek - You belong here!
Table of Contents
Week At a Glance
Action
Sync the school calendar to your calendar
Morning Drop Off
Opportunity 
Save the Date - School Council and Davidson Creek Fundraising Society Meetings
Information
School Handbook
Parent Drop Off Lane
WEEK AT A GLANCE
Monday

Operational Day - no students

Tuesday

First day of school!
Kindergarten Group B staggered entry today (check your email for your time!) 

Wednesday

Kindergarten Group A staggered entry today (check your email for your time!) 

Thursday

Kindergarten Group B staggered entry today (check your email for your time!) 

Friday

Kindergarten Group A staggered entry today (check your email for your time!)
Mustang Memo posted online
ACTION
Sync the School Calendar to Your Calendar
Did you know you can sync the school calendar to your own calendar? Simply, visit our calendar page and click on the applicable subscription option:
Download to iCal
Add to Google Calendar
Subscribe to Calendar
NOTE: Options are located above the calendar.
Once you click on the desired subscription option, follow the instructions. Within seconds, your calendar will contain all Davidson Creek Elementary's important dates including holidays, school-closures days, planned activities, events and more.
Morning Drop Off
While we are happy that our students love coming to school, please do not drop off students before 8:30 a.m. as we have no staff outside supervising before this time and teachers are busily preparing for the day and cannot supervise children in classrooms. 
If you are dropping your child off after 8:45 a.m., please send them to the front doors. They will come through the office to check in before going to class. Teachers will meet classes at their doors starting at 8:35 a.m. All doors, except the front doors, are locked and students can gain access with their teachers.
OPPORTUNITY
Save the Date - Meet the Staff and Annual General Meetings for Parent Groups
In partnership with our parent groups, we are looking forward to an exciting Meet the Staff evening on September 13, 2022 at 6 p.m.! After the event, we will be having our School Council and Fundraising Parent group meetings.
Every parent/caregiver at our school is a member of the school council! We invite you to stay for the meeting so that you can be involved in making our school a great place for all. We value our parents and caregivers and we want to work with you as partners! We even have some positions up for election so be sure to come and vote for your executive team! We hope to see you there!
INFORMATION
Davidson Creek School Handbook
Did you know that we have a School Handbook full of information about how we do things here at Davidson Creek Elementary? Teachers will review important information in the handbook with their students throughout the first week of school.
If you have not yet had a chance to read it, check it out by clicking here!
Parent Drop Off Lane
We are lucky to have a "kiss and go" parent drop off lane beside our school. If you are new to these kinds of lanes it might help if we explain how to use them.
The drop off lane is designed to keep traffic moving quickly. For this reason, please do not park your car in this lane and get out to walk your child somewhere or collect your child from inside the school. When people do this, it blocks the lane and creates a traffic jam. 
The lane works really well when people stay in their cars and pull up to the farthest empty spot. If a car in front of you leaves, move ahead into the farthest spot. This makes the lane go quickly and everyone is happy! We will be out there helping people to make these lanes work well!
If you do need to come into the school, please park in a visitor stall or park somewhere in the neighbourhood and walk into the building. 
Together, we can make it work for everyone!