Back to all posts
Posted on:
Mustang Memo - December 16, 2022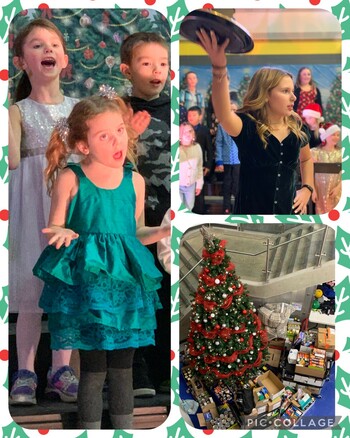 The first third of the school year is almost behind us and we have much to celebrate! Our students dazzled us with incredible performances this week during our evening in-person Christmas concerts. 
We were so proud of them as they remembered lyrics, dance moves and instrument parts while reciting lines and spreading joy to a large audience. Considering it has been a few years since students could perform in a public venue, we could not be more impressed with their ability to step up and perform even though they were nervous! 
Watching our students shine last night got me thinking about all that we have to be thankful for. In this first chunk of the school year we embraced new ways of doing things such as new curriculum, new report cards and even new field trip forms! We welcomed new and familiar students, staff and community members to the school and we had a chance to focus on making sure that everyone belongs here!
We have watched countless students receive Mustang Mentions for their outstanding demonstration of being kind, safe, respectful and their best selves. 
We have watched staff run clubs in order to ensure each child has a chance to find a passion that could one day lead to a career that feeds their souls. We've witnessed students connecting with each other in buddy reading classes or a lunch leaders.
As the newest members of this incredible Mustang herd, we would like to thank everyone for making us feel so welcome here. We could not feel more proud of being a part of this community of caring people! 
We hope that you and your family are able to enjoy some relaxation and comfort over the break!
Happy holidays and have a wonderful New Year!
Helene Hewitt & Kyla Harding
Principal & Assistant Principal
You belong here!
Table of Contents
Week At a Glance
Action
Opportunity 
2023-24 School Fees Consultation
Information
Counsellor's Corner
Teepee Update
Strathcona Food Bank Update
Christmas Break
Parents Make the Difference
WEEK AT A GLANCE
Week of December 19 -20
Monday

Daebak Dance - Gr 4 in the gym (last one for Gr. 4!)
Christmas Karaoke in Ms. Heidi's room at lunch Gr. 3 & 4
Milk & Cookie Day @ lunch time (K-6)

Tuesday

Pajama Day!
Last day before Christmas Break
Milk & Cookie Day @ lunch time (alternate kindergarten)
Propagation Fascination club - Gr. 3-6 in the lobby at lunch recess
Cute Things Club: Grade 6
No Mustang Memo (next Memo will be posted on Jan 6)

Wed-Friday

Christmas Break - school closed
Week of January 4-6
Wednesday

Art Club - Grade 1 & 2
Early dismissal @ 2:18 p.m.
Intramurals - Basketball Gr. 5 & 6

Thursday

Cute Things Club - Grade 6
Intramurals - Basketball Gr. 5 & 6

Friday

Daebak Dance Club at lunch recess: Grade 5
Mustang Memo posted online
ACTION
Lost and Found
Thank you to all of the families who looked through the lost and found items on the tables during Christmas concerts! We will be bagging up items on Tuesday of next week to donate to charity. Drop by on Monday for your last opportunity to locate missing items!
OPPORTUNITY
2023-24 School Fees Consultation
Dear Davidson Creek Elementary families,
Under Alberta Education's School Fee Regulation, schools must consult with parents prior to setting school fees for the upcoming school year.
Our next school council meeting will be taking place on January 10, 2023 at 6:30 p.m. During that time, I'll be sharing information about our current fee structure, posing specific questions about priorities, and asking you to provide your feedback as we plan for the 2023-24 school year. While many of these activities and services enhance students' educational experience, we want to ensure these fees aren't cost prohibitive for families.
Specifically, we will be asking for input on the following:
Optional courses and associated fees
Noon hour supervision
Field trips and associated fees
Extracurricular activities
Non-curricular travel (for example, ski trips and band camps)
Non-curricular goods and services (for example, student union and yearbooks)
I understand not all families will be available to attend the meeting but it's still important we get as much input from the school community as possible. Following the meeting, materials will be shared on our website for your review, and an email address provided so you can submit a written response.
School administration will use feedback provided to help determine fees for 2023-24, which will then be shared at the (month) school council meeting, posted to our website and shared via link through email.
I look forward to hearing from you on January 10.
Sincerely,
Helene Hewitt, Principal
Davidson Creek Elementary
INFORMATION
Counsellor's Corner
Happy Friday Mustang Families!
What a great Christmas concert we had this week! To keep the festivities going, here are some local events this weekend that are sure to keep to your family entertained and your spirits high! For more information, visit https://www.strathcona.ca/recreation-events/festivals-and-events/event-calendar/ .
Have a jolly weekend!
Dina Deuzeman
School Counsellor
TeePee Update
You may have noticed that our beautiful teepee looks a bit different as the fabric was removed today. As part of our fire inspection, it was found that the material rating for being safe and fire retardant is unknown. We needed to comply with the inspection and make sure our school is safe. As required by the Fire Inspector, we must remove the fabric. We are not planning for it to be down forever, but it may take a bit or time to find a safe solution. Thank you for your patience as we figure out our next steps!  
Strathcona Food Bank 12 Days of Donations!
Wow! Our school did an incredible job of collection items for the food bank over the last 12 days! We have a mountain of cans, boxes, and items that we will drop off to the Strathcona County Food Bank on Tuesday! We are so impressed with the generosity of this community! On top of the items, we collected $130 in cash donations. Way to show kindness and generosity, Mustangs!
Christmas Break
Davidson Creek Elementary will close for the Christmas break at the end of the day on Tuesday, Dec. 20, 2022. The school will reopen on Wednesday, Jan. 4, 2023. During this time, if you have any school-related questions or concerns, contact Elk Island Public Schools (EIPS) Central Services at 780-464-3477.
EIPS Central Services Christmas Break Hours
Open                     December 22 and 23; 8 a.m. to 4 p.m.
Closed                   Dec. 26, 2022 to Jan. 2, 2023
Open                     January 3; 8 a.m. to 4 p.m.
*for location and contact information visit www.eips.ca.
From everyone at Elk Island Public Schools, we wish all of you a happy holiday season and a wonderful New Year.
Parents make the difference
Here is this week's article with helpful tips for families:
Regular exercise boosts your child's health and academics
Physical fitness provides many benefits for children. Studies show that regular physical activity is linked to higher self-confidence and attentiveness in school. It also lowers the chance of health problems such as type 2 diabetes.
To increase your child's activity level:
Plan family outings. Pick activities your family enjoys and create some new healthy traditions. You might bundle up and go for a short walk after dinner or head to a park every Sunday afternoon.
Make suggestions. When your child has a friend over, suggest they play games that involve movement, such as tag, soccer and jumping rope. Indoors, try games such as Simon Says and Red Light, Green Light.
Add movement to screen time. Have your child take breaks that involve activity when watching TV or playing video games. For example, see how many sit-ups your child can do during commercial breaks.
Be creative. During chore time, play music or race to finish a job. While doing errands, park a few blocks away from a store and walk. Or, make a quick stop at a playground on the way home. Set an example. Children are more likely to be active when they see family members staying fit. Let your child see you stretching, biking, walking with a friend, etc.
Reprinted with permission from the December 2022 issue of Parents make the difference!®  (Elementary School Edition) newsletter. Copyright © 2022 The Parent Institute®, a division of PaperClip Media, Inc. Source: A. McPherson and others, "Physical activity, cognition and academic performance: An analysis of mediating and confounding relationships in primary school children," BMC Public Health, BioMed Central.