Back to all posts
Posted on:
Mustang Memo - December 9, 2022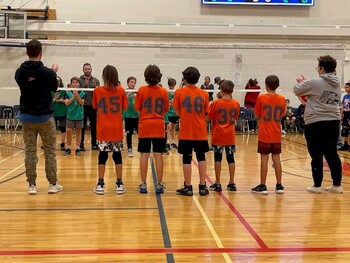 What a great week! It started with a celebration of our Grade 5 & 6 volleyball teams who competed in the EIPS volleyball tournament last weekend. Mr. Brouwer, Mr. Walker and Mrs. Rice spent their weekend cheering on the teams as they worked hard to showcase their great sportsmanship and incredible skills. Our boys team won first place and our girls teams competed against each other in the final round for first and second place.
We are so proud of our students! Yes, winning in a tournament is amazing but that is not what made us proud. We were so impressed at their dedication. They came to each practice at lunch and they were committed to working as a united team. On top of that, they were gracious and humble! With that kind of sportsmanship, we would still be proud of them no matter where they placed in the competition! Effort trumps talent every time! 
This is truly an incredible school full of incredible kids! Way to go, Mustangs!
Helene Hewitt & Kyla Harding
Principal & Assistant Principal
You belong here!
Table of Contents
Week At a Glance
Action
Christmas Concert Reminder
Fee Waiver Deadline is Coming
Opportunity 
Club Moo Update
EIPS Wants to Hear from You!
12 Days of Christmas Food Bank Drive Still On!
Freddie the Yeti
Information
Counsellor's Corner
Returning Student Registration
Parents Make the Difference
WEEK AT A GLANCE
Monday

Games Club Grade 4 at lunch recess in the library
Twelve Days of Christmas food drive starts:

Tuesday

Propagation Fascination club - Gr. 3-6 in the lobby at lunch recess
Cute Thing Club: Grade 6
Twelve Days of Christmas food drive starts:

toothpaste or toothbrushes

Hot lunch - Group B KG, Grade 1 & Gr. 2 Nitza's Pizza

Wednesday

Art Club: Gr. 1 & 2 at lunch recess in Mrs. Drechsel's classroom
Twelve Days of Christmas food drive starts:
Christmas Concert #1 
Kindergarten Concert Group A - 11:45 a.m to 12:15 p.m. in the gym

Thursday

Twelve Days of Christmas food drive starts:
Christmas Karaoke Club: Grade 3 & 4 lunch recess in Ms. Heidi's classroom
Christmas Concert #2
Kindergarten Concert Group B - 11:45 a.m to 12:15 p.m. in the gym

Friday

Twelve Days of Christmas food drive starts:

non-perishable food of any kind

Hot Lunch - Group A KG, grades 3-6 Nitza's Pizza
Daebak Dance Club at lunch recess: Grade 4
Cute Things Club: Grade 6
Mustang Memo posted online
ACTION
Christmas Concert Reminder
Our concerts are almost here! We are so excited to have in person concerts again at DCE! Under the direction of Mrs. Allen and Ms. Falcon, the students have been hard at work getting ready to dazzle you with their musical charms!
Here are the times:
Concert #1: Wednesday, December 14
Grade & Class

Meeting Time

in Music Room

Performance Time

Grade 1: Clark, Oslanski, Siminick

5:45 PM

6:00-6:15 PM

Grade 2: Drechsel, Gillis

6:20 PM

 6:35 – 6:50 PM

Grade 3: Versteegt, Lobe

6:55 PM

 7:10 – 7:25 PM

Grade 4: Hansen, Mikitka

7:30 PM

 7:45 - 8:00 PM

Grade 5: Crockett, Miller

8:05 PM

 8:20 - 8:35 PM
Concert #2: Thursday, December 15
Grade & Class

Meeting Time

in Music Room

Performance Time

 Grade 1: Kellough, Breen

5:45 PM

6:00-6:15 PM

 Grade 2: Snaterse, Walker

6:20 PM

 6:35 – 6:50 PM

 Grade 3: Nicks-Tambasco, Parker

6:55 PM

 7:10 – 7:25 PM

 Grade 4: Hanasyk, Morrison

7:30 PM

 7:45 - 8:00 PM

 Grade 5 & 6: Coates, Brouwer, Rice

8:05 PM

 8:20 - 8:35 PM
Additional Information:
Parents may use visitor parking or park in the neighbourhood without blocking driveways
Coats and belongings stay with parents
After the performance, students will exit first out far gymnasium doors closest to parent drop off and go to K/1 hallway to wait for parent pick-up. 
When you pick your child up, please let the teacher know you have your child before you leave so we don't panic!
Parents exit after students and go to the K/1 hallway to pick up their child – one side of the doors will be for entering and one side for exiting
Parents may stay in their seats if they have a child in the next grade performance.
Siblings sit with their parents!
Fee Waiver Application Deadline
If circumstances exist where you're unable to pay school or transportation fees, you can apply to have fees waived by submitting an Application for a Waiver of Fees. The application deadline is Dec. 15, 2022. If you're new to the Division, the deadline is the latter of Dec. 15, 2022, or 45 days after registration.
To access your fee information, simply log in to the PowerSchool Parent Portal and go to "Student Fees." There you can view your fees and pay them online using Visa or MasterCard. All fees are due within 30 days of being posted.
Don't forget to also log in to the PowerSchool Parent Portal regularly throughout the year. Fees are often added to your child's account to cover the cost of various school activities such as field trips, class projects, extracurricular activities and more.
For more information about school fees, waivers and payment deadlines, visit www.eips.ca/schools/fees and Davidson Creek Fees Information. Alternatively, contact Christa Gawron, Business Manager at Davidson Creek Elementary at 780-467-5557.
OPPORTUNITY
The Moo Club Milk Program Update
Dear Parents, 
There seems to be a lot of confusion with our new milk program and I'm hoping this letter will clear things up for everyone!
Per the letter that was originally emailed out, milk cards can be ordered all month long. HOWEVER, milk cards are only distributed on the 1st & 16th of each month. That means your child could potentially have a waiting period of up to 2 weeks to receive their milk card.
Each ordering window is clearly labelled when you log in to order. For example, right now the ordering window is Dec 1-15. These cards will be handed out on Dec 16. They are free to order milk starting the 16th.
Once your child has this card, they can order as often or as little as they wish. There is an order form in their classroom that they can add their name to each morning they wish to have milk. It is up to the kids to communicate to you that they've run out of milk so you are able to order a new card if you wish.
The Milk Committee is a brand new committee this year and the milk program hasn't been run for a few years…this is a learning curve for all of us and we are trying to be as informative and clear as possible.
If you ever have any questions, please contact the Milk committee at dcemilkprogram@gmail.com
Thank you,
The Moo Club (a volunteer committee of parents making great things happen for kids!)
Have your say, EIPS wants to hear from you!
The Annual Education Results Report 2021-22 is now available. The report is a summary of how Elk Island Public Schools (EIPS) is doing relative to Alberta Education's performance measures; how it's supporting students to achieve the best possible outcomes; and its successes, challenges and priority strategies moving forward. Both the full report and an overview are available for readers.
Reflecting on this report and the past school year, EIPS wants to hear from you to gain a deeper understanding of your confidence in the Division and its strategic direction. As such, the annual EIPS Year-in-Review: Stakeholder Confidence Survey is now open. Thank you for your patience while we temporarily postponed the survey—it's now reopened. Complete the Year-in-Review Survey by December 18.
The survey covers a range of topics, including student growth and achievement, learning supports, teaching and leading, governance and resource allocations. The information gathered will help EIPS:
assess stakeholder confidence—families, staff, Grade 12 students and community members;
gather input to guide future decision-making;
gather feedback to enhance its Four-Year Education Plan; and
provide a platform for families, students, staff and community members to have a voice in ensuring high-quality, student-centred learning environments in EIPS schools.
EIPS will share the results in the Annual Education Results Report 2022-23.
TAKE THE SURVEY NOW!
Survey closes Dec. 18, 2022
If you've already completed the 2021-22 survey, there's no need to do so again. Your responses have been recorded and will be included in the Division data. 
NOTE: EIPS encourages everyone to respond honestly. Your identity and answers are confidential and cannot be linked to you or your child's school. Grade 12 students will have an opportunity to complete the survey at school. Families who do not want their child to complete the survey simply need to advise their child's school.
Food Bank donation drive still on!
Only 5 days left of our 12 days of Christmas Food Bank Drive! The pile of food under the tree is getting bigger and bigger!
We invite you to bring any item on the list on the appointed day. You can participate on one day only or you can send things each day, it's up to you! We are also accepting cash donations at the office. We determined the items being collected by visiting the Strathcona County Food Bank webpage which had a list of things that were higher priority. Here are the items we will be looking for and the corresponding dates. 
December 12: Shampoo or conditioner
December 13: Toothpaste or toothbrushes
December 14: Dish soap
December 15: New school supplies
December 16: Non-perishable food
Thank you for showing love for the community during the giving season! Go, Mustangs!
Freddie the Yeti
Have you heard about Freddie? A mischievous yeti has adopted our school over the month of December. He must like it here because the kids are so kind and fun to be around! 
Freddie has been hiding all over the school and sometimes the kids find him hanging out in their classroom with a good book and some little candy canes. Each morning, he talks to the kids on the announcements to encourage them to find him! 
Click here for a short compilation video of Freddie in action! Who knew that yetis were so silly? 
INFORMATION
Counsellor's Corner
Hey Mustang Families!
This year has been a challenging one for people all over the world. The current economic situation is causing many families to struggle to provide things such as extra-curricular activities and Christmas presents under the tree. Strathcona County is here to help with their Everybody gets to play™ program!
Everybody gets to play™ is a program for eligible residents who have limited income. It provides no- cost, drop-in recreational opportunities and registered program opportunities at a reduced fee, through the Recreation Access Program (RAP). Everybody gets to play™ provides an all-access Active Pass+ to Strathcona County's six recreation facilities, including instructor-led, drop-in programs and any registered program (visual arts and performing arts programs included), directly operated by Strathcona County Recreation, Parks & Culture.
So why wait? Give them the gift that keeps on giving this Christmas and contact Strathcona County at 780-464-4044.
Have a healthy weekend! 
Dina Deuzeman
School Counsellor
Returning Student Registration for 2023-24
Elk Island Public Schools (EIPS) will once again conduct an online returning student registration process to confirm student registrations for the 2023-24 school year. Families of all current students—with the exception of graduating Grade 12 students—must complete the process to confirm the school their child plans to attend in the 2023-24 school year or advise the Division of their plans not to return to EIPS. Additionally, students who want to attend a non-designated school need to make that request through the returning student registration process—acceptance is based on available space. The 2023-24 returning student registration takes place Feb. 1-28, 2023.
Access to the Returning Student Registration Form is provided through the PowerSchool Parent Portal. If you don't have a PowerSchool Parent Portal account, you need to set one up before Feb. 1, 2023.
Create a PowerSchool Parent Portal account
For more information, contact the school office at 780-467-5557
Parents make the difference
Here is this week's article with helpful tips for families:
Downtime is vital for your child's health and academic success
Some parents schedule every minute of their children's time in an effort to prepare them for success in later life. But studies suggest that kids benefit from enjoying unscheduled free time.
When days are packed with lessons, sports and other structured activities, children can become overwhelmed and stressed out. As a result, they don't do as well in school and are more likely to get sick.
To determine if your child's schedule is balanced, ask yourself:
Does my child have time to play with friends? Practices that are planned and run by adults don't count. Kids need time to relax and just "hang out" with other children.
When does my child complete assignments? Working on them while traveling between activities isn't effective. Schoolwork takes concentration, and that takes time.
Why is my child in these activities? Sometimes, parents are the ones who want their child to take a class or participate in a sport.
Does my child get enough sleep? Children between the ages of six and 12 need nine to 12 hours of sleep each day to function well.
School is your child's most important job. If too many activities are getting in the way, ask your student to make a choice: "Which two activities do you enjoy the most?" For safety, middle school students should still be supervised, but increasing unstructured free time will increase your child's happiness and health.
Reprinted with permission from the December 2022 issue of Parents make the difference!®  (Elementary School Edition) newsletter. Copyright © 2022 The Parent Institute®, a division of PaperClip Media, Inc. Source: C. Hennig, "The Lost Art of Play: How Overscheduling Makes Children Anxious," CBC News.