Back to all posts
Posted on:
Mustang Memo - February 17, 2023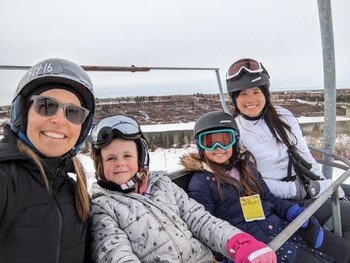 What a week! It was Valentine's Day, 100 Day, 101 Day, and Random Acts of Kindness Day! On top of that we had the ski trip, hot lunch and student/parent/teacher conferences! Could we add anything else to this list of events? Thank goodness we have a long weekend so that we can catch up on our sleep!
Along with all of those fun events, Mrs. Coates' 5/6 class spent the week enrolled in the School at the Legislature program where students were able to hold a mock debate, make their own maces, and meet various people working at the Alberta Legislature such as the Speaker of the House, an MLA and the Lieutenant Governor. What a great week to learn more about active citizenship and the democratic process in Provincial government. 
With the nicer weather, we also saw many classes going outside for walks, to the skating rink, and even tobogganing on our local hill. It was a great end to a full week!
We hope that you have a chance to enjoy the long weekend and take advantage to that time to connect with those you love! 
Helene Hewitt & Kyla Harding
Principal & Assistant Principal
You belong here!
Table of Contents
Week At a Glance
Action
Returning Student Registration
Alberta Education Assurance Survey
Opportunity 
Information
Protect Yourself from Scams
Watch for Thin Ice
Parents Make the Difference
WEEK AT A GLANCE
Monday
Tuesday

Lunch clubs:


Basketball Club Girls - Gr.5 & 6

Versteegt/Hansen/Lobe/Mikitka/Nicks/Morrison/Parker/Hanasyk Swimming Lessons

Wednesday

Lunch clubs:


Choir Gr. 3-6 
Art Club - Gr. 1 & 2
Running Club Boys - Gr. 4-6 at lunch recess

Grade 5 - D.A.R.E. Classes Crockett/Miller/Coates

Pink Shirt Day

Daniel Gervais School Performance- Francophone Fiddling Kitchen Party

Thursday

Lunch clubs:


Basketball Club Boys - Gr. 5 & 6
Propagation Fascination - Gr. 3-6

Crockett/Coates/Miller/Breen Swimming Lesson

Friday

Lunch clubs:

Cute Things Club - Gr. 4
Daebak Dance - Gr. 5 last session!

Kindness Assembly- Grade 5 & Kinder
Carnaval
Mustang Memo posted
ACTION
Returning Student Registration
All families of students currently in PALS through Grade 11 are required to complete the Returning Student Registration Form for each student. The form provides families with the opportunity to:
Confirm the school your child will attend next year;
Submit the request for your child to attend a non-designated school;
Inform the Division your child will not be returning to EIPS; and
Request student transportation services.
If you're having trouble with your PowerSchool account or the form, reach out to your child's school for assistance.
Additional information:
EIPS returning student registration
Applying to a non-designated school
Alberta Education Assurance Survey 
Once again, Alberta Education is surveying teachers, students and families through its annual Alberta Education Assurance (AEA) Survey. The survey acts as an annual check-up on the province's education system. Every year, Alberta Education conducts the survey to gather information about the quality of education provided by Alberta schools and school authorities. The survey looks at various measures such as education quality, citizenship, family involvement, engagement levels, school climate and student wellness.
The AEA survey is sent to
Large schools (120 or more students in grades 4-12)—only students in grades 4, 7 and 10 and their parents and guardians are included in the survey. These grades are considered to be a reasonably representative sample of students.
Throughout February, Grade 4 students at Davidson Creek Elementary are completing the survey online at the school. Student participation is voluntary and completely anonymous. Students are assigned a random username and password to ensure survey responses aren't linked to any individual student. The survey doesn't take long to complete and is done within the school day during regular class time.
Additionally, parents and guardians of students in these grades are also asked to take a survey, either online or by mail. Alberta Education will send families information about the survey directly. As with the student and teacher survey, it's anonymous and asks questions about your school experiences. If you have a child in these grades, we encourage you to participate. The survey deadline is March 17, 2023.
If you aren't sure about how our school is doing in relation to the survey measures, you can have a look at our Mid-Point Review for a quick snap shot of the great things taking place at DCE!
Results from the AEA Survey are provided to Elk Island Public Schools each spring. The Division then uses the data to inform its four-year education plan, school education plans and strategies for continuous improvement. Each fall, the results are also shared with EIPS families and school communities in the Division's Annual Education Results Report.
RELATED INFORMATION
AEA Survey: Parent letter
AEA Survey: Methodology for rate calculation
Assurance and Accountability: Alberta's K-12 education system
OPPORTUNITY
Counsellor's Corner
Happy Family Day, Mustang families!
There are many activities being held in the Sherwood Park area this Family Day weekend, including: the Silver Skate Festival, the free Alberta fishing weekend, snowshoeing and stargazing at Elk Island National Park, fun at the West Edmonton Mall, free admission to the Royal Alberta Museum, and much, much more! For a more compete list of all the activities available in the area, please visit https://www.familyfuncanada.com/edmonton/family-day-in-edmonton/.
Have a happy and healthy weekend!
Dina Deuzeman
School Counsellor
INFORMATION
Protect Yourself from Scams
Fraudsters are using the launch of affordability payments to try to trick Albertans into sharing their personal or banking information. Be on the lookout for suspicious texts and phone calls. The Government of Alberta will never send texts or emails for these details. The only way to apply for payments is by going online at alberta.ca/affordable, or in person at any Registry or Alberta Supports office.
Watch this video for more tips to protect your personal information. Report suspicious messages to the Canadian Anti-Fraud Centre at 1-888-495-8501 or on their website.
Watch for Thin Ice
Remember, be aware of thin ice this time of year. Depending on changing temperatures, ice can form and melt to varying degrees on outdoor bodies of water. Try to remind your child about the dangers of thin ice, obey all posted signs, take proper care and remain a safe distance from the ice. 
For more information about ice safety, visit the Canadian Red Cross.
Did you know?
The colour of ice may be an indication of its strength. Clear blue ice is the strongest. White opaque is half as strong as blue ice. And, grey ice is unsafe—greyness indicates the presence of water.
Parents make the difference
Here is this week's article with helpful tips for families:
Support your child and promote learning as an academic 'coach'
An effective coach is someone who guides, encourages and inspires. When you play this role, you help motivate your child to persevere, problem-solve and find answers.
To be a positive academic coach:
Act as a resource. Expect your child to complete assignments independently. But be available to offer encouragement, answer questions and suggest places where your child can find additional information, such as a website or a particular reference book.
Talk about the things your child is learning. Grades matter, but they are merely a result of learning. It is more important to emphasize the learning process. This includes hard work, persistence and making steady progress.
Be willing to say, "I don't know." There may be times when you are not familiar with the material your student is learning. If your child comes to you with a question, it's OK to say, "I never learned that. Let's look online or in your book."
Keep in mind that your child has strengths and weaknesses. Some students never need help in English, but may struggle in math. Support and encourage your child in every subject, but do not expect the same performance in every subject.
Reprinted with permission from the February 2023 issue of Parents make the difference!®  (Elementary School Edition) newsletter. Copyright © 2023 The Parent Institute®, a division of PaperClip Media, Inc. Source: K.T. Alvy, Ph.D., The Positive Parent: Raising Healthy, Happy and Successful Children, Birth–Adolescence, Teachers College Press.