Back to all posts
Posted on:
Mustang Memo - January 13, 2023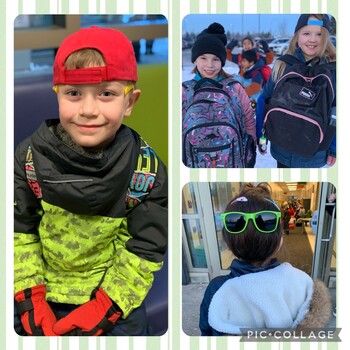 Today was Backwards Day and students had fun wearing their clothing, backpacks and even their hairstyles backwards! We saw students walking backwards and even eating their lunches in reverse order! Fun was had by all!
The fun will continue next week as we add yet another club to our lunch hour: Grade 3-6 choir with Mrs. Allen. We have a great variety of activities to choose from including social activities, nature activities, sports activities and the arts! Great things are happening at Davidson Creek Elementary!
We hope that you enjoy some great activities this weekend! 
Helene Hewitt & Kyla Harding
Principal & Assistant Principal
You belong here!
Table of Contents
Week At a Glance
Opportunity 
Upcoming Parent Meetings
Sport for Life Open House
Strathcona County Family Resource Network
Information
Counsellor's Corner
Parents Make the Difference
WEEK AT A GLANCE
Monday

Lunch clubs:

Games Club Grade 2 & 4
Running Club Girls Gr. 4 - 6 

Drawing Club Gr. 4 last recess in Mrs. Coates' classroom

Clark/Santerre/Walker Swimming Lessons

Tuesday

Hot Lunch Kinder group B and Grade 1 & 2
Lunch clubs:

Propagation Fascination - Gr. 3-6
Basketball Club Girls - Gr.5 & 6

Drawing Club - Gr. 5 last recess

Versteegt/Hansen/Lobe/Mikitka/Nicks/Morrison/Santerre/Parker/Hanasyk Swimming Lessons

School Council Meeting @ 6:30 p.m. in the library use this link to join virtually

Wednesday

Lunch clubs:

Art Club: Gr. 1 & 2
Choir Gr. 3-6 
Running Club Boys - Gr. 4-6 at lunch recess

Drawing Club - Gr. 6 last recess in Mrs. Coates' classroom

Grade 5 - D.A.R.E. Classes Crockett/Miller/Coates

Thursday

Lunch clubs:

Cute Things Club - Gr. 4
Basketball Club Boys - Gr. 5 & 6 

Crockett/Coates/Miller/Breen Swimming Lesson

Friday

Hot Lunch Kinder group A and Grade 3 to 6
Lunch clubs:

Cute Things Club -  Gr. 4
Daebak Dance Club - Gr. 5 

Grade 4 Telus World of Science
Mustang Memo posted online
OPPORTUNITY
Upcoming Parent Meetings
Join us for our important fees discussion at our next school council meeting on January 17 at 6:30 p.m. We will be sharing information on how we determine fees including a break down of costs. We will also be asking for your input on field trips and extra-curricular activities for the 2023-2024 school year. 
We will have a Davidson Creek Fundraising Society (DCFS) meeting at 7:30 p.m. following the school council meeting. You can attend either meeting in person or join us virtually using this link.
Meeting Agendas:
Draft Meeting Minutes:
Sport for Life Open House
Elk Island Public Schools is hosting a Sport for Life open house on Monday, Jan. 23, 2023. All students in Grade 6 and their families are invited to attend to learn more about the Sport for Life program. Participants will gain insight about the how the program works, what is taught to students and the types of activities offered.
Event Details:
Date:               Jan. 23, 2023
Time:               6 p.m.
Location:        Clover Bar Junior High, library
Strathcona County Family Resource Network
Check out these great opportunities for families!
Student workshops:
Confident Kids (Gr. 1 to 3) - supporting strong social-emotional skills
Regulation Station (Gr. 1 to 3) - process emotions through art, music, drama and story telling
Creative Outlet (Gr. 4-6) - creativity to support mental health
Click here to learn more about how to register for these student workshops.
Parents and caregiver workshops:
Kids Have Stress Too! - strategies to support preschool child cope with stress
Triple P Teen-Rudeness & Disrespect - how to support a positive relationship with teenagers
Connect Parent - 8 week program for parents of children aged 10 to 17
Click here to learn more about how to register for these parent/caregiver workshops.
INFORMATION
Counsellor's Corner
Hello Mustang families,
Grief and loss have been recurring themes over the past few years and it has come to the attention of the community that we may need some help supporting each other with these topics. Strathcona County has prepared a grief and loss workshop to help us better understand these emotions, the accompanying symptoms, and how we can help one another heal. Here are the details:
Grief and Loss Workshop
It's okay not to be okay.
Join us for a set of two connected sessions to learn more about grief and loss in a safe, compassionate environment.
FOR:

Adults, seniors, parents, caregivers

COST:

FREE

WHEN:

Session 1: Understanding grief Tuesday, Jan. 17 6 p.m to 7:30 p.m.

Session 2: Building coping skills Tuesday, Jan. 24 6 p.m. to 7:30 p.m.

WHERE:

In person at Family and Community Services Strathcona County Community Centre, 401 Festival Lane

Register online at strathcona.ca/adultlearning or by calling 780-464-4044
Click here to read more about it.
Dina Deuzeman
School Counsellor
Parents make the difference
Here is this week's article with helpful tips for families:
Responsibility helps students have success in the classroom
Children who learn to be responsible do better in school. They get along better with teachers and peers. They make better decisions. They're more apt to try, follow through and succeed.
To strengthen your child's sense of responsibility:
Match chores to abilities. Are you still packing your child's lunch? How about making the bed? If so, pass the torch. Most elementary schoolers are capable of handling such tasks. Don't overload your child with too many chores, but work toward giving meaningful responsibilities.
Teach lessons about money. Consider giving your child a small allowance. When children manage their own money, they tend to develop more respect for it. Include your child when you're working on your budget. You don't have to share specific financial details, but demonstrate what budgeting looks like. Say things like, "I'd love to order pizza tonight, too, but it'll have to wait. Payday isn't until Friday."
Use consequences to teach. When children experience the consequences of their actions, they are more likely to learn not to make the same mistake again. If you're always running to the rescue, your child won't learn how to take responsibility for anything.
Reprinted with permission from the January 2023 issue of Parents make the difference!®  (Elementary School Edition) newsletter. Copyright © 2023 The Parent Institute®, a division of PaperClip Media, Inc.