Back to all posts
Posted on:
Mustang Memo - January 27, 2023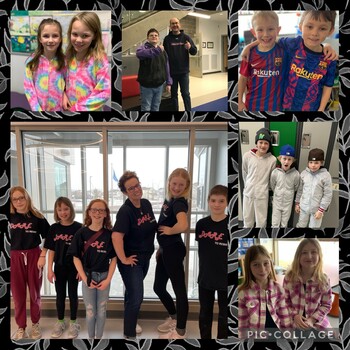 Another fun week has wrapped up! Our Grade 5 students picked the theme day for this month which is how we celebrated Flock Day! Students could dress alike in partners, trios, or even large groups like a whole class! It was fun seeing how people were able match their fashion and do so in a way that made people feel included.
Speaking of belonging, this week we enjoyed a lovely moment in the office when one of our Grade 2 students nominated our custodian, Mr. Nelson, for a Mustang Mention. Without being prompted, the student wrote the referral all by himself which stated: "You work so hard to keep our school clean. He's nice to everyone. He always helps people and he keeps people safe." 
What a great example of our students being great citizens and sharing kindness and gratitude. Our community really does care for one another and that's one of the reasons why we have such a great school!
Enjoy the weekend!
Helene Hewitt & Kyla Harding
Principal & Assistant Principal
You belong here!
Table of Contents
Week At a Glance
Action
Save the Date
Fee Survey
Kindergarten Registration
Opportunity 
Family Math Night
Supporting Your Child with Basic Fact Fluency
Mid-Point Review
Information
Counsellor's Corner
What are Teachers Learning on PL Days?
Parents Make the Difference
WEEK AT A GLANCE
Monday

Professional Learning Day - no school for students

Tuesday

Complete the Fee Survey! Prize draw closes today!
Lunch clubs:

Propagation Fascination - Gr. 3-6
Basketball Club Girls - Gr.5 & 6

Versteegt/Hansen/Lobe/Mikitka/Nicks/Morrison/Santerre/Parker/Hanasyk Swimming Lessons

Family Math Night! 

K-2 from 5:30 - 6:20 p.m.

Gr. 3-6 from 6:30 - 7:20 p.m.

Wednesday

Jump Rope for Heart Video kick off 
Early Dismissal @ 2:18 p.m.
Lunch clubs:


Choir Gr. 3-6 
Art Club - Gr. 1 & 2
Running Club Boys - Gr. 4-6 at lunch recess

Grade 5 - D.A.R.E. Classes Crockett/Miller/Coates

Thursday

Lunch clubs:

Cute Things Club - Gr. 4
Basketball Club Boys - Gr. 5 & 6 

Crockett/Coates/Miller/Breen Swimming Lesson

Friday

Lunch clubs:

Cute Things Club -  Gr. 4
Daebak Dance Club - Gr. 5 
Friyay Dance Club - Gr. 3 Ms. Heidi's classroom

Mustang Memo posted online
ACTION
Save the Date - Parent/Student/Teacher Conferences are Coming
We will have parent/student/teacher conferences on February 15 and 16 from 4 p.m. to 7 p.m.! More information will be available next week when we open up the bookings!
Kindergarten Registration Starts Soon!
Is your child turning five on or before Dec. 31, 2023? If so, it's almost time to register for kindergarten.
Kindergarten registration opens for the 2023-24 school year on Feb. 1, 2023.
To help families prepare, Elk Island Public Schools has put together an online EIPS Kindergarten Tool kit to make the transition as smooth as possible. The kit includes information on registration, important dates, programming options, what to expect, eligibility, how to find your designated school, transportation and more.
Additional information regarding Davidson Creek's kindergarten program is available by clicking here.
Fee Survey - Gift Card Draw on January 31!
Did you complete our fee survey yet? It's not too late! If you add your name and email address, you will be automatically entered in a draw to win a $50 Sobeys gift card! This is our thank you for taking the time to share you thoughts with us!
We invite you to fill out our fee survey to share your thoughts about how we should set fees for the 2023-24 school year. We want to know what you think about field trips, swimming lessons, and fees in general to help us make good decisions in the future.
OPPORTUNITY
Family Math Night Is Coming- January 31, 2023
Do you like playing games? Are you a card shark? Can you roll the dice for a perfect snake eyes?
If you answered yes to any of these questions, you need to come to our Family Math Night! We will be hosting John Felling from Box Cars and One-Eyed Jacks, who will teach us a variety of fun games using dice, dominos, playing cards, and pill boxes (yes, really!) Have some fun playing games that also help children to practice skills in basic facts, place value, problem solving and counting!
Although having fun playing games is its own reward, families who attend this event will be entered into a draw for a variety of prizes. We hope that you can make it! Here are the details:
When: January 31, 2023
Where: Davidson Creek gymnasium
Time:
5:30 to 6:20 PM (Kinder to Grade 2)
6:30 to 7:20 PM (Grades 3 to 6)
Who: DCE families!
There will also be a small concession with popcorn, chips, cookies and water sponsored by our Davidson Creek Fundraising Society! Make sure to bring some cash for a treat while you are here!
To assist us in planning for the food we need to purchase, please RSVP to Mrs. Hewitt at helene.hewitt@eips.ca. 
We can't wait to play some games together!
Supporting your Child with Basic Fact Fluency
When your child figures out a fact, you can ask them, "How did you figure that out?" because verbalizing their strategies can help children make connections and develop reasoning.
You can also support your child by talking about numbers as they come up in your daily lives. If you're cooking, shopping, building, crafting, setting the table, doing chores, and so on, you can ask questions about the mathematics you are already doing. For example:
I wonder how many socks we just took out of the dryer? How many pairs could that be when we fold them?
If a grown-up eats 2 eggs and a kid eats 1 egg how many eggs do we need to make scrambled eggs for all of us?
We've already read 16 picture books this week! How many more do we need to read to get to 20?
Addition, subtraction, and place value are three of the most important topics in elementary mathematics. It's so important that your child has sufficient time to explore and make sense of these concepts on their way to fluency.
Excerpt from Building Fact Fluency – Graham Fletcher and Tracy Johnston Zage
Mid-Point Review
Did you have a chance to check out our Mid-Point Review yet? This one page visual shows all of the incredible accomplishments that we want to celebrate in the first half of the school year! We hope you enjoy learning about all the great things happening at Davidson Creek Elementary!
INFORMATION
Counsellor's Corner
Hello Mustang families,
January 27 is Family Literacy Day and in recognition of this, I'd like to provide you with some simple tips and tricks to increase reading opportunities at home.
If you're looking for a way to increase your children's reading time, but don't necessarily have the extra time to sit down with them, give them the option of staying up 15 minutes past their bedtime, but only if they are reading. You may choose to increase the amount of time as they get older and are able to go to sleep later.
Don't be afraid to turn on the subtitles during a movie. Making a game out of saying a character's lines in a silly voice can make for a very entertaining evening! This can be done with a movie that the child is already familiar with (so that they know some of the lines and have to read others), just as long as the pace of the dialogue fits your child's reading pace.
Turn the tables! Ask your child to entertain YOU and read YOU a story while you're cooking in the kitchen, folding laundry, etc.
Have a karaoke night. Find a song that fits your child's reading pace and sing your hearts out!
There you have it, feel free to let me know what YOUR tips and tricks are to support literacy at home!
Happy Family Literacy Day!
Dina Deuzeman
School Counsellor
What are Teachers Learning During PL Days?
While students get to sleep in on Monday, our teachers will be at school working hard and learning new things! Professional Learning Days are when teachers become students in order to perfect our skills and better meet the needs of our students!
So what will we be learning this month?
Our teachers will be focused mostly on math this Monday in support of our School Education Plan goal: By building capacity for all teachers to implement best practices that support number sense and fact fluency, all students will demonstrate meaningful growth. 
We will be having workshops by Box Cards and One-Eyed Jacks on how to use cards, dice, dominos, and other manipulatives to play fun games that build math skills in students. 
When teachers are not learning about how to use games to teach math concepts, they will be learning about using our new Fact Fluency math kits as well as how to use some of our new literacy screening tools. 
It should be a great day of learning for teachers.
Parents make the difference
Here is this week's article with helpful tips for families:
Questions and Answers
Q: My child has absolutely no patience and the teacher says it is becoming a problem at school. How can I help my child develop more patience?
A: In this era of on-demand entertainment, online shopping and instant communication, it can be challenging for children to learn to wait. However, patience is vital for learning and interacting in school.
Here's how to help your child develop more patience:
Explain that everyone has to learn to wait, and that you're going to help your child with this skill.
Be empathetic. Let your child know you understand how hard it can be to wait for something.
Offer opportunities to be patient. When your child asks for something, say, "In a minute." If you're on the phone, develop a hand signal that means, "When I'm finished."
Help your child save money for something instead of buying it right away.
Enjoy activities together that require patience, such as playing board games, putting together jigsaw puzzles, baking and planting.
Help your child develop strategies for waiting—like singing songs quietly, playing "I Spy" or reading a book to pass the time.
Model patience. Stay calm when you're stuck in traffic, for example. Say something like, "It looks like we're going to be in the car for a while. Let's use the time to play a word game."
With practice, your child will learn the patience needed for success in school—and in life.
Reprinted with permission from the January 2023 issue of Parents make the difference!®  (Elementary School Edition) newsletter. Copyright © 2023 The Parent Institute®, a division of PaperClip Media, Inc.