Back to all posts
Posted on:
Mustang Memo - February 3, 2023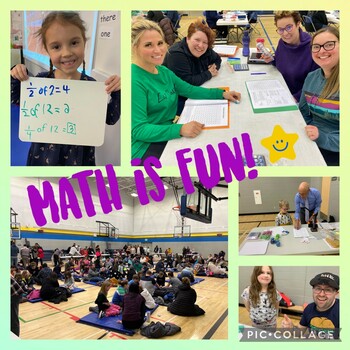 Families + math games = fun!
What a great week! It started off with some excellent professional learning for our staff on how to use math games to make learning math concepts fun! The very next day, we had a great time when families came out to the school to learn and play math games together!
We couldn't believe the HUGE turnout of families! The games facilitator told us that it was the biggest turnout for a family math event that he has ever witnessed! Way to go, Mustangs!
We would like to thank the Davidson Creek Fundraising Society and their volunteers for organizing and running the concession. It added a nice opportunity for snacking while raising some funds for the school! We'd also like to thank them for sponsoring the prizes that families were able to take home at the end of the event. 
We are so lucky to have such incredible parent support at DCE! We could not be prouder to be part of this Mustang herd! 
Enjoy the weekend!
Helene Hewitt & Kyla Harding
Principal & Assistant Principal
You belong here!
Table of Contents
Week At a Glance
Action
Student/Parent/Teacher Conferences
Measuring Success: Complete this year's Alberta Education Assurance Survey
SchoolMessenger App
Returning Student Registration: February 1-28
Opportunity 
Milk Sale
Upcoming Parent Meetings
Jump Rope for Heart
Information
Counsellor's Corner
Carnaval is Coming to DCE!
Parents Make the Difference
WEEK AT A GLANCE
Monday

Clark/Walker swimming lessons
Lunch clubs: 

Games Club - Gr. 2 & 6
Running Club Girls- Gr. 4-6 

Tuesday

Coates Gr. 5/6 Ski Trip
Lunch clubs:

Propagation Fascination - Gr. 3-6
Basketball Club Girls - Gr.5 & 6

Versteegt/Hansen/Lobe/Mikitka/Nicks/Morrison/Santerre/Parker/Hanasyk Swimming Lessons

School Council Meeting 6:30 p.m. in the library click here to join virtually

Wednesday

Lunch clubs:


Choir Gr. 3-6 
Art Club - Gr. 1 & 2
Running Club Boys - Gr. 4-6 at lunch recess

Grade 5 - D.A.R.E. Classes Crockett/Miller/Coates

Thursday

No School - Teachers Convention

Friday

No School - Teachers Convention
ACTION
Parent/Student/Teacher Conferences 
Parent/student/teacher conferences will take place on February 15 and 16 from 4 p.m. to 7 p.m.! Each student will have a 10 minute conference to celebrate and show off what they know to parents and caregivers.
Registration is now open for booking your conference! Please click here to register. Registration will close for these promptly on Feb 14 at noon to allow teachers sufficient time to prepare for the interview.  
Please note, if your child is in Mrs. Morrison's Grade 4 class, the interviews will be held at a later date to be determined upon her return.  
Measuring Success: Complete this year's Alberta Education Assurance Survey
Once again, Alberta Education is surveying teachers, students and families through its annual Alberta Education Assurance (AEA) Survey. The survey acts as an annual check-up on the province's education system. Every year, Alberta Education conducts the survey to gather information about the quality of education provided by Alberta schools and school authorities. The survey looks at various measures such as education quality, citizenship, family involvement, engagement levels, school climate and student wellness.
The AEA survey is sent to
Small schools (fewer than 120 students in grades 4-12)—based on jurisdiction requests for more reportable survey data at the school level, the survey is expanded to include all students in grades 4 and above and their parents and guardians.
Large schools (120 or more students in grades 4-12)—only students in grades 4, 7 and 10 and their parents and guardians are included in the survey. These grades are considered to be a reasonably representative sample of students.
Throughout February, Grade 4 students at Davidson Creek Elementary are completing the survey online at the school. Student participation is voluntary and completely anonymous. Students are assigned a random username and password to ensure survey responses aren't linked to any individual student. The survey doesn't take long to complete and is done within the school day during regular class time.
Additionally, parents and guardians of students in these grades are also asked to take a survey, either online or by mail. Alberta Education will send families information about the survey directly. As with the student and teacher survey, it's anonymous and asks questions about your school experiences. If you have a child in these grades, we encourage you to participate. The survey deadline is March 3, 2023.
If you aren't sure about how our school is doing in relation to the survey measures, you can have a look at our Mid-Point Review for a quick snap shot of the great things taking place at DCE!
Results from the AEA Survey are provided to Elk Island Public Schools each spring. The Division then uses the data to inform its four-year education plan, school education plans and strategies for continuous improvement. Each fall, the results are also shared with EIPS families and school communities in the Division's Annual Education Results Report.
RELATED INFORMATION
AEA Survey: Parent letter
AEA Survey: Methodology for rate calculation
Assurance and Accountability: Alberta's K-12 education system
Download the SchoolMessenger App
Davidson Creek Elementary and the Division use the SchoolMessenger platform to communicate with families—through both phone and email. Be sure to add communications@eips.ca and general.dce@eips.ca to your safe sender list to avoid having important messages funneled into your junk mail folder.  
The easiest way to stay connected is to download the SchoolMessenger app. Get the latest updates from both the Division and your child's school direct to your mobile device and enable push notifications to never miss a message. Families can also check back on past messages—for up to 30 days—directly in the app rather than searching to find an old message buried in their inbox. Download the SchoolMessenger app from the App Store or Google Play today.
Complete your Returning Student Registration: February 1-28
Elk Island Public Schools' (EIPS) returning student registration process is now open. All current students, except Grade 12, must complete the online Returning Student Registration Form to confirm their enrolment in a school for the upcoming 2023-24 school year. Additionally, students who want to attend a non-designated school need to make that request through the returning student registration process—acceptance is based on available space. All current EIPS students are required to complete the form by Feb. 28, 2023.
To access the Returning Student Registration Form, simply log in to the PowerSchool Parent Portal.
If you don't have a PowerSchool Parent Portal account, you do need to set one up. For help see: Create a PowerSchool Parent Portal account
For more information contact the school directly.
RELATED INFORMATION:
Returning Student Registration Process
Frequently Asked Questions
EIPS School Boundary Maps
Closed Boundaries 2023-24
Find my designated school
Applying to a non-designated school
OPPORTUNITY
Monday Milk Sale
We are still trying to sell off our leftover milk inventory! Bring a loonie to school and buy a milk! Exact change is preferred!
Upcoming Parent Meetings
We are having our school council meeting this Tuesday, February 7, 2023 at 6:30 p.m. We always have a lot of fun at this meetings and talk about upcoming events as well as learning about what is important to our parent community. This meeting, we will be sharing the results of the Fee Survey as well as our plans for fees for the 2023-2024 school year.
Here are the documents for the meeting:
February School Council Agenda 
School Council Minutes January 2023
Jump Rope for Heart
February is the month to love our hearts! Davidson Creek will be participating in the Jump Rope for Heart Fundraiser all month!
Join our school and help Heart & Stroke save lives by jump-starting your fundraising. Here's how: Visit jumpropeforheart.ca and click "Register" and search for our school's name.  
As a thank you for your support, students can earn one of five Thank You Prizes based on their fundraising levels. You can learn more about it by reading this letter. 
Students will be learning how to jump rope as well as how to adopt healthy habits including:
eating fruits and vegetables
being active for one hour or more a day
having less than 2 hours of screen time per day
drinking water instead of sugary drinks
We will have our big jump event on February 28! We look forward to being heart smart with you!
INFORMATION
Counsellor's Corner
There are so many enriching activities for children happening in our own backyard in February!
Flying Canoë Volant
Are you looking to take advantage of the beautiful weather this weekend? Are you interested in Francophone, Métis, and First Nations culture? Well, Flying Canoë Volant is for you! Running all day from Feb. 1st – Feb. 4th, 2023, Flying Canoë Volant is a celebration of your inner voyageur with light, music, legends, and dance at Edmonton's beautiful Mill Creek Ravine and the newly-established French Quarter.
For more information, including programs and times, visit the Flying Canoë Volant website at https://www.flyingcanoevolant.ca/
Beethoven Lives Upstairs
Looking for something special to do with your children for Family Day weekend? Edmonton Symphony Orchestra is currently selling tickets for Beethoven Lives Upstairs, held at the Winspear Centre, Saturday, February 18th, 2023, with showtimes of 1:30pm and 4:30pm.
For more information or to purchase tickets, visit the Edmonton Symphony Orchestra's website at https://www.winspearcentre.com/tickets/events/eso/2023/beethoven-lives-upstairs/
Have a wonderful weekend!
Dina Deuzeman
School Counsellor
Carnaval is Coming to DCE!
The Carnaval de Quebec is a huge mid-winter celebration that takes place in Québec each year. Family and friends gather in January to mid-February to break the boredom of a long, cold winter with a massive feast, live music, dancing, a parade and a ton of fun outdoor winter events.
Carnaval is often represented by the mascot known as Bonhomme Carnaval. Bonhomme comes from the French word bonhomme de neige (snowman) and this mascot dances around in his red tuque and his ceinture fléchée (arrowhead sash). He represents love of life and can be seen dancing, playing games and generally being merry throughout the festival. Did you know that Bonhomme Carnaval wears the arrowhead sash to celebrate the history of fur trade, the voyageurs and Métis culture?
Our school will be having our own Carnaval on February 24. Students will play games outside, drink hot chocolate, eat maple sugar treats, and have a visit with Bonhomme Carnaval with their class. 
We will also have a special performance from Daniel Gervais on February 22. Daniel is an incredible fiddler who dazzles audiences with his great musicality and sense of humour. He will be providing two fiddle kitchen party performances tailored to the younger or older students. Click here to learn more about Daniel Gervais. 
Vive le carnaval!
Parents make the difference
Here is this week's article with helpful tips for families:
Four ways to strengthen your child's character
Values help students make good choices, develop self-esteem, and become responsible individuals. Teaching values at home supports what schools are doing to create a positive school culture that helps all students learn.
Here are four strategies to build your child's character:
Think about the values that are important to you and your family. Talk about them openly with your child.
Teach by example. Your example is the most powerful teacher of all. Ask yourself, "If my child watched my behavior all day, what lessons would it teach?"
Set high standards. Expect your child to act responsibly, to be kind to others and to tell the truth. Some families make it a point of family pride. "In the Smith family, we tell the truth."
Talk about the Golden Rule. Teaching kids to treat others the way they would like to be treated helps them make better choices. Ask your child, "Would you want someone to talk to you that way?"
Reprinted with permission from the February 2023 issue of Parents make the difference!®  (Elementary School Edition) newsletter. Copyright © 2023 The Parent Institute®, a division of PaperClip Media, Inc.