Back to all posts
Posted on:
Mustang Memo - January 6, 2023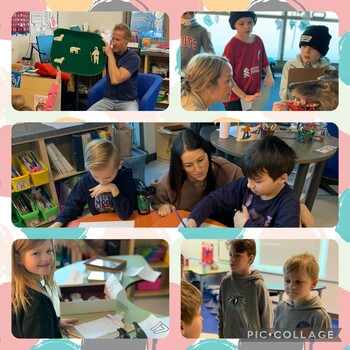 It is fresh New Year full of opportunity and promise! Our students and staff have hit the ground running full of energy and enthusiasm. We saw many smiles and friendly faces as students filed through the hallways after the break!
Staff are also filled with renewed energy! We have some new clubs starting up including a drawing club by Mrs. Coates for students in Grades 4, 5 and 6 as well as a running club run by Mr. Brouwer and Mrs. Morrison. 
As 2023 starts I am reminded of one of my favourite quotes:
I hope that in this year to come, you make mistakes...

Because if you are making mistakes, then you are making new things, trying new things, learning, living, pushing yourself, changing yourself, changing your world. You're doing things you've never done before, and more importantly, you're doing something. 

So that's my wish for you, and all of us, and my wish for myself. Make New Mistakes.

Make glorious, amazing mistakes. Make mistakes nobody's ever before. Don't freeze, don't stop, don't worry that it isn't good enough, or it isn't perfect, whatever it is: art, or love, or work or family or life. Whatever it is you're scared of doing, Do it. Make your mistakes, next year and forever. 

~ Neil Gaiman 
From our school to your family, we wish you a year full of glorious mistakes! 
Helene Hewitt & Kyla Harding
Principal & Assistant Principal
You belong here!
Table of Contents
Week At a Glance
Action
Inclement Weather
Kindergarten Registration Starts Soon
Returning Student Registration
Opportunity 
Upcoming Parent Meetings
Mental Health - Vaping
Specialized System Programs
Information
A Northern Canadian Adventure in Grade 2
Counsellor's Corner
Parents Make the Difference
WEEK AT A GLANCE
Monday

Games Club Grade 1 and 3 at lunch recess in the library
Running Club Girls Gr. 4 - 6 lunch recess
Drawing Club Gr. 4 last recess in Mrs. Coates' classroom

Clark/Santerre/Walker Swimming Lessons

Tuesday

Propagation Fascination club - Gr. 3-6 in the lobby at lunch recess
Basketball Club Girls Gr.5 & 6 at lunch recess
Drawing Club Gr. 5 last recess in Mrs. Coates' classroom

Gr. 2 Telus World of Science Field Trip

Versteegt/Hansen/Lobe/Mikitka/Nicks/Morrison/Santerre/Parker/Hanasyk Swimming Lessons

Wednesday

Art Club: Gr. 1 & 2 at lunch recess in Mrs. Drechsel's classroom
Running Club Boys Gr. 4-6 at lunch recess
Drawing Club Gr. 6 last recess in Mrs. Coates' classroom

Gr. 3 Teachers Pet Field Trip

Grade 5 - D.A.R.E. Classes Crockett/Miller/Coates

Thursday

Cute Things Club: Grade 6 at lunch recess in the library
Basketball Club Boys Gr. 5 & 6 at lunch

Crockett/Coates/Miller/Breen Swimming Lesson

Friday

Backwards Day - wear something backwards
Daebak Dance Club at lunch recess: Grade 5
Mustang Memo posted online
ACTION
Inclement Weather
With the winter season well underway, we want to remind families to dress children appropriately for the weather when getting ready for school or the bus. The weather often changes unexpectedly throughout the day, so please select suitable outerwear and ensure your child is prepared for changing conditions.
If inclement weather conditions occur, Elk Island Public Schools (EIPS) will advise families of any bus cancellations using various communications tools—automated-telephone messages, alerts posted on www.eips.ca and school websites, Twitter, Facebook, local radio stations and notification through both the Bus Status and the Ride 360 apps. Morning bus cancellations are posted on www.eips.ca by 6:30 a.m.
Decisions regarding bus cancellations are guided by EIPS' Administrative Procedure 131: Inclement Weather, which states: "school bus service may be suspended … when there is a forecast or current temperature of -40 C including wind chill, in one or more regions." Other reasons for suspending or delaying school bus services include adverse weather and poor road conditions.
When school bus services are suspended, schools remain open to students. EIPS believes families have the right and responsibility to make choices for their children based on they feel is safest during times of inclement weather.
For more information, contact EIPS Student Transportation at 780-417-8151.
Kindergarten Registration Starts Soon!
Is your child turning five on or before Dec. 31, 2023? If so, it's almost time to register for kindergarten.
Kindergarten registration opens for the 2023-24 school year on Feb. 1, 2023.
To help families prepare, Elk Island Public Schools has put together an online EIPS Kindergarten Tool kit to make the transition as smooth as possible. The kit includes information on registration, important dates, programming options, what to expect, eligibility, how to find your designated school, transportation and more.
Additional information regarding Davidson Creek's kindergarten program is available by clicking here.
Returning Student Registration for 2023-24
Elk Island Public Schools (EIPS) will once again conduct an online returning student registration process to confirm student registrations for the 2023-24 school year. Families of all current students—with the exception of graduating Grade 12 students—must complete the process to confirm the school their child plans to attend in the 2023-24 school year or advise the Division of their plans not to return to EIPS. Additionally, students who want to attend a non-designated school need to make that request through the returning student registration process—acceptance is based on available space. The 2023-24 returning student registration takes place Feb. 1-28, 2023.
Access to the Returning Student Registration Form is provided through the PowerSchool Parent Portal. If you don't have a PowerSchool Parent Portal account, you need to set one up before Feb. 1, 2023.
Create a PowerSchool Parent Portal account
For more information, contact the school office at 780-467-5557.
OPPORTUNITY
Upcoming Parent Meetings
In our last Mustang Memo we had the wrong date for the next school council meeting! 
Please join us on Tuesday, January 17, 2023 for the meeting! We will be discussing fees for the 2023-2024 school year and we will be seeking your feedback. We promise to bring cookies! Bring a friend and join the fun!
Alberta Health services addition and mental health newsletter
The January edition of the Alberta Health Services Addiction and Mental Health Newsletter focuses on vaping. Newsletter
Themes include:
Specialized System Programs
Did you know that Elk Island Public Schools offers some specialized system programs? To learn more about this programs including program descriptions, Frequently Asked Questions and the application process you can visit the EIPS website by clicking here. If you have specific questions related to your child in relation to system programs, please contact our counsellor, Dina Deuzeman at 780-467-5557.
INFORMATION
A Northern Canadian Adventure in Grade 2
Our Grade 2 students had an incredible Northern experience this morning! Each classroom was home to an engaging activity and students rotated from room to room.
Mrs. Gillis' classroom turned into a gallery of Inuit artifacts. Students looked at a variety of incredible displays including a wolf hide, stone carving art and other beautiful cultural items. Mrs. Drechsel's classroom became an art studio where students learned about artist Ted Harrison and created art inspired by his art pieces. Mr. Snaterse's classroom became a storytelling space where students looked at hand sewn fabric story mats which depicted scenes from Inuit life. Mr. Walker's classroom became a movement space where students learned how to play some fun Inuit games. My favourite was the staring contest where each child had to be as still as a stone without laughing or smiling!
This is just one example of the incredible instruction happing in our classrooms at Davidson Creek Elementary. Thank you to our incredible teachers for ensuring that our students have opportunities to engage in meaningful learning about Indigenous groups in Canada. 
Counsellor's Corner
Hey Mustangs!
January is a month that requires a lot of attention to our mental health. Taking care of our bodies is one of the best ways of taking care of our mental health. Making sure that we're getting enough sleep, exercise, sunlight, healthy food and socialization with friends are all ways of nurturing ourselves. Overall health and wellness are goals that families can work toward together, and this can be fun! Setting goals, both big and small, can be made easier when using the SMART acronym, this will ensure that your goals are:
Specific (What are you trying to achieve? Narrow this down as clearly as possible.)
Measurable (How will you track your progress? Will you use a progress chart? An app? How often will you track your progress?)
Achievable (Is your goal realistic? Do you have all the tools you need to achieve this goal at this time?)
Relevant (Why do you want to achieve this goal? Is your goal working towards a larger goal and/or in line with your value system?)
Time-Bound (What is your deadline? Will this give you enough time to achieve your goal? Set a reasonable, but ambitious deadline to help keep yourself accountable.)
Here are some great examples of goals that can be worked on as a family:
Going to bed at the same time each day
Eating at least one meal together per day
Reading together as a family
Cooking together
Working toward a financial goal
Getting a minimum amount of sunshine per day
Have fun with these! I wish you all a healthy and successful 2023!
Dina Deuzeman
School Counsellor
Parents make the difference
Here is this week's article with helpful tips for families:
Encouragement is more effective than praise
Most adults praise children with phrases like "Great job!" and "That looks amazing!" But experts agree that encouragement has a more significant effect than praise on a child's motivation. So what is the difference between the two?
Praise:
Focuses on results. "You did a great job on your science project! You got an A!"
Uses opinion words such as good, great, terrific and wonderful.
Is typically given when children do what is expected of them.
Encouragement:
Recognizes effort and progress. "Look at that project! I can tell you've spent a lot of time on it! It must feel good to know you worked so hard!"
Uses descriptive words. "You picked up your room without being asked. Look at that clean floor and organized desk!"
Can be given regardless of a child's performance. "That didn't work out the way you planned, did it? I can tell you're disappointed, but I know you'll try again next week. What do you think you might do differently next time?"
The big difference is that words of praise lead children to rely on your assessment of their accomplishments. It promotes a dependency on affirmations. Words of encouragement, on the other hand, lead children to form their own positive assessment of themselves—which makes them feel capable.
Reprinted with permission from the January 2023 issue of Parents make the difference!®  (Elementary School Edition) newsletter. Copyright © 2023 The Parent Institute®, a division of PaperClip Media, Inc.