Back to all posts
Posted on:
Mustang Memo - March 17, 2023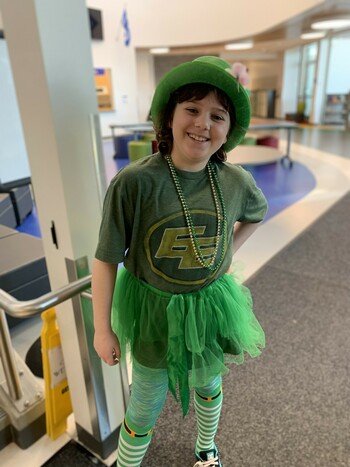 St. Patrick's Day fever has exploded at Davidson Creek this week! We had kids all decked out in their finest greenery and we saw many classes trying to catch a leprechaun or two. They are pretty tricksy though so I don't think anyone was able to catch one yet!
One of the great things we witnessed this week involved our many older students meeting with their younger buddies to read together, build leprechaun traps, or play games. It is heartwarming to see our students act as excellent role models and big brothers or sisters to our younger students. 
Kindness can be found blooming everywhere you look at our school!
We have also been enjoying March Madness all month! Ms. Heidi has organized and run this event with guest readers reading the books and students presenting the winning book in the morning video announcements each day! What a wonderful way to promote reading at our school!
Want to see what all the fun is about, stop by the library and read one of the books to see if you agree with the vote! 
Enjoy your weekend!
Helene Hewitt & Kyla Harding
Principal & Assistant Principal
You belong here!
Table of Contents
Week At a Glance
Action
Report Cards are Here!
EIPS Survey - Let's Get Bragging Rights!
Opportunity 
Information
Why Do We Lose Control of Our Emotions?
Pysanky Fun!
Parents Make the Difference
WEEK AT A GLANCE
Monday

Lunch clubs: 

Games Club - Gr. 2 & 6
Badminton Club Girls - Gr. 6 

Pysanky Eggs Kellough and Coates

Tuesday

Lunch clubs:


Badminton Club Boys - Gr. 6
Cute Things Club - Mikitka

Pysanky Eggs Drechsel

Wednesday

Lunch clubs:


Choir Gr. 3-6 
Art Club - Gr. 1 & 2
Badminton Club Girls - Gr. 6 
Minecraft Club - Gr. 3
Cute Things Club - Morrison

Grade 5 - D.A.R.E. Graduation @ 1 p.m. in the gym

Pysanky Eggs Gillis and Parker

Thursday

Kindness Assembly hosted by Grade 1 & 6 students @ 2:30 p.m. 
Lunch clubs:


Badminton Club Boys - Gr. 6
Propagation Fascination Club

Mustang Memo posted online
Crazy Hair Day

Friday

No school - Spring Break begins!
ACTION
Report cards are Here!
Hey parents! It's time to celebrate your child's learning! Term 2 report cards are officially posted online! Login to your Parent Portal account to see your child's progress! Report cards are short, sweet and informative! See what personal skills your child is mastering in the Learning Attributes section. Find out your child's academic strengths and then read about next steps for improving your child's learning!
We encourage all families to check them out! 
Having trouble with Parent Portal? Call Jennifer Gibson, 780-467-5557, in the front office and she can walk you through it! 
EIPS' 2023 Annual Feedback Survey - Let's Get Bragging Rights!
Do you enjoy a good natured competition? Do you like to share your feedback to make EIPS and our school even better? You're in luck! There is a survey that you can take that does both!
As a point of pride, we enjoy showing that DCE parents are involved and passionate about our school and the education of their children! Let's show everyone that DCE parents rock a survey!
VISIT EIPS.CA TO TAKE THE SURVEY: March 1-23
NOTE: The survey is anonymous and only takes a few minutes to complete. If you want to share the experience of more than one child attending an EIPS school, simply complete the survey again.
OPPORTUNITY
Counsellor's Corner
Hello Mustang Families!
Are you looking for a way to relax, save on groceries, and improve the quality of your ingredients? Look no further, Salisbury Greenhouse has a herb workshop just for you! This would be a great activity for those students who are part of our Propagation Fascination Club, here's the info:
Herb Garden Workshop | Salisbury Greenhouse| Sherwood Park
Date and time
Starts on Sun., Mar 19, 2023 at 2:00 PM
Location
Salisbury Greenhouse: 52337 Range Road 232, Sherwood Park, AB T8B 1B8
About this Event
Don't miss the upcoming Herb Garden workshop at Salisbury at Enjoy! In this hands-on experience, you'll get to mix and match your flavors and aromas to create your own unique and edible herb garden that's sure to delight your taste buds. And the best part? You get to take your beautiful herb garden home and enjoy fresh, tasty herbs all year round - we'll even dress them up with edible flowers! So come get your hands dirty at Salisbury at Enjoy for a fun and delicious day of creativity!
 Cost
There are no fees for instruction – you'll just have to cover the cost of your materials & plants you use! Please note that there is a $10 deposit to hold your spot, which we'll deduct from your purchase on the day of the workshop. **Please note that this is per project only and not per individual.
Length of the Workshop
2+ hours
WHAT TO EXPECT? Our workshop hosts will guide you every step of the way, from selecting the perfect herbs to planting and maintaining them to enjoy them all year long!
WHAT SHOULD I BRING? No need to bring anything — we've got everything you need right here at the greenhouse!
ABOUT OUR WORKSHOP HOST – Miranda
Meet Miranda, the one with the green thumb and a heart for teaching! As a plant design enthusiast and an education student at the University of Alberta, she'll take you on a journey of creativity and plant magic in her exciting workshops. With three years of experience at Salisbury Greenhouse, Miranda's passion and knowledge are evident in her hands-on approach to teaching. While she's most passionate with terrariums, she will make any project a success!
Have a healthy weekend!
Dina Deuzeman
School Counsellor
INFORMATION
Why Do We Lose Control of Our Emotions?
Everyone can feel overwhelmed sometimes and when this happens, it can be really hard to keep a handle on our emotions. Do you ever wonder why that is? Watch this great kid-friendly video to learn about how we handle emotions:
Pysanky Fun
Next week, some of our classes will be making pysanky eggs. For those that are not familiar, pysanky eggs are traditional Ukrainian Easter eggs that are decorated using the wax-resist (batik) method. If you pass by the foyer, you may see some classes hard at work dying eggs! We'll be sure to put some pictures in next week's Memo!
Parents make the difference
Here is this week's article with helpful tips for families:
Three fun ways to celebrate your child's achievements
There is no better motivator for a child than setting a goal and reaching it. But sometimes, a major accomplishment also calls for a celebration.
Perhaps your child earned a higher grade in a class this grading period. Or, maybe your child finally finished reading that book series. Whenever your child sets and reaches a challenging goal, try one of these fun ideas:
Take a picture of your child reaching the goal—holding up a report card or a finished book series, for example. You could also ask your child to draw a picture of the accomplishment.
Frame the picture and place it by your child's bed. When children regularly see images of themselves being successful, they will start to see themselves as achievers.
Plan a special surprise. On one side of a piece of paper, write down a goal your child wants to achieve. On the other side, write down a small reward—such as having a friend over for a sleepover.
Roll up the paper, put it into a balloon, and then blow up the balloon. Once the goal is reached, have your child pop the balloon to find out what the reward is.
Host a family victory dinner to celebrate your child's success. Set a "fancy" table and serve some of your child's favorite foods. During dinner, ask your child to say a few words about how great it feels to reach a goal.
Reprinted with permission from the March 2023 issue of Parents make the difference!®  (Elementary School Edition) newsletter. Copyright © 2023 The Parent Institute®, a division of PaperClip Media, Inc.