Back to all posts
Posted on:
Mustang Memo - March 2, 2023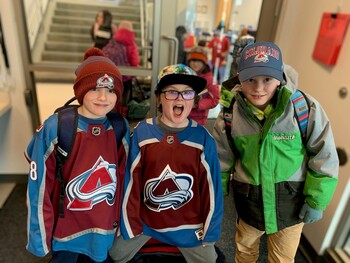 Hearts were pumping as we participated in our Jump Rope for Heart event day this week! We were so proud of all of our students as they skipped and participated in our big community fundraiser for the Heart and Stroke Foundation. We are so happy to share that this community surpassed our $6000 fundraising goal by raising a whopping $7441! 
Thank you to all of our incredible families for helping to support healthy hearts! At DCE, you can feel the love!
Enjoy the weekend!
Helene Hewitt & Kyla Harding
Principal & Assistant Principal
You belong here!
Table of Contents
Week At a Glance
Action
Have Your Say! EIPS' 2023 Annual Feedback Survey Opens March 1-23
Kindergarten Registration is Now Open!
Pre-kindergarten programming at EIPS
Opportunity 
Counsellor's Corner
DCE Swag Shop is open for business
March Book Madness
Information
What are Staff Learning on the March 3 PL day?
Remain Alert to Loan and Grant Scams
Parents Make the Difference
WEEK AT A GLANCE
Monday

Hot Lunch Group A kinder & Gr. 1-2
Walker swimming lessons
Lunch clubs: 

Games Club - Gr. 2 & 4
Running Club Girls- Gr. 4-6 

Tuesday

Lunch clubs:


Basketball Club Girls - Gr.5 & 6
Cute Thing Club - Mikitka

Wednesday

Lunch clubs:


Choir Gr. 3-6 
Art Club - Gr. 1 & 2
Running Club Boys - Gr. 4-6 at lunch recess
Minecraft Club - Gr. 3

Grade 5 - D.A.R.E. Classes Crockett/Miller/Coates

Thursday

Lunch clubs:


Basketball Club Boys - Gr. 5 & 6
Cute Things Club - Morrison
Propagation Fascination Club

Crockett/Coates/Miller/Breen Swimming Lesson

Friday

Carnaval Day!
Hot Lunch Group B Kinder & Gr. 3-6
Mustang Memo posted
ACTION
Have your say! EIPS' 2023 Annual Feedback Survey Opens March 1-23
Elk Island Public Schools (EIPS) wants to hear from you. Make sure to complete the 2023 EIPS Annual Feedback Survey: For parents and caregivers—open from March 1-23.
Every year, EIPS conducts the feedback survey to gauge its progress toward meeting the goals and priorities outlined in its Four-Year Education Plan. Families are asked a series of questions about their experiences with EIPS and the school their child attends, the overall performance of the Division, the quality of education being provided to students and areas for improvement. The survey input helps the Division develop new strategies to better serve students and the wider community.
VISIT EIPS.CA TO TAKE THE SURVEY: March 1-23
NOTE: The survey is anonymous and only takes a few minutes to complete. If you want to share the experience of more than one child attending an EIPS school, simply complete the survey again.
Kindergarten Registration is Now Open!
Is your child turning five on or before Dec. 31, 2023? If so, it's now time to register for kindergarten. To register, simply complete the online registration form at eips.ca/kindergarten.
To help families prepare, Elk Island Public Schools has put together an online EIPS Kindergarten Tool kit to make the transition as smooth as possible. The kit includes information on registration, important dates, programming options, what to expect, eligibility, how to find your designated school, transportation and more.
Additional information regarding Davidson Creek Elementary's kindergarten program is available by clicking here.
Pre-kindergarten Programming at EIPS
Is there a preschooler in your life experiencing developmental delays or challenges with speech-language or motor-skill development—big or small? If so, Elk Island Public School's Play And Learn at School (PALS) program could help.
Early learning lays the foundation for success in primary grades and beyond. As such, EIPS offers the pre-kindergarten PALS program in five of its elementary school locations. In fact, EIPS is now accepting applications for free speech-language assessments for those interested in registering in the PALS program this fall. The assessment helps determine if PALS is appropriate for your child.
If you know a preschooler, born in 2019 or 2020, who could benefit from pre-kindergarten programming or want to book an assessment, fill out the PALS Program Request Form or call 780-417-8219. For more information, visit eips.ca.
OPPORTUNITY
Counsellor's Corner
Welcome March!
Here at Davidson Creek we've been busy learning about our thoughts and how they impact us physically and emotionally. We've learned how to become observers of our thoughts, without judgement, and how to deal with unhelpful thoughts by:
Letting thoughts come and go like waves (accepting our thoughts, without judgement)
Stopping our thoughts
Reframing/replacing negative thoughts with more positive thoughts
Using helpful/coping statements to remind us that we safe in this moment (ex. "This is just a feeling/thought, it will pass.", "My thoughts do not define me.", "I am safe and I am going to be alright.", "This feeling is a reminder to take a deep breath.", etc.)
This week we will be looking at things that we can do to prevent feeling overwhelmed by our thoughts and to distract us during difficult moments (coping mechanisms):
Journalling
Moving your body
Listening to music
Art
Naming your feelings
Going outside
Counting backwards
Deep breathing
Getting enough good-quality sleep
Talking to someone
Eating healthfully
This would be a great conversation to go over at home. Ask your child which strategies they find most helpful and let your child know which strategies help you!
Have a mindful March!
Dina Deuzeman
School Counsellor
DCE Swag Shop is open for business!
Did you know that you can order some Mustang spirit wear at our online shop? Pick up some great gear featuring our fabulous Mustang mascot! Click here to get ordering! 
March Book Madness
Next time you pop by the school, make sure to check out the March Book Madness display on the library glass doors! You can see the incredible books that our students are reading throughout the month of March. Books are matched up in head to head brackets and students vote on their favourite title until there is only one book left! Make sure to ask your children about which books they voted for!
INFORMATION
What are staff learning on the March 3 PL day?
While students can put their feet up with a day off, our staff will be at school doing some important professional learning! We will spend our time learning about ways that we can connect and build strong relationships with students and families through a session on restorative practices. This learning is in connection with our School Education Plan (SEP) goal to "build mental health and wellness skills of students, staff and parents to foster a positive and healthy school community". 
Our staff will learn about how to use our Jump2Math mats in the second session of the day to support our SEP goal to "build capacity for all teachers to implement best practices that support number sense and fluency".
We will also be learning about effective reading intervention strategies through a session facilitated by Dr. George Georgiou from the University of Alberta to support our SEP goal to "build teacher capacity in evidence-based reading and writing instruction to help student demonstrate statistically significant growth in their reading comprehension scores and writing portfolios."
Our staff will end the day with time working with colleagues to take the learning from the sessions and translate it into their daily or weekly lessons. It should be an great day of learning for staff!
Remain Alert to Loan and Grant Scams

The Strathcona County RCMP reminds individuals about scams involving grants and loans. This may include funding and financial support for entrepreneurs and business owners, grants for senior citizens or individuals seeking disability grants. The scam may show up as an ad or you may be contacted through social media, such as Facebook Messenger. Learn more
Parents make the difference
Here is this week's article with helpful tips for families:
Did you know that playtime is a proven stress reliever?
When children have fun, their brains release chemicals that cause happiness and reduce stress—which leads to improved mental health.
To get the most from playtime:
Make time for active play. Your child needs at least one hour of daily exercise for good physical and mental wellness. Active play (jumping rope, playing tag, etc.) counts toward that hour. Have your child keep a physical activity diary for a week—does it total at least seven hours?
Limit recreational screen time. Hands-on, real-life play stimulates your child's brain better than passively looking at a screen. Together, make a list of screen-free playtime activities. When your child wants to play a video game, point to the list.
Play with your child. Parent-child play is great for strengthening bonds. Have a family board game night, build something together or ask to join in your child's pretend play.
Reprinted with permission from the March 2023 issue of Parents make the difference!®  (Elementary School Edition) newsletter. Copyright © 2023 The Parent Institute®, a division of PaperClip Media, Inc. Source: S. Wang, Ph.D. and S. Aamodt, Ph.D.,"Play, Stress, and the Learning Brain," Cerebrum, National Library of Medicine.