Back to all posts
Posted on:
Mustang Memo - March 23, 2023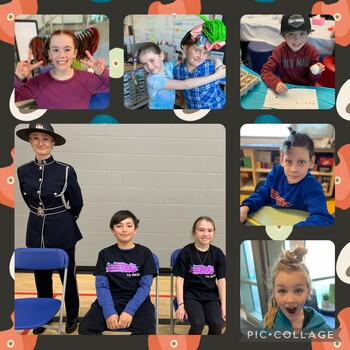 It was another busy week including Crazy Hair Day, pysanky egg decorating, the Grade 6 and Grade 1 assembly and our Grade 5 D.A.R.E. graduation. On top of that, we had a great smoothie and popcorn treat day organized by our hot lunch parents. 
We are very proud of our incredible students who show citizenship and responsibility both in and out of class. 
As you move into spring break, we hope that you and your family have time to enjoy the great weather and time together with those you love!
Helene Hewitt & Kyla Harding
Principal & Assistant Principal
You belong here!
Table of Contents
Week At a Glance
Action
Did you Read Your Child's Report Card Yet?
Save the Date - Parent Information Nights
Prepare for the Spring Melt
Opportunity 
Counsellor's Corner
Earth Rangers Assembly is Coming
Information
Spring Break
Parents Make the Difference
WEEK AT A GLANCE
March 24 - April 2 Spring Break - no school!
Monday

Lunch clubs: 

Games Club - Gr. 1 & 3
Badminton Club Gr. 6 

Tuesday

Lunch clubs:


Badminton Club Gr. 6
Cute Things Club - Mikitka
Daebak Dance - Gr. 3 bring lunch to eat in the foyer then dance in 2nd half of lunch

Earth Rangers Presentation 2-3 p.m. in the gym

Wednesday

Lunch clubs:


Choir Gr. 3-6 
Badminton Club Gr. 6 
Minecraft Club - Gr. 3

Early Dismissal @ 2:18 p.m.

Thursday

Shelter-In-Place drill 
Lunch clubs:


Badminton Club Gr. 6
Cute Things Club - Morrison

Friday
ACTION
Did You Read Your Child's Report Card Yet?
Way to go, Davidson Creek parents and caregivers! 73% of our report cards were viewed by parents! That is pretty amazing! Wouldn't it also be amazing if 100% of student report cards were opened by parents and caregivers?
If your life is busy and you didn't get around to viewing your child's report card yet, no worries! It's never too late! Why don't you hop on over to the Parent Portal right now and check it out? Need help with Parent Portal? Call Jennifer Gibson at 780-467-5557 in the front office and she'll get you going!
While you're catching up on your to-do list, why not fill out the EIPS Annual Parent Feedback Survey - the deadline is end of day today!
VISIT EIPS.CA TO TAKE THE SURVEY: March 1-23
NOTE: The survey is anonymous and only takes a few minutes to complete. If you want to share the experience of more than one child attending an EIPS school, simply complete the survey again.
Save the Date - Parent Information Nights
We are very excited to share two upcoming free parent presentations with our school communities.  We hope to see you there.
Foundations of Connection: How to Communicate with Your Youth
Presented by the Saffron Centre on April 26, 2023, 5:30-7:30 @ Wes Hosford Elementary School
A presentation for parents and caregivers on having healthy parent-child relationships and talking about healthy relationships with youths.  
Workshop description: The first part is on healthy relationships basics, so we go over boundaries, consent, and the characteristics of healthy and unhealthy relationships. We discuss abusive relationships and the cycle of abuse and spend more time discussing consent in detail. Next, we go over shame, its effects, and how we can minimize it in our conversations. This is followed by a discussion on rejection and how to talk about it. We then talk about pornography, its effects on developing brains and relationships, and how to talk about it without perpetuating shame. The topic shifts to sexting and its consequences, as well as a review of the laws surrounding non-consensual photo sharing. The second section is on parent-child relationships specifically and begins with some traits for healthy parent-child relationships at different ages. We discuss how to build a trusting relationship and go over tips for open communication. Next, we cover ways to talk about consent with different age groups before covering tips for handling conflict in relationships.  This presentation  is designed for parents of elementary students from K-6. 
No Such Thing as a Bad Kid: Understanding What's Behind Children's Behaviors
Presented by Strathcona County Family Resource Network on May 17, 2023, 5:30-7:30 @ Glen Allan Elementary School
Session description: Kids do not come with instruction manuals. Most parents may feel puzzled by their children's feelings and behaviors at some point in their parenting journey. Join Strathcona County Family Resource Network in a presentation that helps parents understand what's behind children's behaviors and learn how to support children with emotional and behavioral challenges.
RSVP for the Parent Sessions here
Prepare for the Spring Melt
With the wonderful spring weather also comes mud and melting snow! Help prepare your child for the mucky weather by sending a spare set of clothes or some splash pants to avoid getting a call home for a change of clothes!
OPPORTUNITY
Counsellor's Corner
Hello Mustang families!
Strathcona County is offering some great workshops on health and safety during the March Break, including workshops on teen substance abuse, and workshops on residential safety — which is especially helpful if you plan on being away over the break. For more information, visit Strathcona County's website at www. Strathcona.ca or consult the information below.
Have a safe and healthy March Break!
Dina Deuzeman
School Counsellor
Inclusive Parenting: Understanding Teen Substance Use For Parents and Caregivers
THURSDAY, MARCH 23, 2023, 6 – 7:30PM
Where do you begin when talking with your teens about the impacts of drugs and alcohol? Join us for Inclusive Parenting, a session in partnership with Parents Empowering Parents Society. This session will cover adolescent brain development, signs, symptoms, and impacts of substance use, how to talk about substance use with your teen, and resources available to you and your family.
Location:  Family and Community Services, 401 Festival Lane, Sherwood Park
Type of Event: Parent education
Category:  County sponsored event
Audience:  Caregivers
Cost:  Free
Coffee & Learn: "Residential Safety" presented by the RCMP
TUESDAY, MARCH 28, 2023, 1:30 – 3PM

Come learn about residential safety and how to keep your home safe while at home and away. Learn some crime prevention tips when it comes to your home and what to keep an eye out for.
To register, please fill out our registration form on our website at strathcona.weseniors.ca or call us at 780-400-2111.
Location: #140 501 Festival Avenue, Sherwood Park, AB
Type of Event: Workshops / seminars
Category: Community event
Audience: Senior
Cost: $2.00
Accessibility: On Transit Route
Contact Information: WESeniors Strathcona
Website: strathcona.weseniors.ca
Phone: 780-400-2111
Email: questions@weseniors.ca
Earth Rangers Assembly is Coming
We are so lucky to have been nominated for a free Earth Rangers assembly on April 4 from 2 to 3 p.m. 
Here is a bit of information about this presentation:
The Earth Rangers School Assembly is a dynamic and interactive presentation for Grades 1 through 6. Through the power of live animal demonstrations and positive, science-based information, our program educates students about the threats facing animals and the environment, highlights real conservation initiatives across Canada, and motivates them to want to get involved. During the 2022/2023 school year, our School Assembly will highlight amazing animals and their superpowers - thus explaining the importance of biodiversity and how animals unique adaptations allow them to thrive in their specific ecosystems. The presentation will provide students with tangible ways they can help protect these ecosystems and show the big collective impact small, everyday actions can have.
The Assembly is 45-60 minutes long, and will feature:
An immersive HD multimedia experience
Live animals demonstrating their amazing natural behaviours
Interactive components, including a trivia game that gets students involved
Educational, curriculum-linked information appropriate for Grades 1-6
If you are around the school that day, feel free to drop in to see this incredible presentation!
INFORMATION
Spring Break
Davidson Creek Elementary is closed for spring break from March 24-31 2023. During this time, if you need immediate assistance, Elk Island Public School Central Services is open. Contact the main office at 780-464-3477 if you have urgent questions or concerns at this time. Our school office will reopen on Monday, April 3. Enjoy the break!
Parents make the difference
Here is this week's article with helpful tips for families:
Offer support when your child has a writing assignment
A writing assignment can seem like a tough challenge for many students. Good writing involves everything from understanding a subject to knowing how to organize thoughts to checking spelling and punctuation.
To support your child:
Suggest that your child "talk through" some ideas before starting to write. Clear writing starts with clear thinking.
Encourage your child to take notes and make an outline before starting to write. Organized thoughts will make the writing clearer.
Remind your child that first drafts aren't supposed to be perfect. Students should focus on what to say first—and edit the paper for spelling and grammar later.
Offer plenty of praise to motivate your child to keep working. Be as specific as you can: "I really like the way you've described what led up to this event. I understand it much better now."
Don't over criticize. It's helpful to point out errors now and then, but if you are always looking for what's wrong, your child will be less likely to ask for help in the future.
Be patient. Good writing takes time. Your patience and support can help your child develop into a clear thinker and skilled writer.
Reprinted with permission from the March 2023 issue of Parents make the difference!®  (Elementary School Edition) newsletter. Copyright © 2023 The Parent Institute®, a division of PaperClip Media, Inc.