Back to all posts
Posted on:
Mustang Memo - May 12, 2023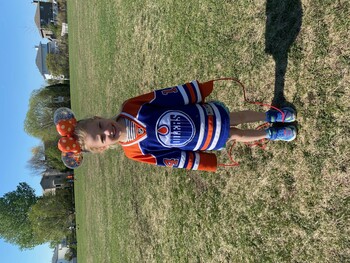 A Disney theme day is a wonderful way to end a busy week! Pair up Disney with the Oilers and you have the best day ever! 
We had a great week full of swimming, hot lunches and great learning! Did you know that many of our classes have buddy classes? If you are ever visiting in our school, you may see some of our older students matched up with a younger buddy. These buddies work on a variety of things such as reading, writing, science projects and playing math games! We love seeing the kindness being shared between older and younger students!
Speaking of kindness, did you notice the new signs up in our parent drop off area? We have put up no stopping signs and yellow hatching where the curb dips at the beginning of the drop off lane. This is because we have students and community members with mobility devices such as wheelchairs or walkers that need that dip in the pavement when coming from the disabled parking stalls. When cars stop there, those community members cannot easily get up the curb which is unsafe and frustrating!
Additionally, you might notice that there are painted arrows and no stopping signs near the stop sign at the end of the drop off lane. This is to ensure a smooth flow of traffic and reduce cars being stopped at the exit by cars turning left. With no cars parking near the stop sign, there are two lanes available for people to turn both left and right! 
Thank you for paying attention to our new signs and for following the rules of the road. Soon, we will invite our friendly neighbourhood bylaw officer to come and check our newly improved drop off lane!
We hope that you have a restful weekend! 
Helene Hewitt & Kyla Harding
Principal & Assistant Principal
You belong here!
Table of Contents
Week At a Glance
Action
Upcoming Parent Meetings
Class Placements
Opportunity 
Counsellor's Corner
Write On Supplies Fundraiser
Information
Brilliant Badminton - Memorable Mustang Moment!
Parents Make the Difference
WEEK AT A GLANCE
Monday

Grade 5 Strathcona Wildnerness Center field trip

Tuesday

Lunch clubs:


Cute Things Club Ennis and Hansen

Kindergarten Information Night @ 5:30 p.m. 
School Council meeting @ 6:30 p.m. in the library. Click here to join virtually.
Davidson Creek Fundraising Society (DCFS) meeting @ 7:30 p.m. in the library

Wednesday

Grade 6 PAT English Language Arts Part A - morning
Lunch clubs:

Thursday

Lunch clubs:


Daebak Dance Gr. 3 and 4 at lunch recess in the gym
Cute Things Club Ennis and Hansen

Swimming Lessons Oslanski/Drechsel/Siminick/Gillis/Snaterse/Kellough

Friday
ACTION
Upcoming Parent Meetings
Do you like cookies? How about having a say in how we make great things happens for your children? 
Next school council meeting on Tuesday, May 16 at 6:30, we want parent suggestions on next year's School Education Plan goals. How can parents be involved in making our school even better? Come have your say!
We invite you to come out to get involved in our upcoming planning for the Summer Sizzler as well as to provide your input into our School Education Plan goals for the 2023-24 school year.
Please consider joining our great parent crew! We have a ton of fun and don't forget - we have cookies! 
We hope to see you there!
Class Placements
As posted in the April 21 Mustang Memo, we wanted to share information about how we develop classroom placements for the 2023-24 school year.
Our teachers collaborate with the administration and counsellor to develop balanced class lists as a team which consider several factors such as academic needs, behavioural needs, friendship/social groupings, access to support staff, and matching personalities between teacher/student. Teachers submit a checklist with each draft class list that addresses these considerations, including ensuring at least one friend for each student. As you can imagine, creating class lists is a complicated task.
It is our goal to create balanced classes that provide an excellent educational experience for each child. We appreciate your trust in our professionalism and our desire to do right by all students while balancing the various needs of each family. It is for that reason that we do not entertain requests for classroom placements. If there is an extenuating circumstance that will have a significant impact on your child or family that you feel we need to consider, you can share that information in writing via email to the principal, Helene Hewitt, by May 26, 2023.
OPPORTUNITY
Counsellor's Corner
Hello Mustang families!
The forecast predicts another beautiful weekend! I know that many of our little Mustangs are eager to make the most of it and get out on their bikes. Why not go to the RCMP Bike Rodeo this Saturday, as a family? The rodeo will focus on safety, as part of the National Police Week, and will include demonstrations of specialized RCMP units (including the RCMP Police Dog Service), a bike obstacle course, fun family activities, a retro police vehicle display, and info booths from community safety partners. The event is free and will run from 11am – 3pm at 1100 Clover Bar Road.
Hope to see you there!
Dina Deuzeman
School Counsellor
Write On Stationary Fundraiser
Do you need to purchase school supplies for your child for next year? Do you want to skip the lines and fuss of shopping at a store and not worry about dragging the supplies to the school? Do you want to support the school with a fundraiser?
We have a deal for you!
You can order your child's school supplies from Write On Stationary and they will deliver the order right to the school and a portion of the proceeds will go to our school! No muss, no fuss!
Here's how to order:
• Go to www.write-on.ca
• Click on "PARENTS – Order Here"
• School Name: Davidson Creek Elementary School – SHERWOOD PARK
• Choose your grade and place your order.
• Complete your order by clicking 'PLACE ORDER'
• You will receive an automatic email confirmation to confirm your order has been received
• They accept VISA, MC, AMEX, Visa Debit and Interac On-line.
INFORMATION
Brilliant Badminton - Memorable Mustang Moment
Did you know that our Grade 6 students competed in the EIPS badminton tournament at the end of April? 
Congratulations to our incredible students for doing so well at the tournament. Our school received the Team Award which is given to the school with the most points. Additionally, our teams won the bronze medal for both girls doubles and boys singles events. We also won gold and silver for the girls singles where two of our Mustangs played each other in the finals.
It was an exciting match for all! We are so proud of our team - not for winning awards, but because they put in hard work and dedication to practicing in the weeks leading up to the event. Effort and dedication do not go unrewarded!
Shout out to our great badminton coaches, Mr. Brouwer and Mr. Walker! Staff leadership makes our students shine! 
Parents make the difference
Here is this week's article with helpful tips for families:
Support your child as the end of the school year approaches
By May, some students act like summer vacation has already started. They "forget" to do turn in schoolwork. They stop giving their best effort and start avoiding anything that seems difficult or challenging.
But the school year isn't over yet. Students need to stay focused on learning until the last day of school. Here's how to help your child:
Review past schoolwork papers, quizzes and tests. Use them to talk about how much your child has learned this year. Having these papers close at hand will also be useful when studying for end-of-year tests.
Shape year-end learning around your child's interests. If there is one more book project due, suggest choosing a book on a favorite topic. If there is a social studies report, suggest focusing it on something your child is interested in learning more about.
Help your child manage big end-of-year projects. Long-range assignments can be overwhelming. So, in addition to helping your child break the assignment down into smaller steps, encourage this rule of thumb: Move the deadline for finishing the project earlier by two days. If a report is due on Wednesday, your child should plan to get it finished by Monday. That way, your child will have a cushion if something comes up.
Reprinted with permission from the May 2023 issue of Parents make the difference!®  (Elementary School Edition) newsletter. Copyright © 2023 The Parent Institute®, a division of PaperClip Media, Inc.