Back to all posts
Posted on:
Mustang Memo - May 18, 2023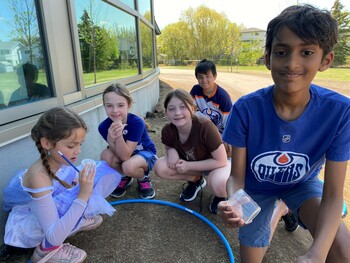 This week we were able to meet the families of our newest members of the Mustang herd - next year's kindergarten students.
Thank you to all of the parents who joined us to learn all about what kindergarten looks like for next year. We couldn't help but feel excited at learning about our new students! 
To make this week even better, we were able to see our Grade 3 and 5 buddy classes outside enjoying nature as they went looking for living creatures! It is so inspiring to see older students as role models for our younger students! What a great example of active citizenship!
We hope that you are able to enjoy a some time as a family over this long weekend!
Helene Hewitt & Kyla Harding
Principal & Assistant Principal
You belong here!
Table of Contents
Week At a Glance
Action
Opportunity 
Counsellor's Corner
Junior High Jitters
Sherwood Park Replacement School Information Session
Information
Education for Reconciliation
Parents Make the Difference
WEEK AT A GLANCE
Monday
Tuesday

Class photo Group B Kindergarten
Lunch clubs:


Cute Things Club Ennis and Hansen

Wednesday
Thursday

Lunch clubs:


Cute Things Club Ennis and Hansen
Propagation Fascination Club

Swimming Lessons Oslanski/Drechsel/Siminick/Gillis/Snaterse/Kellough

Friday

Class Photo Group A Kinder and Grades 1-6
K-2 Lakota Tootoosis Hoop dancing presentation @ 9:17 a.m.
Grade 3 & 4 drumming and dancing with Adrian Lachance @ 1:00 p.m.
Grade 5 & 6 drumming and dancing with Adrian Lachance @ 2:14 p.m.
Jugo Juice Hot Lunch
Lunch clubs:


Daebak Dance: Grade 5 and 6
ACTION
Seeking Your Input
This week we had an great conversation with parents in our school council meeting. We are looking ahead to what areas we want to focus on as a school to continue to improve student success both academically and emotionally. We asked parents about how they can be involved in supporting our school goals next year. Specifically, we asked these questions around our key focus areas for next year:
Wellness (Social-emotional and physical)
What does a positive and healthy school look like for your family?
How can parents be involved in supporting improved mental health and wellness for students?
Literacy (Reading and Writing)
What does high quality literacy look like for you and your family?
How can parents be involved in improving reading and writing at Davidson Creek Elementary?
Numeracy (Efficient access to basic facts and number sense)
What does good number sense and fact fluency look like? 
How can parents be involved in improving numeracy skills of students at our school? 
If you'd like to answer these questions, we'd love to hear your thoughts. You can fill out this survey:
DCE School Education Plan Survey for Parents
Your feedback will help us to develop our School Education Plan for the 2023-24 school year. Thank you for being our partners in making our school the best school possible!
OPPORTUNITY
Counsellor's Corner
Hello Mustang families!
This week, we focused in on our self-talk and its impact on how we show up in the world. Ms. Mikitka introduced us to the book I Think, I Am!, by Louise Hay and Kristina Tracy, which teaches kids the power of affirmations. Affirmations can help to build confidence and resilience in children, and are a great way of building identity. You can listen to the book yourself in this read aloud:
Here is a starter list of affirmations that you can practice with your child(ren), until you are able to create more tailored ones.
I am strong.
I am smart.
I am brave.
I am generous.
I am the best big sister/brother
I am beautiful on the inside and out.
I am kind.
I am patient.
I am loved.
I can do anything I put my mind to!
I am awesome.
I am honest.
I am worthy of love.
I am grateful for everything that I have and all that I get to do.
I love myself!
Have a healthy long weekend!
Dina Deuzeman
School Counsellor
Junior High Jitters
This is a free caregiver education session hosted by Alberta Health Services. Is your child going into Grade 7 and feeling nervous about it? This session will provide information about developmental changes teens experience, as well as the challenges they may face in this school transition. Strategies for managing these changes and boosting wellness will be discussed. The session is designed for caregivers and pre-teens—grades 6-8—to attend together.
     Wednesday, June 14
     6 p.m. to 7:30 p.m.
     Virtual
     Register
Sherwood Park Replacement School Information Session
Alberta Education has confirmed construction funding for the Sherwood Heights Junior High and École Campbelltown replacement school. With design work nearing completion and construction currently anticipated to begin in fall 2023, ACI Architecture, the architect for the project, is hosting two drop-in information sessions for school families and interested community members, including EIPS staff. For more information, or to sign up to receive email updates about the project, visit the EIPS website.
     Wednesday, May 31 or Tuesday, June 6
     5:30 p.m. to 6:30 p.m.
     Sherwood Heights Junior High, gymnasium
     *Free child care provided
INFORMATION
Education for Reconciliation
Did you know that we have a teacher who is our First Nations, Métis and Inuit Lead Teacher this year? We'd like to say a huge thank you to Mandy Kellough who has led our students and staff through some incredible educational experiences this year including Orange Shirt Day activities, Project of Heart activities and the introduction of monthly smudge in partnership with our consultant and knowledge keeper, Jeremy Albert.
Ms. Kellough also helped to organize some great professional learning opportunities for our staff such as our last trip to Métis Crossing.
Next week, our students will once again benefit from Ms. Kellough's leadership by participating in some great cultural events such as watching hoop dancing by the Lakota Tootoosis dancers and engaging in some drumming and dancing experiences with Adrian Lachance. If you happen to be in the school on Friday, make sure to pop by the gym to see some great learning in action!
Parents make the difference
Here is this week's article with helpful tips for families:
Offer your child motivation to keep learning
Students who remain motivated to learn are likely to be more successful in school than those who are not. Motivation comes from within your child, but the right words and actions from you can encourage it.
Try these ideas:
Be a learner yourself. Let your child see you read books. Watch educational programs. Attend school functions. Try new things. Show curiosity.
Share what you learn. Talk about new ideas or scientific discoveries with your child. Discuss things you read or hear.
Show an interest in what your child is learning. Ask questions to learn and share—not to check up on your child.
Stay positive. If your child has problems in school, talk about how problems can be solved. Meet with the teacher to figure out ways your child can improve. Then discuss ways you can work together to help your child succeed.
Show faith in your child's ability to learn. Offer praise when your child shows effort.
Reprinted with permission from the May 2023 issue of Parents make the difference!®  (Elementary School Edition) newsletter. Copyright © 2023 The Parent Institute®, a division of PaperClip Media, Inc.