Back to all posts
Posted on:
Mustang Memo - May 5, 2023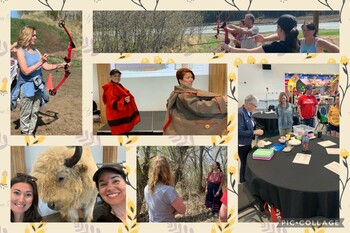 Our staff ended off a great week of learning by becoming learners ourselves! Today we hopped on a yellow school bus and made our way to Métis Crossing where we learned about Métis culture and history. We had a chance to do a medicinal walk, to learn some traditional beading and try our hand at archery. 
As a staff, we are learning more about what it means to be a treaty person. Did you know that we are all treaty people? Treaties were signed by both Indigenous groups and the Canadian government as ways of working together to share the land we live on. These agreements hold Indigenous people accountable to share the territory with non-Indigenous people and were intended to be mutually beneficial. They provide a framework and a way for people to live together in Canada with agreed upon rights and responsibilities on both sides. Treaties are meant to protect all people, regardless of Indigeneity, including migrants and immigrants.
If we want to become better treaty people, the first step is education and learning more about the land and the agreements that were made. We can ask ourselves: What does Treaty 6 mean and how does it benefit me? How can I uphold the agreements made by our ancestors to create a peaceful and loving community?
Our staff field trip to Métis Crossing was one small step in our education for reconciliation journey. With these experiences, we hope to provide richer instruction about First Nations, Métis and Inuit people, culture, history and knowledge in our daily lessons.
Have a great weekend!
Helene Hewitt & Kyla Harding
Principal & Assistant Principal
You belong here!
Table of Contents
Week At a Glance
Action
Opportunity 
Counsellor's Corner
Write On Supplies Fundraiser
Bike Rodeo and Safety Fair
Caregiver Series - May and June
Information
Off to the Races - Running Club Success
EIPS Annual Education Results Report
Parents Make the Difference
WEEK AT A GLANCE
Monday

Jeans and Jersey Day
Hot Lunch Group A KG Gr. 1 & 2 Lunch Lady
Lunch clubs: 


Tuesday

Lunch clubs:


Daebak Dance - Gr. 3 & 4 lunch recess
Cute Things Club Ennis and Hansen

Wednesday

Jeans and Jersey Day
Puppet Treehouse Group A KG in school field trip
Oslanski Gr. 1 Sherwood Park Museum
Lunch clubs:

Thursday

Puppet Treehouse Group B KG in school field trip
Lunch clubs:


Minecraft Club - Gr. 3
Cute Things Club Ennis and Hansen

Swimming Lessons Oslanski/Drechsel/Siminick/Gillis/Snaterse/Kellough

Friday

THEME DAY - DISNEY or Jeans and Jersey Day
Hot Lunch Group B KG Gr. 3 to 6 Lunch Lady
Kellough/Clark Gr. 1 Sherwood Park Museum AM
Siminick/Clark Gr. 1 Sherwood Park Museum AM
Lunch Clubs
ACTION
Upcoming Parent Meetings
We will be hosting our next School Council and Davidson Creek Fundraising Society meetings on May 16 at 6:30 p.m. in our school library! 
We invite you to come out to get involved in our upcoming planning for the Summer Sizzler as well as to provide your input into our School Education Plan goals for the 2023-24 school year.
Please consider joining our great parent crew! We have a ton of fun and there are cookies! Cookies! 
We hope to see you there!
OPPORTUNITY
Counsellor's Corner
Hello Mustang families!
There are so many great things happening in Strathcona County this week! Are you the parent of a child entering kindergarten next year and looking for support? Strathcona County is ready with resources in their Kimochis Start School class. Come out and gain information while enjoying the cuteness overload of the adorable Kimochis! The free class meets Thursday, May 4th, at 5:30 - 6:30pm. For more details, see the description below!
Are you looking for a place for your child to connect with others and learn new skills in a safe and fun environment? Look no further! Strathcona County is holding a free Confident Kids group, for children in grades 1 to 3, between April 20 - May 25. Come on out, have fun, and meet kids in your community! For more details, see the description below.
 Kimochis Start School - For children entering Kindergarten and their parents/caregivers
When

Thursday, May 4, 2023, 5:30 – 6:30pm

Where

Children and Youth Community Centre
#3 Spruce Ave
Sherwood Park

Details

In this interactive class you will be introduced to the four lovable Kimochis® characters and their accompanying activities. This registered program aims to support children and caregivers to learn about, and manage, the wide range of emotions and feelings that go hand in hand with transitioning to school.  
Register and attend each week to meet...  

Lovey Dove who reminds us how to be friendly and kind to everyone at school  
Cloud who shows us how to breath when we are having big feelings of being mad, happy and sad  
Bug who will teach us how to be brave when we are feeling scared, shy and left out 
Huggtopus who will teach us about social cues, how to wait our turn and manage big feelings such as excitement and frustration 

Timeframe

Evening

Outdoor or Indoor

Indoor activity

Parented

Parented

Urban or Rural

Sherwood Park

Audience

Caregivers, Children, Family

Type of Event

Early childhood

Cost

Free

Category

County sponsored event

Contact Information

For more Information Email; FamilyResourceNetwork@strathcona.ca
Have a great week!
Dina Deuzeman
School Counsellor
Write On Stationary Fundraiser
Do you need to purchase school supplies for your child for next year? Do you want to skip the lines and fuss of shopping at a store and not worry about dragging the supplies to the school? Do you want to support the school with a fundraiser?
We have a deal for you!
You can order your child's school supplies from Write On Stationary and they will deliver the order right to the school and a portion of the proceeds will go to our school! No muss, no fuss!
Here's how to order:
• Go to www.write-on.ca
• Click on "PARENTS – Order Here"
• School Name: Davidson Creek Elementary School – SHERWOOD PARK
• Choose your grade and place your order.
• Complete your order by clicking 'PLACE ORDER'
• You will receive an automatic email confirmation to confirm your order has been received
• They accept VISA, MC, AMEX, Visa Debit and Interac On-line.
Bike Rodeo and Safety Fair
The Strathcona County Royal Canadian Mounted Police (RCMP) have organized a Bike Rodeo and Safety Fair. Enjoy specialized police demos, including the canine unit at 12 p.m. and 2 p.m. There'll be a free bike rodeo for children to learn about bike safety and test their skills on an obstacle course, in addition to other fun activities. Attendees can also get free helmet checks and bike inspections from vendors and visit displays and info booths from community safety partners.
     Saturday, May 13
     11 a.m. to 3 p.m.
     Strathcona Athletic Park
Caregiver Series: May and June Sessions
Alberta Health Services offers free online programming for parents and caregivers of children and youth. Sessions are offered through Zoom. Upcoming topics include understanding autism, strategies for test anxiety and transitioning to teenage years. The list of May and June 2023 sessions is now available.
INFORMATION
Off to the Races - Running Club Success
We are so proud of our incredible Grade 4, 5 and 6 students who competed in the Elk Island Public Schools relay races on May 5. All of our teams did really well with several teams placing in the top 3 spots. We were pleased to place third overall. Win or lose, we are so proud of our students for practicing hard and for being responsible to their teams by being there on time and ready to go. Each student made us very proud! Go, Mustangs!
EIPS Annual Education Results Report
Every year, Elk Island Public Schools (EIPS) publishes an Annual Education Results Report, which outlines the Division's Four-Year Education Plan, opportunities for growth and how it's supporting students to achieve the best possible outcomes. Read through this year's EIPS Annual Education Results Report 2021-22 and discover how EIPS fosters learning environments for all students to learn, grow and thrive—and why it matters.
May Spotlight: cultivating high-quality learning environments and experiences
Power of Kindness: Creates welcoming, inclusive, respectful, and safe learning environments in schools
Building Blocks: How effective planning, management and infrastructure is supporting learning
Raising the bar: Evidence-based practices that are enhancing teaching and learning in EIPS
RELATED INFORMATION
EIPS Four-Year Education Plan: 2022-26
EIPS Three-Year Capital Plan: 2024-27
THANK YOU! Bus Driver Appreciation Day May 1
On May 1, we recognized and thanked our school bus operators for keeping the safety of our students their first priority. Each bus driver received a hand made thank you card from students and a coffee gift card as a way of showing our appreciation.
We encourage you, and your children, to take a moment to say thanks to our bus operators—who go above and beyond to provide safe and timely transportation to our students.
On behalf of Davidson Creek Elementary THANK YOU to all of our school bus operators for a job well done.
Parents make the difference
Here is this week's article with helpful tips for families:
Regular review helps your child strengthen math skills
Success in math is built on mastery of basic skills. Help your child establish math review habits that reinforce these skills. Here's how:
Regularly quiz your child on basic math facts: 2 x 9, 12 - 4, 6 + 6, etc. Together, make a set of flash cards with math facts your child needs to know. Review them together often—at the breakfast table, in the car or while waiting at the doctor's office. Your child has mastered a math fact when it takes less than three seconds to give the correct answer.
Resist providing the answers. Your child will learn better if you demonstrate how to find them instead. For instance, if your child doesn't know what 3 x 5 is, draw three parallel horizontal lines. Cross them with five vertical lines. Then have your child count the intersections to get the answer.
Have your child practice writing numbers neatly. Many of the math errors students make are due to messy number writing. Your child could use graph paper to make sure numbers are neatly lined up. A sharp pencil and a clean eraser can help, too.
Encourage your child to work more problems than the teacher assigns. Strong math skills come with lots of practice.
Issue mental math challenges. See if your child can figure out a problem without using pencil and paper or a calculator. Ask questions that encourage estimating, too.
Reprinted with permission from the May 2023 issue of Parents make the difference!®  (Elementary School Edition) newsletter. Copyright © 2023 The Parent Institute®, a division of PaperClip Media, Inc.