Back to all posts
Posted on:
Mustang Memo - November 25, 2022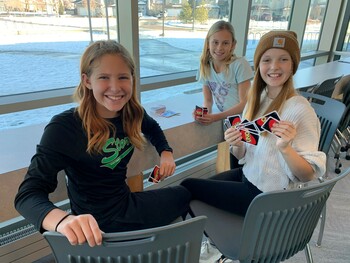 With clubs up and running, we have had a great week! Our grade 5 and 6 students are enjoying intramurals and getting ready for the volleyball tournament in Fultonvale coming next weekend!
We also have some crafty Grade 6 students making adorable ugly monster stuffies in Cute Things Club. 
Grade 5 students were invited to our Games Club where we played some pretty fun table games and we even got to play Uno!
Grade 4 students joined Mrs. Hewitt in the gym for some K-pop dancing in Daebak Dance Club (Daebak is Korean for awesome!)
Not to be forgotten, our Grade 1 and 2 students were able to join Mrs. Drechsel for Art Club! Next week, we will get our Grade 3 students involved as well! 
It is so much fun to connect with students through these fun activities! Our kids are great and we love spending time with them!
Helene Hewitt & Kyla Harding
Principal & Assistant Principal
You belong here!
Table of Contents
Week At a Glance
Action
Report cards are here!
We need you to avoid making a u!
Opportunity 
Twelve Days of Christmas is coming soon!
Got Milk? 
Information
Reading tip of the week
Christmas Concert - Save the date
Parents Make the Difference
WEEK AT A GLANCE
Monday

Jeans and Jersey Day
Games Club Grade 3 at lunch recess in the library
Intramural volleyball: Gr. 5 & 6

Tuesday

Intramural volleyball: Gr. 5 & 6
Grade 2 Teachers' Pet in school field trip

Wednesday

Art Club: Gr. 1 & 2 at lunch recess in Mrs. Drechsel's classroom
Intramural volleyball: Gr. 5 & 6
Hold and Secure, Lock Down Drill 

Thursday

Ugly Sweater Day
Twelve Days of Christmas food drive starts:

canned fruit (no sugar added)

Cute Things Club: Grade 6 at lunch recess in the library
Christmas Karaoke Club: Grade 3 & 4 lunch recess in Ms. Heidi's classroom

Friday

Twelve Days of Christmas food drive starts:
Daebak Dance Club at lunch recess: Grade 4
Mustang Memo posted online
ACTION
Report Cards are Here!
Check your Parent Portal account to see your child's report card that was published today! What a great time to celebrate all of their accomplishments!
We need you to avoid making a U!
We have noticed that some well-meaning parents are dropping off kids on the street in front of the school and then making a u-turn in the middle of the road. When there is a high volume of traffic and many kids walking to and from the school, we are worried that someone is going to get hurt!
Could you help us out by being great role models for our kids? We would be grateful if our parents could pull into traffic and turn where it is safe. Thank you for demonstrating our school expectations of being safe, being respectful and being kind! It takes a village to raise incredible kids!
OPPORTUNITY
Twelve Days of Christmas Food Bank donation drive is coming!
Are you ready to get into the holiday spirit? With inflation and the cost of household items going up, many families in Strathcona County may need to access the local Food Bank. 
As a way of showing our citizenship and acts of kindness that our Mustangs are known for, we will be having a Twelve Days of Christmas themed Food Bank food drive. Over 12 days, we will announce a food item that is in demand at the Food Bank and sing it in the morning announcements. Students are encouraged to bring that item to school the next day. 
You can choose to bring one thing only or to donate as many as you are able. We will also accept cash donations at the office. Here are the items we will be looking for and the corresponding dates. 
December 1: No-sugar-added canned fruit
December 2: Whole grain crackers
December 5: No-sugar-added fruit juice 
December 6: Pasta sauce (low sodium)
December 7: Ready to serve soup (or chili or stew)
December 8: Baby food
December 9: Empty egg carton
December 12: Shampoo or conditioner
December 13: Toothpaste or toothbrushes
December 14: Dish soap
December 15: New school supplies
December 16: Non-perishable food
We cannot wait to help others in need because that's just what we do!
Got milk?
Milk is great for strong bones and much needed calcium! It also tastes great! Did you know that we are starting up our milk program once again?
How to order:
Log into:https://dce.hotlunches.net
Hover the cursor over the 'Home' tab.
Click on 'Fundraising'
Login with the same User ID and Password for hot lunch orders
Choose 'Students'
Choose the appropriate 2 week ordering period and the amount of milk you would like to purchase
Complete Payment
To learn more about the program, click here to read the flyer sent out by our amazing milk parent volunteers! Thank you to our amazing school council for getting this healthy option running for our kids! 
INFORMATION
Reading tip of the week
What to do when the words don't stick!
Do any of these describe your child:
Practices every night for the spelling test, but still makes errors? 
Makes constant spelling mistakes with the same words again and again?
Is able to read a word one day but is unable to decode that same word the next day?
Parents and teachers notice these things in children all the time! The research tells us that in order to remember the words and store the into our long term memory, our brain uses a process called Orthographic Mapping. This process involves the brain making connections between letter sounds and letter names. 
And guess what? 
Not all brains are wired to do this process automatically. While some children can be taught to learn a word with just 1-4 practices, it takes other up to 40 times to learn that same word! The good news is that there is a great way to practice word learning by using the Orthographic Mapping technique.
So, how can I work on this process at home?
First, you can watch this video.
Next, click this link to download the Map the Snap template.
For more information, head over to Sarah's Snippets for some great ideas!
Reference: Kilpatrick, D.A. (2016) Equipped for reading success. Casey & Kirsch Publishers
Christmas Concert - Save the Date!
Mrs. Allen and her merry band of students are hard at working preparing an in-person Christmas concert to take place in our gymnasium. We cannot wait for our students to have a chance to perform in front of a live audience! There is nothing like the rush of adrenaline from a great performance!
Since our school is rather large, we will be splitting the event into two concerts. We will be sending out a separate email about student drop off times and directions on parking and how you can attend as an audience member. In the meantime, here are the general details:
Concert #1: Wednesday, December 14
| | |
| --- | --- |
| Grade & Class | Performance Time |
| Grade 1: Clark, Oslanski, Siminik | 6:00-6:15 PM |
| Grade 2: Drechsel, Gillis |  6:35 – 6:50 PM |
| Grade 3: Versteegt, Lobe |  7:10 – 7:25 PM |
| Grade 4: Hansen, Mikitka |  7:45 - 8:00 PM |
| Grade 5: Crockett, Miller |  8:20 - 8:35 PM |
Concert #2: Thursday, December 15
| | |
| --- | --- |
| Grade & Class | Performance Time |
|  Grade 1: Kellough, Breen | 6:00-6:15 PM |
|  Grade 2: Snaterse, Walker |  6:35 – 6:50 PM |
|  Grade 3: Nicks-Tambasco, Parker |  7:10 – 7:25 PM |
|  Grade 4: Hanasyk, Morrison |  7:45 - 8:00 PM |
|  Grade 5 & 6: Coates, Brouwer, Rice |  8:20 - 8:35 PM |
Parents make the difference
Here is this week's article with helpful tips for families:
Are you making the most of your report card talks?
Perhaps your child's report card is great. Or maybe it's worse than you feared. Whatever the report card says, it provides a valuable opportunity to talk with your child about school and study habits.
Answer yes or no to the questions below to see if you are making the most of report card talks:
Do you take your child's report card seriously and set aside time to review and discuss it together?
Do you ask if your child agrees with the grades, and why or why not?
Do you remain calm and try not to make your child feel even more disappointed?
Do you help your child make a plan to improve or maintain grades for the next grading period?
Do you contact the teacher if you or your child have concerns or questions?
How well are you doing?
If most of your answers are yes, you're turning report card time into learning time. For each no answer, try that idea in the quiz.
Reprinted with permission from the November 2022 issue of Parents make the difference!®  (Elementary School Edition) newsletter. Copyright © 2022 The Parent Institute®, a division of PaperClip Media, Inc.