Back to all posts
Posted on:
Mustang Memo - November 4, 2022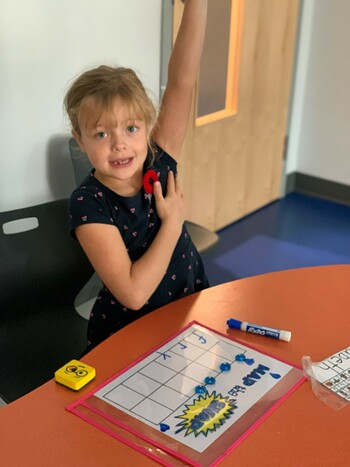 This week we had many examples of our students being incredible leaders and citizens. 
The week kicked off with several classes beginning swimming lessons at the community pool. We are so proud of our students who went on the field trip. The lifeguard made a point of telling one of our teachers that the Davidson Creek Elementary students were the most respectful and polite student group that they have ever hosted at the pool!
Today we had many students participate in the Remembrance Day Ceremony as MCs and as musical performers. They took this event seriously and showed their respect for those who have gone before us!
We are filled with pride to know that DCE students model our school values when they are in the community! Our kids are kind, safe, respectful and act as their best selves both in and out of school! This is truly showing citizenship in action! Way to go, Mustangs!
Helene Hewitt & Kyla Harding
Principal & Assistant Principal
A place where you belong!
Table of Contents
Week At a Glance
Action
We Want Your Feedback!
Time to Change your Clock
New Report Cards
Inclement Weather
Opportunity 
Counsellor's Corner
Remembrance Day Service
Not Too Late to Order Spirit Wear
Upcoming Parent Meetings - Save the Date!
Information
School Clubs are Coming!
2023-24 Division Calendar
Where to Find the Information You Need
Parents Make the Difference
WEEK AT A GLANCE
Week of November 7-11 Fall Break - School closed
Week of November 14-18
Monday

Bullying Awareness Week
Métis Week

Tuesday
Wednesday

Art Club: Gr. 1 & 2 at lunch recess

Thursday

Cute Things Club: Grade 6 at lunch recess

Friday

Daebak Dance Club at lunch recess: Grade 4
Hot Lunch kinder Group A & grades 3-6
Mustang Memo posted online
ACTION
We Still Want Your Feedback!
Last week we shared a link to a parent survey seeking your feedback on how things are going at DCE so far this year. Thank you to the families who filled it out! We had around 40 people complete the survey, which gave us some really great information that we can use in our planning for the rest of the school year.
If you read it and thought, "Oh yeah, I should do that" but then got interrupted and forgot about it, it is not too late! We will keep collecting responses until the end of the Fall Break so go ahead, click on the link! Feedback is the key to continuous improvement so feel free to share your thoughts with us!
Click here to fill out our short school survey!
Time to Change Your Clock!
This Sunday, it's time to fall back an hour! We get an extra hour of sleep! Woo hoo!
New Report Cards
To best communicate student learning, some changes have been made to report cards, including a slight redesign. This November, parents and guardians will continue to access report cards through PowerSchool—simply log in to your account and click on the "Report Card" button in the left-hand sidebar.
Similar to the previous report card, students will still be assessed on a Learner Attributes Scale and Achievement Scale. Some categories have been modified to align with the new curriculum.
Inclement Weather
With the winter season almost here, we want to remind families to dress children appropriately for the weather when getting ready for school or the bus. The weather often changes unexpectedly throughout the day, so please select suitable outerwear and ensure your child is prepared for changing conditions.
If inclement weather conditions occur, Elk Island Public Schools (EIPS) advises families of any bus cancellations using various communications tools—automated-telephone messages, alerts posted on www.eips.ca and school websites, Twitter, Facebook, local radio stations, and notification through both the Bus Status and the Ride 360 apps. Morning bus cancellations are posted on www.eips.ca by 6:30 a.m.
Decisions regarding bus cancellations are guided by EIPS administrative procedures that state, "school bus service may be suspended…when there is a forecast or current temperature of -40 C, including wind chill factor, in one or more regions." Other reasons for suspending or delaying school bus services include adverse weather and poor road conditions. When school bus services are suspended, schools remain open to students. EIPS believes families have the right and responsibility to make choices for their children based on their beliefs and perceptions of safety during times of inclement weather.
For more information, contact EIPS Student Transportation at 780-417-8151.
OPPORTUNITY
Counsellor's Corner
Hey Mustang families!
November 14th-18th is Bullying Prevention Week. Over the November break, in anticipation of this initiative, we invite you all to raise awareness and have a discussion with your loved ones about the impacts of bullying in our community. Here are some great resources to help you get the conversation started: 
Bullying Prevention Strategies for Adults – information sheet
Components of an Effective Bullying Prevention Approach – information sheet
Cyberbullying – information sheet
Fact sheet: Healthy Relationships – information sheet
What Adults Can Do to Prevent and Stop Bullying – information sheet
If you find yourself in a situation where bullying is taking place, please remember that there is always help available, 24/7, by calling the Bullying Helpline:
Bullying Helpline – Call or text 310-1818 or chat online for support, information or referrals.
Have a safe and healthy November Break!
~ Ms. Dina Deuzeman, Davidson Creek School Counsellor (on behalf of the DCE team)
Remembrance Day Service
Thank you to our Remembrance Day planning committee for their hard work in preparing for the Remembrance Day Service. While we had some technical difficulties with our livestream, we were able to get the video link out to classes with only a short delay. 
We are so proud of all of our student presenters who spoke so eloquently throughout the service as well to our student performers. 
If you missed it, you can watch the video here:
It's Not Too Late to Order Spirit Wear
Our Davidson Creek Elemetnary spirit wear is still on sale until November 10! Get a new sweatshirt ro a nice toque for the winter with our logo!
Click here to order clothing items that are branded for our school!
Upcoming Parent Meetings - Save the Date!
We are looking forward to our next school council meeting on November 15 @ 6:30 p.m. followed by the Davidson Creek Fundraising Society Meeting @ 7:30 p.m.
We will meet in the library or you can join us online with this link.
Here are documents for the meetings:
INFORMATION
School Clubs are Coming!
Our staff are excited to begin offering some clubs at lunch hour after the Fall Break. Students will learn about clubs being offered as well as where to go and when during the morning announcements. You will also see which clubs are happening each day in the Week at a Glance section of the Mustang Memo! We can't wait to start having fun together!
EIPS 2023-24 Division Calendar: Now Available!
The official 2023-24 EIPS calendar is now available. The calendar includes important dates during the 2023-24 school year, such as school-closure days, breaks, the first and last day of classes, professional learning days, early dismissal days, plus more.
Highlights from the 2023-24 EIPS calendar include:
first day of school – Aug. 31, 2023
November break – November 6-10
Christmas break – December 25 to January 5
second semester starts – February 1
Teachers' Convention – February 8-9
spring break – March 25-29
last day of classes – June 26, 2024
To view the 2023-24 calendar, visit eips.ca.
Did you know you can sync the Division calendar to your personal calendar? You can. Simply, visit www.eips.ca/calendar and click "subscribe to calendar." It's that easy.
Where to Find the Information You Need
Elk Island Public Schools and Davidson Creek Elementary use a handful of key systems to share information with students and families. Depending on the information you're looking for, it's important to know where to look.
PowerSchool is the primary student information system within the Division. There is an associated app, but the functionality is limited, and families don't need to download it. From the PowerSchool Parent Portal, you can:
Access student grades and report cards;
Review student absences;
Pay school and transportation fees; and
Submit official updates to student or family information.
The PowerSchool Student Portal provides similar access to grades and absence information for students directly.
Brightspace provides more of a day-to-day look what's happening with your child's learning communicated directly from your child's teacher. From Brightspace Parent & Guardian, you can see your child's:
classroom activity feed,
grade items and grade feedback from instructors,
upcoming assignments,
portfolio evidence and
quizzes
depending on which of the program functions are specifically used by your child's teacher.
Brightspace for Students is where teachers share updates, calendar reminders and learning materials with students. Compatible with Google, it also allows students to submit assignments, complete quizzes, and see grades and teacher feedback. The Pulse app for students is associated with Brightspace for Students.
SchoolMessenger is the system the Division and schools use to send email and phone communication to families. The contact information in SchoolMessenger is populated from PowerSchool. Through SchoolMessenger, families can:
receive general, emergency and attendance messages by phone, email or both; and
manage their subscription preferences for these types of messages.
The easiest way to stay connected is to download the SchoolMessenger app. Get the latest updates direct to your mobile device and enable push notifications to never miss a message. Families can also check back on past messages—for up to 30 days—directly in the app rather than searching to find an old message buried in your inbox.
If you have trouble accessing any of these systems or have questions about them, contact Davidson Creek Elementary at 780-467-5557.
Parents Make the Difference
Here is this week's article with helpful tips for families:
Teach your child to persevere when faced with challenges
If your child has set a goal to reach, such as earning an A on a project or making the competitive soccer team, achieving it will probably take hard work. And there may be times your child will feel like giving up. That's why it's important to encourage perseverance, especially when things are difficult.
Here's how:
Discuss past successes. Did your child save money to buy something? How did your child do it? What did success feel like? What did your child learn?
Choose a fun, realistic goal. Make it something that can be reached quickly. If your child wants to read an entire series of books, start small. Set a goal for your child to read the first book.
Listen for ideas. Kids often mention goals without actually setting them. ("I'd love to be in the talent show" or "I hope I finish my report on time.") Together, create a step-by-step plan for success.
Brainstorm different strategies to try if your child doesn't meet a goal. And help your child revise a goal if it is too ambitious.
Be a cheerleader. Say things like, "You are really sticking with this. I'm impressed!" Even if your child misses the mark, praise effort.
Reprinted with permission from the November 2022 issue of Parents make the difference!®  (Elementary School Edition) newsletter. Copyright © 2022 The Parent Institute®, a division of PaperClip Media, Inc.