Back to all posts
Posted on:
Mustang Memo - October 14, 2022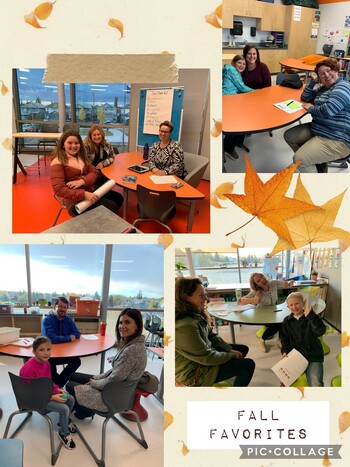 Can you believe that we are now halfway through October? Where has the time gone? It felt like it was the first day of school only a few days ago and now we have completed our first set of parent/student/teacher conferences!
Speaking of those conferences, it was incredible to see so many families at the school this past week. Thank you to everyone for taking time out of busy schedules to meet with our teachers to learn all about how your children are doing at school. 
There was a magical energy in the air as families visited lockers, classrooms and the bookfair over the two evenings. We are grateful for your support, always!
We hope that you have a chance to enjoy some nice weather this weekend before Fall morphs into the next season!
Helene Hewitt & Kyla Harding
Principal & Assistant Principal
A place where you belong!
Table of Contents
Week At a Glance
Action
Opportunity 
Counsellor's Corner
Upcoming Parent Meetings
Information
Halloween at Davidson Creek
Parents Make the Difference
WEEK AT A GLANCE
Monday

Last Day of the Bookfair!

Tuesday

School Council @ 6:30 p.m. in the library
Davidson Creek Fundraising Society (DCFS) meeting @ 7:30 p.m. in the library or virtually via this link

Wednesday
Thursday

Mr. Versteegt and Mr. Parker classes at Ukrainian Village 

Friday

Emergency Evacuation Drill #3
Mustang Memo posted online
ACTION
Pay School Fees Online!
School fee information for the 2022-23 school year is now posted on the PowerSchool Parent Portal. All fees are due within 30 days of being posted. To access your fee information, simply log in to the PowerSchool Parent Portal and go to "Student Fees." There you can view your fees and pay them online.
Don't forget to also log in to the PowerSchool Parent Portal regularly throughout the year. Fees are often added to your child's account to cover the cost of various school activities such as field trips, class projects, extracurricular activities fees and more.
If circumstances exist where you are unable to pay your fees, you can apply to have certain fees waived by submitting an Application for a Waiver of Fees. The application deadline is Dec. 15, 2022.
For more information about school fees, waivers and payment deadlines, visit www.eips.ca/schools/fees and www.davidsoncreekelementary.ca/about/fees. Alternatively, contact Christa Gawron at Davidson Creek Elementary at 780-467-5557.
OPPORTUNITY
Counsellor's Corner
Are you a proud parent with a new baby? Will your baby be 2 – 4 months old in October?
You and your baby could be a Roots of Empathy Family for the 2022-23 school year!
Roots of Empathy is a program for elementary school children. The program's goal is to increase empathy - the ability to understand how another person feels. Research on the program proves that children participating in the Roots of Empathy program are more caring, kind, inclusive, helpful. They also show less aggression and bullying and this effect lasts over time.
To be a Roots of Empathy Family: You and your baby ('Tiny Teacher') will visit a classroom nine times (once a month) over the school year with the Roots of Empathy Instructor to join the
students and their classroom teacher around the "Green Blanket".
The students learn about their own and each other's emotions by learning about your baby's emotions.
They will celebrate your baby's milestones such as rolling over, clapping, sitting and more.
To learn more about the Roots of Empathy program, click here.
If you are interested in being our Roots of Empathy Family, please contact our counsellor, Ms. Dina at 780-467-5557. 
Upcoming Parent Meetings
It's time for our second School Council and Davidson Creek Fundraising Society (DCFS) meetings!
We hope you can join us in the library for some great conversations, a few treats, and some good laughs! If you are unable to attend in person, you can also join us remotely through this link. We will also discuss topics related to the school such as approving the DCFS budget for this school year as well as providing feedback on our school education plan and mission statement. 
Links to the meeting agendas and minutes can be located here:
Davidson Creek Fundraising Society (DCFS)
We hope to see you there!
INFORMATION
Halloween at Davidson Creek
We are excited to experience a good old fashioned Halloween experience at school this year! In order to make sure that this event is safe and fun for all here is what you can expect!
Halloween Parade
We are hard at work preparing for our Halloween Parade in the afternoon on October 31. Keep an eye out on next week's Mustang Memo for details on when our parade will start and where parents are able to come to watch our little ghouls and goblins prance down the halls!
Halloween Costumes
Students are welcome to come dressed in their costumes for the day. Please help us out by making sure that costumes are not too scary/grotesque for our youngest students and that students leave weapons at home for their evening Trick-or-Treating! If a costume has a mask, students may wear it during the parade but then take it off during the rest of the day!
Halloween Treats - Staying Safe
Students will be invited to bring a personal treat on October 31 for their classroom party. Your teacher will be sending more information out to you about this so make sure to check your email!
Please remember that we are a Nut Aware school and that students may not bring food items that contain nuts to school. This is make sure that all of our little mustangs are safe! Many of our students, as well as some of our staff, have severe nut allergies. Thank you for your cooperation in making sure everyone has a fun and safe Halloween!
Parents Make the Difference
Here is this week's article with helpful tips for families:
A good night's sleep is crucial for learning
When children don't  get enough sleep, it's hard for them to learn in school. That's because sleep affects a child's ability to: 
Plan and organize.
Solve problems.
Control mood and behavior.
Focus and pay attention.
Retain information.
To help your child get the recommended nine to 12 hours of sleep each night:
Stick to a schedule. Enforce a regular bedtime and wake time. Establish times for meals, schoolwork and recreation.
Encourage physical activity. Exercise and fresh air help children sleep better.
Set a technology curfew. Kids should avoid bright screens for one hour before bedtime.
Follow a bedtime routine. Your child could take a bath, enjoy a story and talk about the day. Then, it's lights out.
Make your child feel safe. Put a night light in the room and say you'll peek in periodically.
Reprinted with permission from the October 2022 issue of Parents make the difference!®  (Elementary School Edition) newsletter. Copyright © 2022 The Parent Institute®, a division of PaperClip Media, Inc. Source: "Healthy Sleep Habits: How Many Hours Does Your Child Need?" American Academy of Pediatrics.