Back to all posts
Posted on:
Mustang Memo - October 21, 2022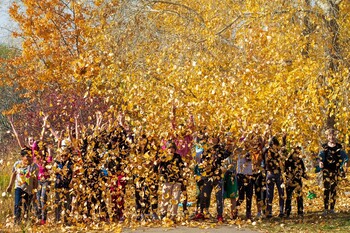 This week, we've been thinking a lot about the importance of gratitude. Did you know that gratitude is strongly and consistently connected with greater happiness? Here are a few facts about the positive effects of gratitude.
It improves your physical health! 
People who are grateful report fewer aches and pains. They even report feeling healthier than other people.
It improves your psychological health!
Practicing gratitude reduces toxic emotions such as envy, resentment, frustration and regret. It reduces depression and increases happiness! Woo hoo!
It improves empathy and reduces aggression!
Grateful people are more likely to behave in prosocial ways such as being less likely to retaliate against other people, even when others are less kind. They show more sensitivity and empathy for others and less impulse to seek revenge.
It improves self-esteem!
Studies show that grateful people are less resentful toward people who have more money or better jobs. Gratitude reduces social comparisons and allows people to appreciate other people's accomplishments.
Want more information and some tips on how to practice gratitude? Check out this video:
We believe in the power of gratitude! We are very grateful to work in such a great school, with incredibly kind kids, selfless staff, and go-getter supportive parents! 
Helene Hewitt & Kyla Harding
Principal & Assistant Principal
A place where you belong!
Table of Contents
Week At a Glance
Action
Let's Be Good Neighbours!
Patrollers: Student Citizenship in Action
Opportunity 
Information
Halloween Parade
Parents Make the Difference
WEEK AT A GLANCE
Monday

The start of a great week!

Tuesday

Hot lunch: Kinder Group B, Grade 1-2
Picture re-takes K-6

Wednesday

Picture re-takes alternate Kindergarten

Thursday
Friday

Hot lunch: Kinder Group A & Gr. 3-6
Mustang Memo posted online
ACTION
Let's Be Good Neighbours!
Hey Mustang community! We need your help!
We have had a few calls from some of the good citizens who live in our neighbourhood indicating that they cannot leave their garages as some of our parents are parking in front of their driveways and blocking them into the house.
We are so proud of this school and our kind and respectful community that makes up Davidson Creek Elementary. Let's be excellent role models for our kids by respecting this neighbourhood and not blocking the driveways with our cars. 
Patrollers: Student Citizenship in Action
Have you noticed our incredible Grade 6 patrollers at the front cross walk before and after school each day? We are very proud of them demonstrating citizenship by making sure our families can cross the busy street safely!
Parents, the patrollers need your help too!
Please follow the direction of our patrollers and wait to cross when they have their signs out and have given the all clear to cross. 
We have also witnessed some of our parents/guardians in a hurry while driving through the school zone and a few near misses of students as they cross the crosswalk. Please model safe driving for all of our kids by respecting the school zone speed limit and by looking for the patrollers as you drive by the school!
Thank you for doing your part to make sure that we live our values! At Davidson Creek we are kind, safe, respectful and our best selves! 
OPPORTUNITY
Counsellor's Corner
Hello Mustang Families!
As the daylight hours decrease in the fall, sometimes our mood levels decrease as well. There is good news, Strathcona County Family and Community Services is here to help! With counselling walk-in clinics, rates based on a sliding scale, and evening appointments available, Strathcona County has got your back! Feel free to reach out by visiting their website at www.strathcona.ca/wellbeing, or by calling (780) 464-4044.
Have a great week!
~ Ms. Dina Deuzeman, Davidson Creek School Counsellor
INFORMATION
Halloween Parade
It's almost time for our little ghouls and goblins to walk the halls in their spooky Halloween costumes! Please help us keep things safe and fun for all students when preparing your costumes. Here are our guidelines:
masks will only be worn during the parade but will stay in the locker for regular class time
please ensure masks are not too scary/grotesque for our youngest students
please leave weapons at home
if you choose to wear an inflatable costume, we will ask you to leave it uninflated when using the stairs. That means that you might be deflated during the parade for safety reasons!
Parents are welcome to come and watch the parade which begins at 12:30 p.m. Come into the school and find a spot in the gym and prepare yourself to ooh and ah at all of the cuteness!
Parents Make the Difference
Here is this week's article with helpful tips for families:
Talk to your child about the importance of showing respect
Respectful behavior is just as important at school as it is at home. To contribute to a respectful learning environment, students should:
Address the teacher by name. Encourage your child to smile, look the teacher in the eye and say, "Good morning, Mrs. Jones."
Be courteous. Your child should say please, thank you and excuse me to teachers and classmates.
Do what's expected. Everyone in school has a job to do. If the teacher doesn't plan lessons, no one can learn anything. If students don't do their jobs—assignments, listening to the teacher—it makes it harder for everyone to learn.
Raise their hands. Imagine having 30 students in a class, each of whom wants attention right now. When students wait for the teacher to call on them, they demonstrate self-control and respect for others.
Participate in class discussions on a regular basis.
Accept feedback from the teacher. Teachers want students to learn. That means they have to point out mistakes and areas where students can improve. Your child will be more successful in school by learning to accept constructive feedback in a positive way.
Reprinted with permission from the October 2022 issue of Parents make the difference!®  (Elementary School Edition) newsletter. Copyright © 2022 The Parent Institute®, a division of PaperClip Media, Inc.