Back to all posts
Posted on:
Mustang Memo - October 28, 2022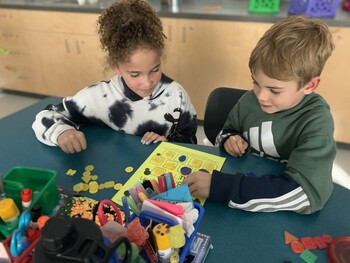 Today was full of incredible energy at our school!
We had parents volunteering like rock stars all over the school with a variety of activities. First of all, a huge thank you to our Hot Lunch parent volunteers who seamlessly distributed lunches to our older students today like seasoned pros! 
We also had many parents helping out with pumpkin-related fun in our Grade 1 and 2 classrooms. Pumpkins were carved, seeds were counted and then roasted. We even had some great colour-mixing science experiments where the pumpkins foamed at the mouth! Check it out:
We hope that you enjoy some pumpkin fun of your own this weekend!
Helene Hewitt & Kyla Harding
Principal & Assistant Principal
A place where you belong!
Table of Contents
Week At a Glance
Action
Winter is Coming
Fundraising Society Wants Your Feedback
We want Your Two Cents
Opportunity 
Counsellor's Corner
School Swag is Back
Mabel's Labels
Information
School Council Update
Halloween Reminders
Parents Make the Difference
WEEK AT A GLANCE
Monday

Halloween Parade @ 12:30 (parents can join in the fun in the gym!)

Tuesday

Grade 5 & 6 @ Kinsmen Pool @ 1:00pm.

Wednesday

Early dismissal @ 2:18 p.m.

Thursday
Friday

Remembrance Day Ceremony @ 10:30 a.m. in the gym
Mustang Memo posted online
ACTION
Winter is Coming!
At the risk of jinxing us with snow, winter is definitely on it's way! With colder temperatures on the horizon it's time to get those warm winter clothes out of the closet! During the chilly winter months, please send students with hats, mitts, boots, scarves, and snow pants.
Students will enjoy the great outdoors unless it is approximately -22 °C or colder, taking into account the wind chill. During inside recesses, students may have a short washroom break and get a drink from the water fountain. Students remain in their homerooms where they have access to games and other quiet activities.
Fundraising Society Wants Your Feedback
Our Davidson Creek Fundraising Society (DCFS) wants your feedback! We want to know what fundraisers you'd support and other important ideas from our Mustang parent community.
Please click here to fill out this short survey.
We Want Your Two Cents
As your new leadership team, we are seeking feedback from the school community to help us better serve our Davidson Creek Families. We know we don't have a chance to meet with everyone and that people cannot always attend school council meetings. 
We want to know what matters to you and how families are feeling about this year so far. Have your say!
Click here to fill out our short school survey!
OPPORTUNITY
Counsellor's Corner
Hey Mustang Families!
Looking to get into the Halloween spirit this weekend? Strathcona County is offering great family events to help you get your Halloween on!
| | | | |
| --- | --- | --- | --- |
| Oct 30 | 12:30 p.m. | | |
| Oct 30 | 1 p.m. | | |
Have a safe weekend!
~ Ms. Dina Deuzeman, Davidson Creek School Counsellor
School Swag is Back
Need some new spirit wear? The Davidson Creek swag shop is open again! 
Click here to order clothing items that are branded for our school!
Mabel's Labels
Did you know that Davidson Creek Elementary has an account with Mabel's Labels? If you are ordering labels for your children's clothing, school supplies or other materials, select our school from the drop down menu and we'll get a small kick back!
INFORMATION
School Council Update - Stay Connected
Did you know we're on Twitter! @DavidsonCreek.
How We Communicate!
Halloween Reminders
Costumes
It's almost time for our little ghouls and goblins to walk the halls in their spooky Halloween costumes! Please help us keep things safe and fun for all students when preparing your costumes. Here are our guidelines:
masks will only be worn during the parade but will stay in the locker for regular class time
please ensure masks are not too scary/grotesque for our youngest students
please leave weapons at home
if you choose to wear an inflatable costume, we will ask you to leave it uninflated when using the stairs. That means that you might be deflated during the parade for safety reasons!
Parade
Parents are welcome to come and watch the parade which begins at 12:30 p.m. Come into the school and find a spot in the classroom, hallway, or foyer and prepare yourself to ooh and ah at all of the cuteness!
Treats - Let's not be nutty!
We do have some students and staff with serious nut allergies. We value them as part of our community and want them to feel safe at school. Please help us to keep them safe by not sending foods that contain nuts to school! Thank you for helping us to make sure that everyone belongs here!
Parents Make the Difference
Here is this week's article with helpful tips for families:
Are you teaching your child to bounce back?
Some parents want to wrap their children in a protective bubble so they never have to experience failure. Others know that overcoming disappointments can teach valuable lessons.
Are you helping your child learn from setbacks? Answer yes or no to the questions below:
Do you give your child a chance to solve problems rather than jumping in to help right away?
Do you encourage your child to think about what to do differently the next time?
Are you a good role model? When you fail at something or make a mistake, do you talk about it and about how to fix it?
Do you help your child keep disappointments in perspective? "You didn't ace your test, but
you earned a higher grade than last time!"
Do you show your child how to be a humble winner and a gracious loser?
How well are you doing?
If most of your answers are yes, you are helping your child learn resilience. For each no, try that idea in the quiz.
Reprinted with permission from the October 2022 issue of Parents make the difference!®  (Elementary School Edition) newsletter. Copyright © 2022 The Parent Institute®, a division of PaperClip Media, Inc.