Back to all posts
Posted on:
Mustang Memo - October 7, 2022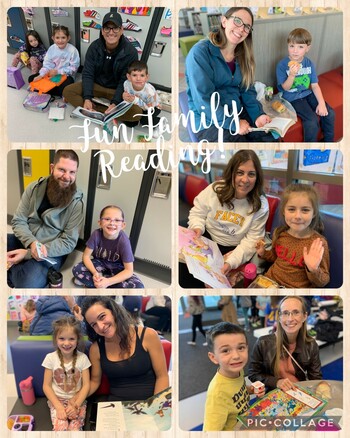 This week was full of fun Read In Week activities. We loved seeing many parents and caregivers at the school on Thursday reading to their children over lunch! There were many great activities including a book cover contest as well as a Choose Your Own Adventure story that took kids all over the school!
We'd like to thank our Read In Week planning committee of Mrs. Coates, Mrs. Eng, Mrs. Hanasyk, Mrs. Nicks-Tambasco who had some great ideas on how to celebrate reading!
We felt very lucky to visit classrooms to read some stories and we were extra lucky to have a cameo in the Choose Your Own Adventure story written by Mrs. Coates. Click here if you'd like to read it yourself! 
As we move into the Thanksgiving weekend, we are reminded of the importance of appreciating the everyday gifts that we take for granted each day. We are thankful for this incredible school and the kind students, staff and community members who make it so special.
Happy Thanksgiving weekend to all!
Helene Hewitt & Kyla Harding
Principal & Assistant Principal
A place where you belong!
Table of Contents
Week At a Glance
Action
Introducing Permission Click
Student/Parent/Teacher Interviews
Opportunity 
Counsellor's Corner
Roots of Empathy - Looking for a Baby!
A Message from Our School Nurse
Caregiver Education Series
Information
Enhancing Literacy and Numeracy
School Bus Safety Week
World Teacher's Day
Parents Make the Difference
WEEK AT A GLANCE
Monday

Thanksgiving Day - No School

Tuesday

Student/Parent/Teacher Conferences 4 p.m. to 7 p.m.
Bookfair opens today during interviews!

Wednesday

Jean & Jersey Day
Student/Parent/Teacher Conferences 4 p.m. to 7 p.m.
Bookfair open during interviews

Thursday

Bookfair open during school hours
Grade 3 (Lobe & Nicks-Tambasco) at Ukrainian Village

Friday
ACTION
Introducing Permission Click
EIPS has begun migrating school and Division forms to the online Permission Click platform. Many families will have already received one or more forms within the new system. Permission Click makes the form submission process for families simple and straightforward. Forms are also easily accessible and fillable from your mobile device. Families will generally receive forms in one of two ways—sent as a link within a SchoolMessenger email or in a direct email from Permission Click sent to the first parent or guardian on record in PowerSchool. Be sure to add notifications@permissionclick.com to your safe sender list to ensure required forms aren't mistakenly directed to your junk mail folder.
Student/Parent/Teacher Interviews
We are excited to see our families this week during our interviews! If you have not yet signed up for a spot, it's not too late. Click here to find the bookings area of our website and sign up! 
We can't wait to share all the good things we have already learned about your child! Students are always welcome to attend.
Don't forget to check out the Bookfair when you are at the school!
OPPORTUNITY
Counsellor's Corner
Hello Mustangs! Here is your third and final "Give Thanks" challenge:
Take a Mindful Walk
Sometimes we forget to notice our feet when we go for a walk. Pay close attention to each step you take and ask yourself:
What does your foot feel like when it hits the ground?
What does your foot sound like when it hits the ground?
Think about how much work your feet do. Thank them for taking you places!
Let me know how your activity this week goes when you see me in the hall or outside!
Happy Thanksgiving!
Ms. Dina
~ School Counsellor
Roots of Empathy
Are you a proud parent with a new baby? Will your baby be 2 – 4 months old in October?
You and your baby could be a Roots of Empathy Family for the 2022-23 school year!
Roots of Empathy is a program for elementary school children. The program's goal is to increase empathy - the ability to understand how another person feels. Research on the program proves that children participating in the Roots of Empathy program are more caring, kind, inclusive, helpful. They also show less aggression and bullying and this effect lasts over time.
To be a Roots of Empathy Family: You and your baby ('Tiny Teacher') will visit a classroom nine times (once a month) over the school year with the Roots of Empathy Instructor to join the
students and their classroom teacher around the "Green Blanket".
The students learn about their own and each other's emotions by learning about your baby's emotions.
They will celebrate your baby's milestones such as rolling over, clapping, sitting and more.
To learn more about the Roots of Empathy program, click here.
If you are interested in being our Roots of Empathy Family, please contact our counsellor, Ms. Dina at 780-467-5557. 
A Message from Our School Nurse
Dear parents and guardians,
AHS Public Health Nurses will be coming to Davidson Creek School on Oct. 27, 2022 to provide the first set of immunizations to the Grade 6 students. For your child to be immunized in the school, a consent must be signed by a legal guardian. 
For tips on preparing your child for immunizations, please click here. 
If your child is not present on the round dates they may receive immunizations on other dates throughout the school year. 
If you have any questions or concerns please call our School Nurse: Laura at 780-342-4637.
Caregiver Education Sessions
Alberta Health Services hosts a variety of virtual caregiver information sessions throughout the year focused on ways to support students' mental health. The sessions are free and geared toward parents, caregivers, teachers and community members who want to learn more about challenges impacting children and adolescents. Session topics include anxiety, ADHD, depression, self-harm, technology, teens and teaching leadership skills, communication, resiliency and more
Visit Caregiver Education to see the monthly caregiver sessions.
INFORMATION
Enhancing literacy and numeracy
As part of Elk Island Public Schools' (EIPS) ongoing efforts to enhance the literacy and numeracy of students in all grade levels, the Division is once again administering the Star Early Literacy and Star Reading assessment tools in the 2022-23 school year. The Division's also launching a new assessment, called Star Math. These tools focus on literacy and numeracy, are digitally based and offer an opportunity for students to demonstrate their learning. The goal: To provide timely information to teachers, help enhance classroom instruction and identify student learning needs.
Three times a year, EIPS students in Grade 1 complete the Star Early Literacy assessment and students in grades 2-12 complete the Star Reading assessment. Both assessments are administered electronically and take about 20 minutes. Students in grades 2 through 10 also complete the Star Math, a mathematic screening tool. It, too, is administered electronically and takes about 30 minutes for students to complete. The results offer teachers a clearer picture of a student's learning needs and help determine if subsequent instructional planning is required. NOTE: Semester students, complete the Star Math twice, at the start and end of the course.
In addition to the Star assessments, Alberta Education now mandates all students in grades 1-3 complete additional literacy and numeracy assessments. Students in Grade 2 and Grade 3 completed these provincial assessments in September. Grade 1 students will complete the assessments in January 2023. EIPS also administers the assessments to all Grade 4 students to gauge learning loss from the pandemic, which the Division is now analyzing.
The scores of the assessments aren't used toward a student's grade, and there is no need to study ahead of time. The tools simply provide the teacher with information to better understand where each student is in terms of reading comprehension and mathematic ability. If, after analyzing the results, it's determined a student can benefit from extra support, the teacher will contact the family to discuss possible support strategies.
For more information about the Division's Star and MIPI assessment tools, contact EIPS Supports for Students at 780-464-3477.
School Bus Safety Week - October 16-22
Schools throughout Elk Island Public Schools (EIPS) are celebrating School Bus Safety Week October 16-22. The theme: 'Make the World Green, Ride Yellow,' which focuses on transportation choice and the environment. Throughout the week, various activities are planned, including information sessions, bus-safety lesson plans and bus-evacuation drills.
As part of School Bus Safety Week, Davidson Creek Elementary reminds students and families all Division school buses are equipped with a bus-pass scanner, GPS technology, the Child Check-Mate system and surveillance equipment, which allows Student Transportation to better monitor and manage its more than 170 buses. Families and students also have access to the Traversa Ride 360 app, a mobile tool to help determine the location of a bus, projected arrival times and when a child is scanned onto a bus.
For more information visit EIPS Student Transportation or contact 780-417-8151.
Celebrating World Teachers' Day: October 5
October 5 is World Teachers' Day! Launched in 1994 by the United Nations Education, Scientific and Cultural Organization (UNESCO), World Teachers' Day is celebrated annually around the world as a way to recognize teachers and the integral role they play in providing quality education to students. On October 5, Elk Island Public Schools (EIPS) encourages all of its students, parents and community members to show their appreciation for their teachers and the positive impact they make on our lives.
EIPS extends its heartfelt thank you to all Division teachers for their dedication, hard work and commitment in guiding and educating students through their kindergarten to Grade 12 years.
Parents Make the Difference
Here is this week's article with helpful tips for families:
Here's how to make the most of your parent-teacher conference
Preparation is the key to a successful parent-teacher conference. Here's how to get the most benefit from your meeting:
Before the conference:
Make a list of things you'd like to tell the teacher, such as your child's favorite subjects and activities, difficulties in school, medical needs and any sensitive issues.
Make a list of things to ask the teacher about, such as your child's work habits, attitude, behavior, strengths and weaknesses.
Let your child know you are having a conference. Ask if there's anything you and the teacher should discuss.
During the conference:
Be on time. Teachers have many conferences, and a five-minute delay can throw off the schedule.
Listen carefully and take notes about your child's progress.
Be positive. Remember: You and your child's teacher both want what's best for your child.
Make a plan with the teacher to address any concerns and schedule a time to follow up.
After the conference:
Let your child know how the conference went.
Start with positive comments. Then, talk about any suggestions the teacher made—and how you plan to help your child carry these out.
Reprinted with permission from the October 2022 issue of Parents make the difference!®  (Elementary School Edition) newsletter. Copyright © 2022 The Parent Institute®, a division of PaperClip Media, Inc.