Back to all posts
Posted on:
Mustang Memo - September 16, 2022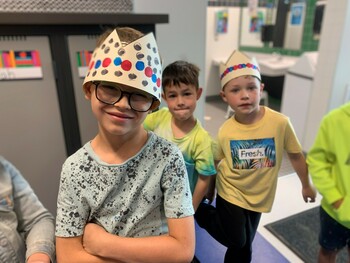 This week our Grade 1 students got dotty! They participated in Dot Day which is an international celebration of creativity, courage and collaboration. Students were decked out in dot-themed clothing and participated in a variety of dot-related activities. 
To learn a little more about the origins of "The Dot" from Peter H Reynolds, check out the video below.
We hope that you enjoy a nice weekend of warmish weather!
Helene Hewitt & Kyla Harding
Principal & Assistant Principal
A place where you belong!
Table of Contents
Week At a Glance
Action
Permission Click - Student Responsible Technology Use Agreement Form
Opportunity 
Terry Fox Run 
Caregiver Series
AHS Addiction & Mental Health School Newsletter: September edition
Information
Davidson Creek Parents are Awesome
Counsellor's Corner
First Nations, Métis and Inuit Sharing
Official Day of Mourning
Parents Make the Difference
WEEK AT A GLANCE
Monday

Bring in toonies for Terry all week!

Tuesday
Wednesday
Thursday

Keep those Terry Fox donations coming!

Friday

Wear red and white for Terry!
Terry Fox School Walk/Run assembly at 1:30 p.m. (volunteers invited to attend assembly) 
Terry Fox walk/run begins at 2 p.m.
Mustang Memo posted online
ACTION
Permission Click - Student Responsible Technology Use Agreement Form
This month you should have received the Student Responsible Technology Use Agreement form in your email.
Permission forms, such as Field Trip Forms and our Student Responsible Technology Use Agreement have moved to a digital platform called Permission Click. Moving forward all permission forms from the school will be emailed to the primary email address in PowerSchool.
EIPS provides access to the Division's network and Information Technology (IT) equipment to enhance learning for students and facilitate work activities for staff, contractors, and volunteers. All users shall adhere to the following standards of responsible use when accessing either division IT resources (software, hardware, network, and Internet), or their own personal electronic device for educational or business purposes.
It is very important to complete the EIPS Tech User Agreement form for your child. Without this form, your child will not be able to use the Chromebooks, iPads or other technology available at the school. Students currently use these items on a regular basis in the classroom.
OPPORTUNITY
Terry Fox Run
Next week we will be participating in the Terry Fox school walk/run event as well as collecting toonies or donations for the Terry Fox Foundation.
Fundraising can be done in two ways:
Toonies for Terry (accepted all week)
Students will have many opportunities to learn about Terry Fox and his legacy of hope throughout the week both through activities in class as well as through information on the morning video announcements including:
wearing red and white on Friday to show Canadian pride
wearing non-permanent tattoos and "I am running for" stickers
decorating Terry's shoe: students colour/write a message on a shoe to be posted on their lockers
Keep an eye out on your inbox for Permission Click forms for the Terry Fox run as we leave the school grounds and follow a route around the neighbourhood. If you are interested in volunteering for the run to help us keep students safe at crosswalks, you can indicate your interest in volunteering on the form and staff will contact you with more details before the event.
Volunteers are invited to attend the assembly at 1:30 p.m. and then join us for the walk/run beginning at 2 p.m. While we'd love to welcome all parents to the assembly, we are not able to include everyone as our gymnasium will exceed the fire safety capacity limit. 
Parents are always welcome to join us for the run outside! If you want to run with us, meet us outside at 2 p.m. and get ready to sweat!
Caregiver Series: September sessions
Alberta Health Services, in collaboration with The Mental Health Foundation, offers free online programming for parents and caregivers of children and youth. Sessions are offered through Zoom. Upcoming topics include strategies for positive mental health, resiliency and understanding depression. The list of September 2022 sessions is now available.
AHS Addiction & Mental Health School Newsletter: September edition
The  September edition of the AHS Addiction & Mental Health School Newsletter is now available and focuses on using connection to build resilience.
INFORMATION
Davidson Creek Parents are Awesome!
We are so lucky to work with such a great parent community! Thank you to all of the parents who stayed for our first School Council. We know you must have been tired after a long day, Meet the Staff and two back to back meetings! We can see that our parents are incredible champions for our school!
Thank you to all of our parents and guardians who attended our first School Council and Davidson Creek Fundraising Society (DCFS) meetings on September 13, 2022.
We were so impressed to have such a great turnout! It is never too late to join our parent groups so please drop by at our next meeting taking place on October 18, 2022 at 6:30 p.m. in the school library.
Congratulations to our parent leaders who were elected to positions in one of our parent groups as follows:
School Council
| | |
| --- | --- |
| Chair |  Lynn W. |
| Vice-Chair |  Karli B. |
| Secretary |  Breanne S. |
| Communications Officer |  Sara G. |
DCFS
| | |
| --- | --- |
| President |  Robyn B. |
| Vice-President |  Christine M. |
| Secretary |  Breanne S. |
| Treasurer |  Matthew H. |
Thank you to all of our elected school council and DCFS executive members. Your gift of time does not go un-noticed! With parents as our partners we will achieve great things together for all of our kids!
Counsellor's Corner
Let's get talking!
Here's a great activity to do with your family over the weekend. It will help you to get to know each other better. You can do this activity in the car or at the dinner table by asking these questions to each other:
What was your favourite part of the day? Why?
What magic power do you with you had? Why?
If you could go anywhere, where would you go? Why?
Have fun!
Dina Deuzeman, School counsellor
First Nations, Métis and Inuit Sharing
Tannishi! Hello!
My name is Mandy Kellough. I am excited to be your child's First Nations, Metis, and Inuit teacher this year! We will be doing whole school activities, classroom teachings and small group teachings this year. As always, people of our community are one of our greatest resources! Please feel free to volunteer on the day your child's class is doing whole class teachings or reach out to me if you have something amazing that you'd like to share with our students! I can't wait for the great year ahead!
~ Mandy Kellough
First Nations, Métis and Inuit Lead Teacher
Official Day of Mourning
All EIPS schools will remain open, and classes will be in session on Monday, Sept. 19, 2022—the Official Day of Mourning for Her Late Majesty, Queen Elizabeth II.  Flags at all schools and Central Services will remain at half-mast until after the internment.
Parents Make the Difference
Here is this week's article with helpful tips for families:
Simple strategies boost your child's responsibility
Young children are still learning how to be responsible students. So they sometimes forget their books, their schoolwork and even their lunches.
It's tempting to keep track of these things for your child. But this won't help in the long run. Success in school depends on your child's ability to be responsible.
To reinforce responsibility:
Write down what you expect your child to do. Post lists of responsibilities, weekly chores, and items needed for school.
Show your child how to keep track of activities and assignments on a weekly calendar.
Ask your child to check off tasks once they are completed.
Help your child figure out where to store things when they are not in use.
Encourage self-sufficiency. Put your child in charge of making lunch, picking out outfits and organizing school supplies.
Let your child experience the consequences of forgetting or losing an item. For example, don't rush an instrument to school if it is left at home. If a library book is lost, expect your child to do extra chores to earn the money to replace it.
Set a good example. Have a designated spot for your keys and wallet. Check your calendar to prepare for the next day.
Offer specific praise when you see your child demonstrating responsibility.
Reprinted with permission from the September 2022 issue of Parents make the difference!®  (Elementary School Edition) newsletter. Copyright © 2022 The Parent Institute®, a division of PaperClip Media, Inc.