Back to all posts
Posted on:
Mustang Memo - September 29, 2022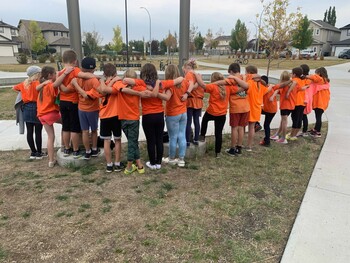 This week we had a chance to reflect on how we can all contribute to acts of Truth and Reconciliation as a part of Orange Shirt Day. Mrs. Kellough shared information and stories in our morning announcements and classes had opportunities to learn more about residential schools and some of the sadder parts of Canada's history in a safe and supportive environment. Students also participated in painting rocks orange to show that every child matters.
As our students wrestle with this tricky topic, we make it a priority to remind students that they are not responsible for this history. Our role is to understand what happened and why it happened so that we can move forward in a way that honours and respects all treaty people. We learn so that we do not repeat the mistakes of the past and so that we can become part of the solution.
Although we have much to learn from our past, we see a better and brighter future where we all belong.
Helene Hewitt & Kyla Harding
Principal & Assistant Principal
A place where you belong!
Table of Contents
Week At a Glance
Action
Smile! Picture Day is Coming!
Opportunity 
100%!!
Counsellor's Corner
Public meeting on Junior High Attendance Area - October 3
Read In Week
Information
Parents Make the Difference
WEEK AT A GLANCE
Monday

Read In Week begins!
Bus Evacuation Drill 9 a.m.
Little Elk Island Adventures 9:30 a.m. in kindergarten
EIPS Public Engagement Session from 5:30 to 7:30 p.m. at Clover Bar Junior High School

Tuesday

Picture Day for K - 6 students
Little Elk Island Adventures 9:00 a.m. in kindergarten

Wednesday

Picture Day for alternate kindergarten students
Early Dismissal @ 2:18 p.m.
Choose Your Own Adventure Scavenger Hunt
Book Cover Contest is due

Thursday

Read-In Event at Lunch- Parents, Grandparents, etc. are invited to come read with their child(ren) over the lunch hour
Words on Your Shirt Day
Mustang Memo posted online
Fire Drill #2- It was postponed last week

Friday

Professional Learning Day - no school for students
ACTION
Smile! Picture Day is Coming
Send your children to school with their best smiles this Tuesday as it is Picture Day! All students in kindergarten to Grade 6 will have their pictures taken on Tuesday. Our kindergarten students in the alternate class will have their picture day on Wednesday! We can't wait to see those adorable pictures!
OPPORTUNITY
100%!
Our 100% fundraiser is out now! The best thing about it is 100% of the money raised goes back to our school.
This year we are using this money to go toward starting of lunch clubs. The school has some great ideas of clubs they would like to start!Keep your eyes out for details.
If you are just signing up for the hot lunch site, it will ask you for a code. The code is DCHL.
Please have all forms sent back to the school by October 14th.
Thank you for all your support!
Counsellor's Corner
Hello Mustangs! Here is your second "Give Thanks" challenge:
Play "Mirror, Mirror"
When you brush your teeth, look in the mirror and tell yourself one thing you like about yourself. There's nothing like having a friendly face remind you of all the great things you have going for you!
Let me know how your activity this week goes when you see me in the hall or outside!
Have a great weekend!
Ms. Dina
~ School Counsellor
Public Meeting on Junior High Attendance Area: October 3
As you're likely aware, Elk Island Public Schools (EIPS) is exploring a possible change to the junior high attendance boundaries in Sherwood Park. Specifically, it's considering moving the feeder school for students living within Lakeland Village, Summerwood and Summerwood North to Clover Bar Junior High for grades 7 to 9. Currently, students are designated to Sherwood Heights Junior High. Changing the boundaries will better maintain school communities and provide programming closer to home.
In June, EIPS contracted Western Management Consultants (WMC) to conduct a public engagement meeting and an online survey with the school communities. The meeting took the form of an in-person, drop-in session. Attendees discussed the possible boundary change, asked questions and provided feedback. WMC also conducted an online survey to collect additional input. WMC then analyzed all the data collected and compiled a What We Heard Report.
Now, EIPS wants to expand the conversation and ensure a long-term solution. As such, WMC is hosting a second public engagement session on October 3. Families, students and community members are invited to attend by dropping in, any time between 5:30 p.m. and 7:30 p.m. Those who attend will learn more about the What We Heard Report, have an opportunity to add to the report and offer additional feedback. The goal: To determine what's most important to the school community before any decision is made about junior high boundary changes.
Public Engagement Session Details
Date: Oct. 3, 2022
Time: Drop by any time between 5:30 p.m. and 7:30 p.m.—typically a 30-minute process
Location: Clover Bar Junior High, 50 Main Blvd., Sherwood Park
Room: drama room
*Childcare provided
Can't make the meeting? That's OK. You can also provide feedback by filling out the EIPS Submit Question Form, or sending an email to info@wmc.ca. The deadline to submit input is Oct. 10, 2022.
EIPS and WMC encourage everyone to read the What We Heard Report, attend the upcoming public engagement session and share their thoughts. After the session, WMC will record all the feedback provided and prepare a final report for the Division to review.
For more information, or to subscribe for updates, visit eips.ca. We look forward to seeing you there!
Read In Week 2022
Read In Week begins on October 3 with the theme "Choose Your Own Adventure". Through a variety of school and classroom activities, students will be able to share in the love and adventure of reading. Here are some of the activities taking place throughout the week:
Book Cover Contest
Students will be able to create a book cover to enter our school contest. They are due before the end of the day on Wednesday.
Global Read-Aloud
Teachers will read books from the Global Read-Aloud list to their classes throughout the week.
Choose Your Own Adventure Scavenger Hunt
Classes can read a Choose Your Own Adventure story and visit the locations as part of a scavenger hunt! 
Words on Your Shirt Day
Everyone is invited to wear a shirt that is covered in words on Thursday, October 5!
Read In Event at Lunch - Thursday, October 6
Parents, Grandparents, etc. are invited to come join their child(ren) to read over the lunch hour.
INFORMATION
Parents Make the Difference
Here is this week's article with helpful tips for families:
Encourage your child to do more than the bare minimum
You asked your child to take the recycling to the curb. It's windy, so your child placed a rock on the papers in the bin so they wouldn't blow all over the street. Congratulations! Your child just demonstrated responsibility and maturity by doing more than the bare minimum.
Talk about other areas where your child can go above and beyond. For example, when:
Making a snack after school, your child can leave the kitchen clean.
Using the last of an item, your child can add it to the grocery list.
Pouring the rest of the water out of a pitcher, your child can refill it.
Encourage your child to do more than what's required at school, too. For example:
Read a few extra pages of an assigned reading.
Start a project early, and go beyond what is expected by including a detailed illustration or a colorful cover page.
Work a few extra math problems to master a concept.
Reprinted with permission from the September 2022 issue of Parents make the difference!® (Elementary School Edition) newsletter. Copyright © 2022 The Parent Institute®, a division of PaperClip Media, Inc.