Back to all posts
Posted on:
Mustang Memo - November 3, 2023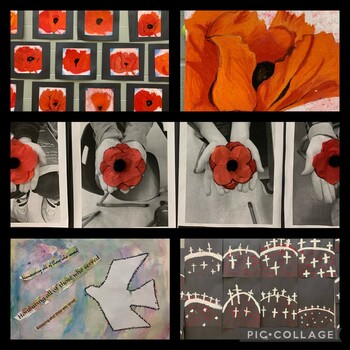 Today we were treated to an incredible Remembrance Day Ceremony by our Grade 2 students. They modelled respect as they stood quietly on the risers at the front of the gym. They sang a beautiful song about peace and shared some short poems about what peace means to them. 
We were so very proud of each and every student in our school throughout this event. We asked that all students proceed to the gym in complete silence and then remain silent throughout the program as a sign of respect to the people who served and are still serving in the armed forces. They rose to the occasion! We were in awe as we watched over 650 students enter the gym in total silence without pushing, whispering or acting silly. They showed incredible self-control throughout the entire assembly.
To add to the experience, classes decorated the gymnasium with beautiful artwork. We could not be more proud to lead this amazing community!
We wish you all a peaceful fall break of your own. 
Helene Hewitt & Jay Robertson
Principal & Assistant Principal
A place where you belong!
Table of Contents
Week At a Glance
Action
Be in the Know by Subscribing to our Calendar
Time to Change your Clock
Report Cards Are Coming in December
Opportunity 
Counsellor's Corner
Upcoming Parent Meetings - Save the Date!
Information
School Clubs are Coming!
Where to Find the Information You Need
Parents Make the Difference
WEEK AT A GLANCE
Week of November 6-10 Fall Break - School closed
Week of November 13-17
Monday

Bullying Awareness Week
Métis Week
Jeans & Jersey Day
Grade 3 Teacher's Pet in-school field trip (Lobe & Versteegt)

Tuesday

Art Club: Gr. 1 & 2 at lunch recess
Grade 3 Teacher's Pet in-school field trip (Parker & Nicks-Tambasco)
Grade 1 Teacher's Pet in-school field trip 

Wednesday

Jeans & Jersey Day
Clubs:

Running Club Gr. 4-6 boys

Thursday

Popcorn Day Group B kindergarten
Cute Things Club: Grade 5 at lunch recess in the library
School Council & DCFS meetings @ 6:30 in the library

Friday

Popcorn Day Group A kindergarten & Gr. 1-6
Daebak Dance Club at lunch recess: Grade 6 in the gym
Mustang Memo posted online
ACTION
Be in the Know by Subscribing to our Calendar
Do you have kids in seventeen different sports and hobbies each evening? Are you not sure when you need to pack a lunch and when you can put your feet up and enjoy a day of hot lunch? Are you wondering when the next Jeans and Jersey theme day is? Did you forget about a school event like Family Literacy Night or the Demonstration of Learning?  
We've got the perfect solution to help you to be in the know!
Go to our calendar on the website by clicking here. On the top right corner, click on "Subscribe to Calendar" and follow the steps. Voila! You will now see all of the events from our website school calendar on your calendar!
Time to Change Your Clock!
This Sunday, it's time to fall back an hour! We get an extra hour of sleep! Woo hoo!
Report Cards Coming In December
On December 1, parents and guardians can access report cards through PowerSchool—simply log in to your account and click on the "Report Card" button in the left-hand sidebar.
As in previous years, students will be assessed on a Learner Attributes Scale and Achievement Scale. Some categories have been modified to align with the new curriculum that was introduced this year.
Some outcomes in English Language Arts and Literature (ELAL) and Math will be reported on in each term, while other outcomes will only be assessed once in the year. For example, reading comprehension will be assessed and reported on each term, while the unit on sky science will only be taught and assessed once in the school year.
Report cards are communication tools that represent a snapshot in time of your child's progress on specific outcomes of the curriculum. As with all learning, we expect students to continue to grow and build new skills, knowledge and understandings throughout the year. We hope that the report card provides you with information that will guide further conversation about your child's learning. 
If you have any questions about your child's progress, at any time of the year, please contact the teacher directly. Our teachers are able to talk over the phone or they can set up a meeting at a mutually convenient time for all. Your child's success is important to all of us. 
OPPORTUNITY
Counsellor's Corner
Bullying Awareness and Prevention Week
November 13-17th is bullying awareness week here in Alberta. Together classes will explore group activities, storybooks, videos for morning announcements and additional resources to help build understanding around the following questions:
What is empathy? How can we demonstrate empathy?
What is bullying? How can we respond?
What is excluding? How does excluding hurt?
What does it mean to stand in someone else's shoes?
What is an upstander? How can you demonstrate being an upstander?
Below are some resources you may find helpful in supporting your family with issues related to bullying.
Bullying Helpline: 1-888-456-2323 to get help anonymously in more than 170 languages or find other supports.
Bullying Helpline Chat: to get help anonymously in English.
Mental Health & Addictions Newsletter
We'd also like to share information about the  Alberta Mental Health & Addictions Newsletter
Themes include:
We also wanted to share information about parent/caregiver sessions being offered in the month of November through AHS. This month's caregiver education sessions include:
Building Executive Functioning Skills- Supporting Success in Learning- For parents and caregivers of children in grades K-6
Technology and the Teenage Brain-Digital Wellness for Families
Mrs. Bashaw and Ms. Mitchell
DCE Counselling Team
Upcoming Parent Meetings - Save the Date!
We are looking forward to our next school council meeting on November 16 @ 6:30 p.m. followed by the Davidson Creek Fundraising Society Meeting @ 7:30 p.m.
We will meet in the library to share a few snacks and to talk about important things coming up in the school!
Here is the upcoming agenda for the meeting: November SC Agenda
You can find meeting agendas and draft or approved minutes from previous school council meetings by clicking here. You can find previous DCFS agendas and minutes by clicking here.
We hope to see you there!
INFORMATION
School Clubs are Coming!
Our staff are excited to begin offering some clubs at lunch hour after the Fall Break. Students will learn about clubs being offered as well as where to go and when during the morning announcements. You will also see which clubs are happening each day in the Week at a Glance section of the Mustang Memo! We can't wait to start having fun together!
Where to Find the Information You Need
Elk Island Public Schools and Davidson Creek Elementary use a handful of key systems to share information with students and families. Depending on the information you're looking for, it's important to know where to look.
PowerSchool is the primary student information system within the Division. There is an associated app, but the functionality is limited, and families don't need to download it. From the PowerSchool Parent Portal, you can:
Access student grades and report cards;
Review student absences;
Pay school and transportation fees; and
Submit official updates to student or family information.
The PowerSchool Student Portal provides similar access to grades and absence information for students directly.
Brightspace provides more of a day-to-day look what's happening with your child's learning communicated directly from your child's teacher. From Brightspace Parent & Guardian, you can see your child's:
classroom activity feed,
grade items and grade feedback from instructors,
upcoming assignments,
portfolio evidence and
quizzes
depending on which of the program functions are specifically used by your child's teacher.
Brightspace for Students is where teachers share updates, calendar reminders and learning materials with students. Compatible with Google, it also allows students to submit assignments, complete quizzes, and see grades and teacher feedback. The Pulse app for students is associated with Brightspace for Students.
SchoolMessenger is the system the Division and schools use to send email and phone communication to families. The contact information in SchoolMessenger is populated from PowerSchool. Through SchoolMessenger, families can:
receive general, emergency and attendance messages by phone, email or both; and
manage their subscription preferences for these types of messages.
The easiest way to stay connected is to download the SchoolMessenger app. Get the latest updates direct to your mobile device and enable push notifications to never miss a message. Families can also check back on past messages—for up to 30 days—directly in the app rather than searching to find an old message buried in your inbox.
If you have trouble accessing any of these systems or have questions about them, contact Davidson Creek Elementary at 780-467-5557.
Parents Make the Difference
Here is this week's article with helpful tips for families:
Working well with others is a vital skill for school and life 
There's a lot to be said for encouraging  children to show leadership. But, let's face it—some kids are just plain bossy. They won't take turns. They won't share. They won't listen to what anyone says.
In school and life, your child will be expected to work with others. So, whether there is a group project in social studies or a student council meeting, your child needs to know how to cooperate.
To reinforce this skill:
Allow family members to take turns making decisions for everyone—from which movie to watch this weekend to what to have for dinner.
Establish basic house rules. For example, if one child chooses the game, the other gets the first turn.
Teach fair ways to make decisions. Have your children play "rock, paper, scissors" to see who gets on the computer first. Flip a coin to decide who takes the first bath.
Talk about the importance of being open-minded and respectful of other people's ideas, opinions and perspectives.
Offer praise when your child thinks of others. "That was nice of you to let your brother pick the cookie he wanted first."
Reprinted with permission from the November 2023 issue of Parents make the difference!®  (Elementary School Edition) newsletter. Copyright © 2023 The Parent Institute®, a division of PaperClip Media, Inc.