Back to all posts
Posted on:
Mustang Memo - November 17, 2023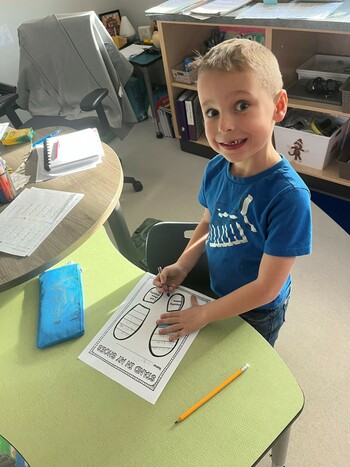 We were lucky to have some great discussions around the topic of bullying this week as part of Bullying Awareness and Prevention Week. Our counselors, Mrs. Bashaw and Ms. Mitchell, shared this resource with teachers to support classroom instruction. Students learned about what bullying is and isn't, what to do if you are being bullied, how to show empathy and kindness to others and ways that you can stop bullying by being an upstander.
Students also watched short videos about these topics each day in the morning announcements like this one: 
Bullying is a hot topic and the word often gets used a lot. Sometimes students confuse rude or mean behaviour with bullying. As explained in the video we can use this acronym to understand bullying. Bullying is: 
B - Being mean (physically, verbally, socially/emotionally, or through online social media)
O - On purpose
O - Over and over again
Here's another way you can think about it:
When someone says or does something unintentionally hurtful and they do it once, that rude.
When someone says or does something intentionally hurtful and they do it once, that's mean.
When someone says or does something intentionally hurtful and they keep doing it - even when you tell them to stop or show them that you're upset- that's bullying.
The key to stopping bullying is in making sure that you are reporting it. We encourage students to talk to a trusted adult like a parent, teacher, supervisor or counselor when they are experiencing bullying.
We need students to report bullying every time they experience it so that we know that the problem persists. If we know it keeps happening, we can step up the intensity of our intervention to make it stop. The key is to keep reporting it over and over again! We want all kids to be safe at school, so let us know if there is an ongoing problem! We'll work together to make it stop!
If you want to learn more about how to prevent bullying and what you can do if it's happening to you, you can visit this website. 
Together, we can make this school a safe place so that everyone feels like they belong!
Helene Hewitt & Jay Robertson
Principal & Assistant Principal
You belong here!
Table of Contents
Week At a Glance
Action
Milk and Cookies Ordering is Open Again
Opportunity 
Counsellor's Corner
Lunch Clubs Are Starting!
Parents Welcome
Information
How Does DCE Handle Student Conduct
Parents Make the Difference
WEEK AT A GLANCE
Monday

Waste and Our World presentations Gr. 4 all day
Running Club - Gr. 4-6 girls
D & D Club lunch recess - Gr. 

Tuesday

Grade 6 field trip to Telus
Art Club: Gr. 2 at lunch recess in Mrs. Drechsel's class

Wednesday

Running Club - Gr. 4-6 boys lunch recess in the gym

Thursday

Cute Things Club: Grade 5 at lunch recess in the library
Intramurals: Volleyball Gr. 6 lunch recess in the gym

Friday

Daebak Dance Club at lunch recess: Grade 6
Earth Rangers Assembly (Gr. 2-5) @ 1 p.m.
Mustang Memo posted online
ACTION
Milk and Cookies Ordering is Open Again
Great news! Upon feedback from some forlorn families who missed the cookie cut-off, our incredible hot lunch committee has offered to open up the Confetti Sweets cookie ordering once more for a limited time!
It will only be open from November 17 to November 24!
Click here to visit the ordering website.
Milk and cookies dates are:
December 7: Group B kindergarten
December 8: Group A kindergarten and grades 1-6
OPPORTUNITY
Counsellor's corner
How To Actively Listen to Your Children
"Children need to feel heard. Sometimes it may be difficult to hear what they have to say. Other times it may be hard to get them to talk about their thoughts at all. They may think you won't understand. They may be afraid to share their feelings because they think someone may make fun of them". Explore this edition of the AHS parent information series to learn more about active listening.
Mental Health & Addictions Newsletter
We encourage you to explore the helpful tips in the December edition of the Alberta Health Services Addiction and Mental Health.
Themes include:
Mrs. Bashaw and Ms. Mitchell
DCE Counselling Team
Lunch Clubs are Starting!
Our lunch hour clubs are just getting started. While we are still working out the details, here are a list of upcoming clubs:
Art Club: Grade 2 (to start)
Cute Things Club: Gr. 4-6 (starting with Gr. 5)
Daebak Dance (K-pop dance club): Gr. 4-6 (starting with Gr. 6)
Dungeons & Dragons Club: Gr.4-6
Games Club: all grades 
Gymnastics Club: Gr. 4-6 
Intramurals: Volleyball Gr. 6
Patrollers: Gr. 5 & 6
Pokémon Card Club: Gr. 2-6 (starting with Gr. 3)
Propagation Fascination Club: Gr. 3-6
Running Club: Gr.4-6
Student Leadership Club: Gr. 5 & 6
Staff leaders announce the clubs, what they are who is invited and where to go on the morning announcements. We will also show which clubs are running daily on the Week at a Glance in this Mustang Memo each week! Let the fun begin!
Parent Helpers Welcome
Do you have a knack for sewing? Do you know how to play the Pokémon card game? Do you like to play board games? We welcome you to come and be a parent helper at one of our clubs.
Mrs. Hewitt and Mrs. Suntharalingam, the leaders of Cute Things Club, would love parent helper or two to support students with threading needles, undoing knots in threads or teaching students how to make different stitches as we sew cute projects.
Pokémon card club, run by Mrs. Hewitt, would love a parent volunteer to help kids learn the rules of the game and support them as they play real card matches and eventually, a Pokémon tournament!
Games club, run by Mrs. Clark and Mrs. Bashaw, would welcome a parent helper or two to teach students the rules to various board games, help students to learn how to be good sports, and to have fun playing games!
If you would like to help out in one of these clubs, email Mrs. Hewitt at helene.hewitt@eips.ca
INFORMATION
How Does DCE Handle Student Conduct?
In looking over our parent survey data, we discovered that 20% of parent community didn't know how discipline is handled in our school. While we were surprised at first, we realized this makes sense as most parents will have had no occasions where their child has experienced a disciplinary situation at school.
Why is that?
Because, generally speaking, we have few serious discipline challenges at Davidson Creek Elementary. Our Mustangs try to be safe, kind, respectful and their best selves as much as possible and it shows!
In case you were curious, here is how we support good behavioural choices at school.
We believe that all of our students are good people who sometimes make mistakes for a variety of reasons. We also believe it is our role to teach students how to repair relationships and undo harm that they might cause through their words or actions.
When students make choices that are dangerous or hurtful (to themselves, others, or property) we teach them why those are not good choices and what they could do instead. We also teach them not to think like victims, but rather, to understand that they get to choose how they will act, what they will say, and even how they want to feel about something. 
We consider disciplinary situations on an individual basis, with action taken dependent upon the intensity, frequency, duration and intent of the misbehavior. The age of the student is also taken into consideration.
Action taken includes logical consequences appropriate for the misbehavior ranging from apologies, missed recesses, acts of community service or suspensions as well as supports for remediation and the teaching of required skills/strategies. Our school team works together to investigate all reported incidents to ensure fairness and justice.
In accordance with the regulations outlined in the Freedom of Information and Privacy Act (FOIP), details regarding disciplinary action are disclosed only to the immediate student guardian and/or appropriate authorities when required.
If you have questions about this, or anything else, please feel free to reach out to the school administration team: helene.hewitt@eips.ca or jay.robertson@eips.ca 
Parents make the difference
Here is this week's article with helpful tips for families:
Independent play enhances your child's mental health
Does your child love to build things with blocks? Swing from the monkey bars? There's more to playtime than just having fun—in fact, new research shows that independent play can improve children's mental health.
Not only does free play bring kids joy, it also helps them solve problems and even overcome fears. In addition, play is an effective stress reliever—after all, it's hard to feel stressed when you're blowing bubbles or pretending to be a superhero!
To encourage independent play, provide your child with:
Allow plenty of free time each day. While structured activities like sports and music lessons have many benefits, a busy schedule can interfere with playtime.
Give your child a variety of things to play with, including building toys, art supplies and props for pretend play. "Toys" don't have to cost a lot—your child can turn cardboard boxes into castles or locomotives, and your old clothing is ideal for playing dress-up. Items from nature, like acorns, rocks and twigs, make great playthings, too.
Support your child in taking positive "risks" like climbing a low playground rock wall, balancing on a fallen log, getting messy by playing in the mud, etc. These experiences boost confidence and promote a "can-do" attitude that can lead to greater mental well-being.
Let your child be in charge during playtime. Choosing what to play with and how to play with it maximizes the mental health benefits of independent play.
Reprinted with permission from the November 2023 issue of Parents make the difference!®  (Elementary School Edition) newsletter. Copyright © 2023 The Parent Institute®, a division of PaperClip Media, Inc. Source: "'All work, no independent play' cause of children's declining mental health," Florida Atlantic University.