Back to all posts
Posted on:
Mustang Memo - October 27, 2023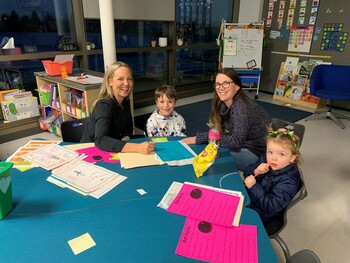 My favourite part of this week was our student demonstration of learning! Over the two nights, students came to school and spent a half hour showing their parents their math, language arts, science and social skills. We heard much positive feedback about this style of interview. 
Some of the things people really liked included:
having no more than 3 families in the room at a time gave enough time to go through the activities meaningfully
having a 30 minute window to ask questions of the teacher specifically about the learning
having direct suggestions and feedback from the teacher on how to help at home
having a chance to see how your child is doing on specific learning outcomes so that you know what to expect with report cards
We had many people tell us that they felt that they had more in depth information about their child's progress than they might in a 10 minute sit down interview. Thank you to everyone for coming out and experiencing a different format of student/parent teacher interview!
If you have any lingering questions about your child's progress following the demonstration of learning, or at anytime of the year, please reach out to the classroom teacher. All teachers have email in the following format: firstname.lastname@eips.ca. and are more than willing to call or set up a time to meet.
We will have the more traditional sit down interviews for our next round of conferences in February so that families who prefer that format will have an opportunity to sign up. 
We are so proud of each child and watching them shine as they demonstrated what they can do was heart warming! 
Speaking of warmth, we hope that you have a nice and toasty weekend!
Helene Hewitt & Jay Robertson
Principal & Assistant Principal
A place where you belong!
Table of Contents
Week At a Glance
Action
Winter is Here - Inclement Weather
WOW Wednesday is Back!
Boost Literacy by Reading at Home
Opportunity 
Caregiver Series: November Sessions
School Swag is Back
Remembrance Day 
Mabel's Labels
Information
Halloween Reminders
November Break is Coming
Parents Make the Difference
WEEK AT A GLANCE
Monday

A regular day of learning!

Tuesday

November/December Hot Lunch ordering closes today!
Halloween Parade today starting at 12:45ish

Wednesday

Picture Retakes (Kinder Group B & Gr. 1-6)
Early dismissal @ 2:18 p.m.

Thursday

DCE Spirit Wear ordering closes today!
Picture Retakes (Kinder Group A) 

Friday

Remembrance Day Ceremony @ 10:30 a.m. in the gym
Mustang Memo posted online
DCE Casino Fundraiser in Camrose 
Last day before November Break

Saturday

DCE Casino Fundraiser in Camrose 
ACTION
Winter is Here - Inclement Weather
With the winter season almost here, we want to remind families to dress children appropriately for the weather when getting ready for school or the bus. The weather often changes unexpectedly throughout the day, so please select suitable outerwear and ensure your child is prepared for changing conditions.
Students will enjoy the great outdoors unless it is approximately -22 °C or colder, taking into account the wind chill. During inside recesses, students may have a short washroom break and get a drink from the water fountain. Students remain in their homerooms where they have access to games and other quiet activities.
If inclement weather conditions occur, Elk Island Public Schools (EIPS) advises families of any bus cancellations using various communications tools—automated-telephone messages, email, SMS, alerts posted on eips.ca and school websites, Twitter, Facebook, local radio stations, and notification through both the Bus Status and the Ride 360 apps. Morning bus cancellations are posted on eips.ca by 6:30 a.m.
Decisions regarding bus cancellations are guided by EIPS administrative procedures that state, "school bus service may be suspended…when there is a forecast or current temperature of -40 C, including wind chill factor, in one or more regions." Other reasons for suspending or delaying school bus services include adverse weather and poor road conditions. When school bus services are suspended, schools remain open to students. EIPS believes families have the right and responsibility to make choices for their children based on their beliefs and perceptions of safety during times of inclement weather.
For more information, contact EIPS Student Transportation at 780-417-8151.
WOW Wednesday is Back
November 1st is WOW (Walk or Wheel) Wednesday! Walk, bike or scooter to school for a chance to win a prize for your class at the end of the year! Parents driving their children to school can park a little further away and walk in! For our students who take the bus, you are encouraged to walk or run around the soccer field twice at recess! Dress warm and enjoy this fresh, beautiful season!
DCE is hosting WOW Wednesday on the first Wednesday of the month for the entire school year! It will always be the same day as early dismissal. On Each WOW Wednesday, your teacher will tally all the students in your class who walk or wheel to school — AND, at the end of the year, the class with the highest total number of WOW Wednesday students wins a prize! Students who take the bus will be encouraged to walk a lap around the school to be counted in the results.
Even though the colder weather has begun, we can still take to opportunity to move our bodies and prioritize our health! Have fun!
Thanks from your DCE Parent Wellness Committee
Boost Literacy By Reading at Home
You know that reading together as a family is a powerful way to promote literacy, but how do you find books to read? Here are some places to find some excellent book ideas:
All ages - Your local library or sites like Read Aloud Revivial have all sorts of great book suggestions.
Students in Grades 4-9 - check out this video.
High School students - check out this video.
Check out this document for some prompts to help your child read purposefully to find meaning.
OPPORTUNITY
Caregiver Series: November Sessions
Alberta Health Services offers free online programming for parents and caregivers of children and youth. Sessions are offered through Zoom. Upcoming topics include building executive functioning skills and supporting wellness in later years. The list of November 2023 sessions is now available.
School Swag is Back
Need some new spirit wear? The Davidson Creek swag shop is open again! 
Click here to order clothing items that are branded for our school! There are hoodies, hats, shirts and other items to show off your Mustang spirit.
The ordering window closes on November 2! 
Remembrance Day
Our Grade 2 students, with the support of our fabulous music teachers Mrs. Allen & Ms. Falcon, are hard at work getting ready to lead our Remembrance Day ceremony taking place on Friday, November 3. 
You are welcome to join us in the gym for this important event where we will honour those brave men and women, past and present, who serve in our armed forces. The theme of this year's ceremony is "In the service of peace" - a theme that is incredibly timely given the many recent military conflicts taking place around the world. 
We will have an early recess so that students can come down to the gym around 10:25 a.m. and we can begin the program around 10:40. This will ensure that we observe the moment of silence at 11 a.m. Students and community members are invited to wear uniforms such as Beavers, Scouts, and Girl Guides. 
Mabel's Labels
Did you know that Davidson Creek Elementary has an account with Mabel's Labels? If you are ordering labels for your children's clothing, school supplies or other materials, select our school from the drop down menu and we'll get a small kick back!
INFORMATION
Halloween Reminders
Costumes
It's almost time for our little ghouls and goblins to walk the halls in their spooky Halloween costumes! Please help us keep things safe and fun for all students when preparing your costumes. Here are our guidelines:
masks will only be worn during the parade but will stay in the locker for regular class time
please ensure masks are not too scary/grotesque for our youngest students
please leave weapons at home
if you choose to wear an inflatable costume, we will ask you to leave it uninflated when using the stairs. That means that you might be deflated during the parade for safety reasons!
Parade
Parents are welcome to come and watch the parade which begins at 12:30 p.m. Come into the school and find a spot in the classroom, hallway, or foyer and prepare yourself to ooh and ah at all of the cuteness!
Treats - Let's not be nutty!
We do have some students and staff with serious nut allergies. We value them as part of our community and want them to feel safe at school. Please help us to keep them safe by not sending foods that contain nuts to school! Thank you for helping us to make sure that everyone belongs here!
November Break is Coming
November Break gives students and staff a moment to catch our breaths before the busy holiday season is upon us! November Break takes place from November 6 to 10. 
Parents Make the Difference
Here is this week's article with helpful tips for families:
Reinforce learning by having your child teach you something 
Students are more motivated to learn when they feel capable, connected and in control. Having your child teach you things nurtures these feelings.
When children try to explain what they are doing, it can help them understand assignments better. It also reinforces what they know and reveals gaps in comprehension.
Try these strategies:
Show an interest in what your child is learning in school. Ask your student to show you an assignment, teach you a concept or read a chapter from a textbook aloud.
Ask your child to help you solve a problem or create something. What should you do first, second, next?
Let your child quiz you about topics the class is studying. Take turns asking each other to define vocabulary words and recall math or science facts.
Ask your child to teach you how to play a game. Then play it together.
Ask for your child's opinion about something and consider it before making your own decision
Reprinted with permission from the October 2023 issue of Parents make the difference!®  (Elementary School Edition) newsletter. Copyright © 2023 The Parent Institute®, a division of PaperClip Media, Inc.