Back to all posts
Posted on:
Mustang Memo - September 15, 2023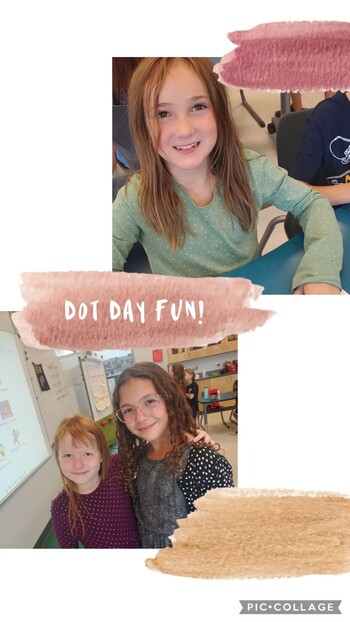 Today was Dot Day which is an international celebration of creativity, courage and collaboration. Students were decked out in dot-themed clothing and participated in a variety of dot-related activities. 
To learn a little more about the origins of "The Dot" from Peter H Reynolds, check out this video.
We will finish off Dot Day with our first ever Davidson Creek Family Dance! We can't wait to see families getting their groove on from 6:30 to 8:30 p.m.! Thank you in advance to our volunteer DJ and to our parent volunteers who are running the concession. While attending the dance is free, don't forget to bring cash with you for the cash only concession.
A quick reminder that children need to be with their families or guardians throughout the evening and not dropped off and left at the school. Any children without guardians will be asked to call home to invite a guardian to come join them or for them to be picked up!
We are so happy to see the great community spirit taking place at Davidson Creek Elementary!
Go, Mustangs!
Helene Hewitt & Jay Robertson
Principal & Assistant Principal
A place where you belong!
Table of Contents
Week At a Glance
Action
Cutlery
Update Your PowerSchool Information
Opportunity 
Terry Fox Run
Book Drive for DCE Family Literacy Night 
Information
DCE Parents Lead the Way
Personal Devices at School
Parents Make the Difference
WEEK AT A GLANCE
Monday

Hot Lunch Group A KG and Gr. 1 & 2
A great day of learning!

Tuesday

Hot Lunch Group B KG and Gr. 3 to 6
Getting ready for the Terry Fox run!

Wednesday

Bring in Toonies for Terry all week!

Thursday

Keep those Terry Fox donations coming!

Friday

Wear red and white for Terry!
Terry Fox School Walk/Run assembly at 12:30 p.m.
Terry Fox walk/run begins at 1 p.m.
Mustang Memo posted online
ACTION
Cutlery
We see some delicious lunches coming to school each day! We know that even the most organized people sometimes forget to pack a fork or spoon from home. We do have some disposable cutlery in the office for the occasional forgotten spoon or fork.
With new rules on single use plastics, buying disposable utensils is becoming more and more challenging. Once our current supply is out, we will have no more cutlery to give out!
When we think about it, perhaps this is a good thing! Throwing out single use plastic is not good for the environment and it is expensive! In the very near future, if students forget cutlery, they may need to find creative ways to eat their food without! We appreciate all you do to encourage your child to bring cutlery from home!
Update your PowerSchool information
The EIPS Correction and Verification Form is available online through your PowerSchool Parent Portal. Use the form to access and update your child's records information—including address, parent and guardian information, emergency contacts and medical information. Reviewing the form and submitting updates ensures the school has the most up-to-date information regarding your child.
When reviewing the form, pay close attention to all listed phone numbers, email addresses and emergency contact information. Also, if you recently moved, now is the time to ensure the Division has your updated address. Throughout the year, the Division and school uses the listed information to communicate with families about important information, including updates, the latest news and events.
EIPS Correction and Verification Form
Review and update the form by Sept. 22, 2023.
For more information about the PowerSchool Correction and Verification Form, contact the school office at 780-467-5557.
OPPORTUNITY
Terry Fox Run
Next Friday, September 22, we will be participating in the Terry Fox school walk/run event as well as collecting toonies or donations for the Terry Fox Foundation.
Students will have many opportunities to learn about Terry Fox and his legacy of hope throughout the week both through activities in class as well as through information on the morning video announcements including:
wearing red and white on Friday to show Canadian pride
wearing non-permanent tattoos and "I am running for" stickers
decorating Terry's shoe: students colour/write a message on a shoe to be posted on their lockers
Volunteers are invited to attend the assembly at 12:30 p.m. and then join us for the walk/run beginning at 1 p.m. Parents are always welcome to join us for the run outside! If you want to run with us, meet us outside at 1:30 p.m. and get ready to sweat!
Book Drive for DCE Family Literacy Night!
DCE is collecting gently used books at the school starting Monday! Then, during DCE's Family Literacy Night on Oct. 4th, we'll be hosting a book trade/sale! Each family who attends Literacy Night will be able to choose one new book from the Book Drive to take home for free! After that, each additional book you and your kids choose can be purchased for $1/book! All funds raised during DCE's Literacy Night will be used to help buy more decodable books for our kids to continue to learn to read using research-based methods!
We are accepting both adult and children's gently used books. Please send all books to school with your children or bring them in at drop off/pick up. We will have boxes in our front foyer for everyone to drop off their donated books. The Book Drive will be a great way to give and receive new books all while raising money for our kids!
Candice
DCE Wellness Committee 
INFORMATION
DCE Parents Lead the Way!
We are so lucky to have an active and supportive school council and fundraising society! Our parents step up to make great things happen at our school like our hot lunches, the concession at our family dance and the Summer Sizzler to name a few! Our parent leaders even met up with us over the summer to plan upcoming events, prepare for the casino and think about the budget.
Are you still thinking about joining us? It's not too late! Drop in to any of our meetings or keep your eye on the Memo for volunteer opportunities. Parents make great things happen here!
Congratulations to our parent leaders who hold official positions in one of our parent groups:
School Council
| | |
| --- | --- |
| Chair |  Lynn W. |
| Vice-Chair |  Karli B. |
| Secretary |  Rochelle R. |
| Communications Officer |  Hanna  |
DCFS
| | |
| --- | --- |
| President |  Robyn B. |
| Vice-President |  Melissa P. |
| Secretary |  Breanne S. |
| Treasurer |  Christine M. |
Thank you to all of our elected school council and DCFS executive members. Your gift of time does not go un-noticed! With parents as our partners we will achieve great things together for all of our kids!
Personal Devices at School
Yes, we know that personal communication devices like cell phones and tablets can be a ton of fun! Being able to contact your child on a cell phone when they are walking home alone is a comforting feeling!
While they can help us to make our lives easier and convenient, when used inappropriately, they can also be harmful to developing brains. In fact, several studies published in the last few years show that having too much access to social media can rewire adolescent brains resulting in increased levels of anxiety, depression, and poor body image. You can read more about it here. 
Did you know that EIPS has a policy related to personal communication devices? According to Administrative Procedure 145, students in elementary school are not permitted to have personal communication devices on their person during school hours. If a child brings one to school, they are to be kept out of sight in a locker and not to be used while at school both in class or outside at breaks. Our school is also not responsible to loss or theft of personal communication devices. 
You can read more about the policy as well as how we manage personal communication devices at school by reading our school handbook.
Parents Make the Difference
Here is this week's article with helpful tips for families:
Teach your child how to be conscientious
Conscientiousness is a student's ability to set and meet goals, make informed choices, and fulfill responsibility to others.
While this trait should naturally develop as your child grows, studies show there's an easy activity that can hone it. And believe it or not, it's schoolwork!
Here's how to help your child strengthen conscientiousness with assignments:
Remind your child not to rush. Students should take their time and complete tasks carefully.
Ask your child to check work. After finishing an assignment, have your child spend a few minutes going back to confirm answers are correct.
Cheer your child on. Is that art project challenging? Is that math assignment taking a long time? Encourage your child to keep at it and not give up! Conscientious students do their best to meet deadlines even when the going gets tough.
Reprinted with permission from the September 2023 issue of Parents make the difference!®  (Elementary School Edition) newsletter. Copyright © 2023 The Parent Institute®, a division of PaperClip Media, Inc. Source: R. Göllner and others, "Is doing your homework associated with becoming more conscientious?" Journal of Research in Personality, Elsevier Inc.