Back to all posts
Posted on:
Mustang Memo - September 8, 2023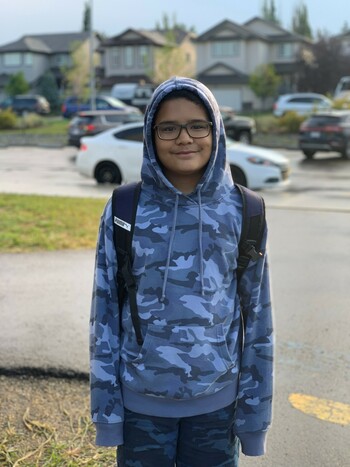 We cannot believe how successful the start up of the year has been!
Everyone has been patient, kind and friendly! We are glad to have students back in class and settling nicely into their routines. As your leadership team, we are so proud of each and every Mustang!
We would like to invite everyone to join us on September 15 for our first ever school dance! Dress up in dots to go with our Dot Day theme and come to the school at 6:30 p.m. for a rocking good time. We will have a concession and some prizes! 
We hope to see you soon!
Have a wonderful weekend!
Helene Hewitt & Jay Robertson
Principal & Assistant Principal
A place where you belong!
Table of Contents
Week At a Glance
Action
Hot Lunch Closing Soon
Stop, Drop and Go Lane 
Looking for a Dance DJ!
Opportunity 
School Council and Davidson Creek Elementary Fundraising Society Meetings
From Your Fundraising Society
Looking for Noon Supervisors
Caregiver Series: September Sessions
Alberta Health Services Additions and Mental Health Newsletter
Information
National Truth & Reconciliation & Orange Shirt Day 
Parents Make the Difference
WEEK AT A GLANCE
Monday

First Monday of the year! 

Tuesday
Wednesday
Thursday

Fire Drill
School Council meeting 6:30 p.m. in the library
DCFS (fundraising group) 7:30 p.m.

Friday

Dot Day (wear clothing that is dotty)
DCE First Family Dance 6:30pm to 8:30pm
Mustang Memo posted online
ACTION
Hot Lunch Orders Closing Soon
Did you order some tasty hot lunch yet? It's not too late! Hot Lunch orders close on September 9! 
If you missed the information, you can read all about how Hot Lunch works, including how to order by clicking here! 
Stop, Drop and Go Lane
You may have noticed us out in the drop off lane in the mornings. We are the two people in the pink or orange vests waving at cars and talking to kids. 
We would like to thank all of the parents who use the visitor parking stalls and who park on the neighbouring streets when they need to walk their child into the building. You are incredible role models for the community and help make sure that the drop off lane doesn't get blocked off and backed up!
For anyone who may not be familiar with how drop off lanes are designed to work here is a quick run down of how to use them.
Morning Drop Off:
Pull into the farthest open spot (Don't stop at the start or the middle please!)
Help your children exit the car and give them a quick kiss or hug before sending them on their way. 
Do not leave your vehicle - if you need to walk your child in, park in a visitor stall or on a street!
Pull into the driving lane and exit the drop off area.
Afternoon Pick Up:
Pull into the farthest open spot.
Stay in your vehicle.
If the car in front of you leaves, move into the empty spot ahead of you.
When your child arrives, help them to get in the car safely.
Pull into the driving lane and exit the drop off area.
We will be out there helping to get traffic moving so that students are not crossing between cars and so that parents are not having to weave in and out of the lane when they arrive.
We can make this a quick, simple and safe experience for everyone if we work together!
Go, Mustangs!
Looking for a DJ
Do you love music? Are you a genius at getting people on the dance floor? Do you love giving out prizes? You should consider being our DJ for the Dot Day Dance on September 15!!
We can hook up a laptop or phone to our sound system and then anyone can choose from their family friendly playlist to spin some tunes for the dance! We'll have a microphone to use to get the crowd pumped and we promise to cheer you on!
If you are interested in being our dance DJ, email helene.hewitt@eips.ca to organize the details! We'll even come up with a rockstar DJ name! Woo hoo!
OPPORTUNITY
School Council Meeting and Davidson Creek Fundraising Association Meeting
We are excited for our first school council and fundraising society meetings this week on September 14 starting at 6:30 p.m.
These parent groups are fun, friendly and approachable. These are not the dreaded PTA meetings that you see on tv! Come and join us for friendly conversations and get involved in our school! We meet in our beautiful library and meetings are usually full of laughter and great discussion. Did we mention that we have cookies? We hope to see you there!
Here are the agendas for the upcoming meetings:
School Council Agenda September 2023
Here are the draft minutes from the last meetings:
See you soon!
A Word from Your Fundraising Society
We have our first fundraiser up and running!!
There are a lot of exciting things planned for this year! Things like presentations, family nights, pancake breakfast, and the summer sizzler! Lots of these things would not happen if it were not for the help of fundraising.
Did you know we supply the teacher with an appreciation meal on parent teacher interview nights? Or that we fund the lunch clubs in the school? By supporting our fundraisers, we can support the school! By supporting this fundraiser, we get to give 100% back to the school!!
How can you help?
We are sending a letter home with all the students. You can fill it out and send it back to the school in a sealed envelope. You can also do it online!
Log into the hot lunch site: https://dce.hotlunches.net/admin/
Go to HOME or LOGIN on the top left and switch to "fundraising Site"(You may have to log in again). Then click on Orders.
Robyn (on behalf of the DCFS)
President, DCFS
Looking for Noon Supervisors
Do you like lunch? Do you enjoy carrying a fanny pack? Are you excellent at helping kids open food packages? We have a job for you! 
Davidson Creek Elementary is hiring noon supervisors! You only need to spend an hour a day at our school connecting with our great kids over the lunch hour.
You can find job postings and how to apply here.
If you want to know more, you can contact helene.hewitt@eips.ca or jay.robertson@eips.ca for more information. You can call the school to learn more!
Caregiver Series: September sessions
Alberta Health Services offers free online programming for parents and caregivers of children and youth. Sessions are offered through Zoom. Upcoming topics include understanding anxiety and parenting teens in the 21st century. The list of September 2023 sessions is now available.
Alberta Health Services Addiction and Mental Health Newsletter
The September edition of the Alberta Health Services Addiction and Mental Health Newsletter focuses on parent involvement in schools. Newsletter 
Themes include:
INFORMATION
National Truth & Reconciliation & Orange Shirt Day
September 30 is National Day for Truth and Reconciliation with the purpose of honouring the children who never returned home as well as Survivors of residential schools. This day is an opportunity for public commemoration of these tragic events and painful history as well as an acknowledgment of the ongoing impacts of residential schools. 
As September 30 is a federal statutory holiday, our school will participate in Orange Shirt Day on September 29. Students and community members are encouraged to wear an orange shirt to school on this day. If you don't own an orange shirt, you can still be part of this event by wearing an orange ribbon or another items of clothing in orange. We will have ribbons available for students who may need them.
What is Orange Shirt Day and why do we acknowledge it?
Orange Shirt Day is a day of remembrance and and act of reconciliation that takes place annually across Canada. This is an opportunity to commemorate the history and legacy of residential schools. It grew out of a gathering of survivors held in Williams Lake, British Columbia in 2013, where Phyllis Webstad, who attended St. Joseph Mission residential school, shared her experience of having her new orange shirt taken on her first day. If you would like to learn more about Phyllis' story, click here to watch a short video. September 30 was picked as the date because it is the time children had to leave their homes and return to the schools.
What help is available to former residential school students?
The National Indian Residential School Crisis Line is available for former residential school students and includes emotional and crisis referral services. Services are available around the clock and can be accessed by calling 1-866 925-4419.
Parents Make the Difference
Here is this week's article with helpful tips for families:
It's time to get your family back in the school groove
The start of a new school year is a fresh start for families and students. Here are some practical ideas to help you and your family gear up for a productive year of learning:
Make a weekly schedule. Include time for schoolwork, play, activities and family.
Establish a family reading time where everyone reads for at least 30 minutes.
Keep a family calendar. Mark each family member's activities in a different color.
Reestablish bedtimes and wake times for weekdays. Allow plenty of time to get ready in the morning.
Scale back passive screen watching. Set a weekly limit for watching TV, movies and videos.
Create flexible learning spaces. Allow your child to work where most comfortable—whether that's at the kitchen table or on the couch. Just make sure that the space has adequate lighting and is as distraction-free as possible.
Collect important contact information for teachers. Update your work, medical and emergency contact numbers with the school.
Reprinted with permission from the September 2023 issue of Parents make the difference!®  (Elementary School Edition) newsletter. Copyright © 2023 The Parent Institute®, a division of PaperClip Media, Inc.